Hi-tech approach to H+S at Thames Water
A radical transformation of health and safety culture at Thames Water is seeing new technology playing its part in improving conditions for workers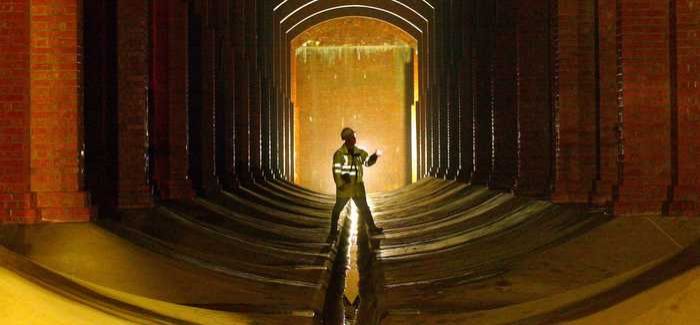 An engineer surveying an underground reservoir at Honor Oak, London
by Karl Simons, Head of Health, Safety and Wellbeing, Thames Water
"Zero incidents; zero harm; zero compromise."
As company mantras go, there are probably cheerier ones, but Thames Water's 'triple zero' tagline to its radical health and safety programme has certainly struck a chord.
Few in the company are unaware of it, such is its ubiquity. At induction days for new starters, on posters in reception halls, offices, work stations and laboratories and on the back of everyone's ID cards, the message is the same.
And it's getting through.
In the last three years, the number of employees taking time off work through both injury or illness has halved; in our most recent staff survey the question 'does Thames Water take health and safety seriously?' saw 90% of the 4,000 employees who took part strongly agreeing.
In part, this is down to a belief in the power of education. In the last three years, the company has increased investment in H&S training by 50%, including a focus on confined spaces, manual handling, power tools and scaffold safety. In addition, more than 400 frontline operational managers have now successfully completed the highly-respected National Examination Board in Occupational Safety and Health (NEBOSH) training that was once the sole preserve of H&S teams.
And in 2015, Thames Water delivered 12,000 man hours of H&S training, compared to just 4,500 hours three years ago.
As a result, the whole culture is changing; the health and wellbeing strategy saw every employee offered an annual personal confidential medical assessment. When these revealed 20 % of those attending were referred to their own GP and 43% of the workforce assessed was dehydrated, a massive educational programme was launched with advice, training, support and promotional gifts such as a free water bottle.
The company's ground-breaking Water Wellbeing Week adds to the high visibility of Thames Water's belief in fostering a health-centred working environment. Halving work-related illnesses in three years would seem to support this approach.
Like drink-driving, taking risky short cuts in getting the job done is now seen as socially unacceptable. As a direct consequence, the number of hazards reported by staff has risen from around 12,000 to more than 23,000 since 2013. Yet the number of incidents has halved, as all staff now feel empowered to challenge behaviours and report potential problems, without going through management.
Health and safety is no longer a blocker to work, as it was previously seen. It's now an enabler to getting the job done.
When looking at the maintenance of our assets, for example, risk now drives the budget rather than the other way around. Managers are empowered to ensure that health and safety isn't compromised by money.
The company's investment in cutting edge H&S technology proves this point. In part, this has been driven by the human factor.
Thames Water's health and safety systems manager Keith Taylor explained: "In the world we work in, however much planning, assessing and briefing you do, it is still down to the person doing the work to dynamically assess the situation on the ground and make sure it's safe.
"In 2010, when we were reviewing incidents that were happening across the business, it was evident that although detailed risk assessments had been written and briefed we were still having injuries due to the condition of the working environment.
"So, we looked at what we could do to ensure a dynamic assessment of the work and the environment was done by the guys each and every time."
The solution was to build this into the work flow.
Now, when work packages are sent to employees in the field via their electronic devices they first receive an electronic risk assessment – a series of questions to determine if they have the right tools, equipment and competency to do the task safely, if everyone in the area is safe and there are other risks and hazards that need addressing before the job can begin safely.
"Only by positively answering the questions can they then move on with the work pack and begin the job," says Keith. "They also have the chance to say they feel unsafe in what they are about to do. If they do, they have a discussion with their manager on the next action to take."
Thames Water points to this new technology as one of the reasons why it has been able to reduce its incident rate by more than 50% over the past five years.
"We can't rest on this," says Keith. "We're always looking at ways of improving safety and using technology to make things easier.
"With the rollout of new smartphones across the organisation over the past six months, we are currently developing a 'hazard app' to allow all our staff and partner organisations to take a photo of a hazard and download it immediately onto our central system. This provides for quick resolution as well as a true record of hazards found and resolved on site.
"Following that, we'll be developing the app to capture inspections on site so they can be recorded in real time, with actions raised, saving valuable time for the managers as well as providing up-to-date accurate records of site conditions."
Where the future is concerned, of course, the only way is forward. The work doesn't stop - there's always room to improve, and we need to keep up with advances in technology and challenge the norm.