Hey Festo! Pneumatic actuation revealed
Pneumatic actuators can deliver improved operation in difficult environments. Natasha Wiseman finds out more from Festo's UK team leaders, Steve Land and Tony Gillard, on a visit to the company's German headquarters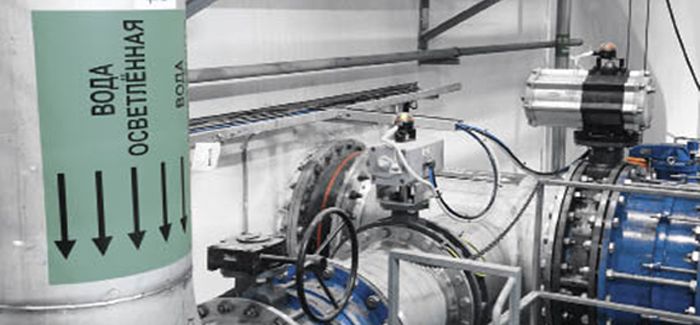 German automation specialist Festo is eyeing the UK market with its pneumatic actuators that have already been used at scale in global applications including St Petersburg's Vodalkanal water treatment plant and the water supply of the city of Angeles in the Philippines. However, the company's industry segment manager for the UK, Steve Land, and Tony Gillard, new business development manager for process automation, are keeping pilot projects the company is running with a number of utilities close to their chests.
"It's taken a few years to understand the customers' needs," says Land, "but by asking the right questions of the right people we're finding there are a number of operational issues in a number of utilities that we have a solution for. That's why we're at the pilot stage with a number of utilities."
"We've done quite a lot of work with Guernsey Water – we've got installations there on both clean water and wastewater. And we are talking to all of the others," says Gillard.
Frameworks
Land explains that the dominance of electric actuation suppliers Rotork and Auma on utility frameworks means that "sometimes the utilities have applied electric actuators into applications that are not ideal for that type of technology." He says, "That can give rise to operational problems in terms of the plant and also in terms of the reliability of the actuation."
According to Land, Festo's pneumatic actuation suits "niche applications" such as ATEX zones and sites at risk of flooding: "To get an entry into water utilities, we're looking at ATEX areas where pneumatic actuation has inherent advantages in that there's no spark ignition.
"Flooding is another area because you can submerge a pneumatic actuator and it is still reliable underwater; but if, for example, you submerge an electric actuator and someone's had an inspection cover off, invariably it loses its IP [ingress protection] rating. So they become more vulnerable to water ingress and so in flood areas they become less reliable."
Odour control
Odour control is another niche application, Gillard explains, "When you have an odour, you cover a tank or structure that traps gases that are given off by the medium you're working with. We can put the pneumatic cylinder in that gas area; you couldn't do that with an electric drive that would be a dangerous application."
Land says that for electric drives ATEX is usually an additional cost, whereas with pneumatic actuation it comes as standard. However, while there are operational advantages on pneumatic controls in some applications, the flipside is that there are disadvantages as well.
"If you open a valve too quickly, you can get water hammer in the main, which can be destructive," Land explains. "It can damage the pipeline, can damage the valves. On large water networks it's not desirable to open valves quickly.
"But if you're dealing with a sewage treatment plant, where you've got different mixtures of semi-solids, if you close the valve slowly you get sludge build-up on the valve seats and the valve won't seal properly and then you get leakage. With pneumatic actuation, you've got a wider and easier way of controlling its closing speed, which means that if you're able to do so, and it's desirable to do so, you can close a valve much quicker than you can with an electric actuator."
AMP6
Working in the UK involves understanding the unusual regulatory landscape. When I ask Land and Gillard what shape AMP6 will take, they are in no doubt.
"It's going to be all about renewing failing assets," says Land, "because they've gone through a process in AMP5, and previous, of building new works. And I think it will be all about making the assets you've got more reliable through technology, through automation and really maximising the efficiencies you can get."
Gillard believes that will provide opportunities for Festo: "The utility companies and their delivery partners can see the benefits on both capex and opex and the operational safety issues. The situation in the UK is really that we haven't really targeted the segment, so we haven't identified what the problems have been with the current solutions, but is part of our diversification process and finding new markets for our products."
Innovation
Land and Gillard have an interesting perspective on the distinct differences on the adoption of new technology in the UK and the emerging countries. Gillard believes increased automation of processes in the UK water industry has to happen.
He says it is lagging behind other industries like power and nuclear "because of constraints of specification and the Amp cycles and the change of delivery partners from one five-year period to another. It stifles innovation and it stifles that forward thinking because the contract is just to deliver for five years, in five years."
"I think British Water's activity on that is very encouraging," says Land. "We support it because it will help make the water utilities and their delivery partners more able to service the needs of the consumer as well as the utilities."