Hammers have got the power
Distributor U Mole is winning plaudits for its work on behalf of Hammerhead International. And now it has added two new products to its impact hammer system range.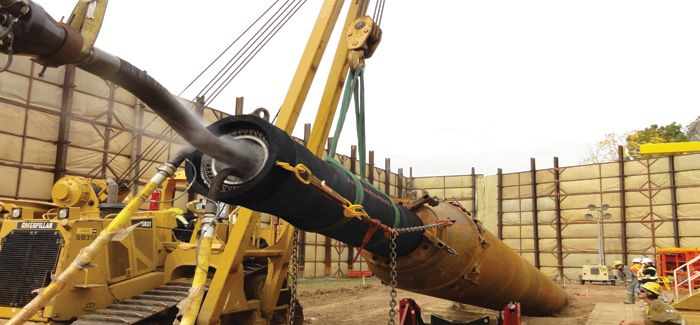 The new HammerHead860 mm diameter rammer, the world's largest ramming hammer
U Mole, part of the Groundforce division of Vpplc, has recently been awarded Hammerhead International Dealer of the Year for the fifth time since its appointment as a distributor. It marked the occasion by introducing two new products to its range of Earth Tool manufactured HammerHead impact hammer systems.
The first of these products, launched recently at the UCT event in Houston, Texas, is one of the world's largest ramming hammers. The 860mm diameter hammer can install casing of between 1,200mm and 4,600mm diameter for drainage culvert and washover pipe, and can be used for pipe assist or pipe extraction, guided pilot bore ramming, and horizontal directional drilling assist applications.
The hammer was recently field-proven in Canada, on a washover casing job. The hammer successfully installed 56m of 1,830mm diameter steel casing.
U Mole managing director Russell Fairhurst says of the new rammer: "We are excited to offer this extraordinary new product to our customers. The new solid body 860mm diameter hammer enables us to provide solutions to the most challenging of projects on contractor's job sites.
"The amount of power generated through the unit's unique design and patented air reverse, that allows for forward and reverse from the control station, will provide contractors with productivity never before available for the installation of large diameter pipe using the ramming technique. The addition of the world's largest pneumatic hammer to our sales and hire portfolio reinforces our position as the leading provider of pipe ramming and pipe bursting products available in the UK and Ireland trenchless market today."
The newly released rammer already has available 1,200mm diameter collets and ram adapter cones are currently in development for other sizes ranging from 1,200mm through 4,600mm diameter. Although the hammer is designed specifically for pipe ramming projects, with custom-built tooling the hammer can also be used for pipe bursting to replace 900 mm diameter pipe and larger. Custom-built accessories can be provided on upon request.
The second hammer product launched by U Mole onto the UK trenchless market is the 90mm diameter, quarter turn reverse impact hammer (impact mole or earth piercing tool).
This new version of the HammerHead impact mole now offers the Power Port Reverse system. The patented quarter turn reverse design pneumatically locks into forward and reverse preventing any accidental direction change during the bore whilst enabling the operator to quickly, efficiently and safely change the moling direction when required in a single movement of the air supply hose.
The Power Port Reverse system is currently available on other HammerHead units including the 67mm, 75mm, and the 111mm models.
Commenting on the new additions to the U Mole range, Frank Gowdy, sales director for U Mole, says: "These two new hammers enable us to offer a significant expansion in the range of options available to contractors for pipe installations of various types, not just simple utility installations but a wide range of other applications.
"Both our sales and hire support teams are already up to speed on the new products and can demonstrate just how effective these units can be anywhere in the country on request."
U Mole is the direct factory UK and Ireland distributor for Hammerhead equipment offering the company's full range of products for trenchless installation and pipeline replacement.
This range includes a full range of impact moles (earth piercing tools), pipe ramming hammers, twin capstan winches, static rod pipe bursting systems and the portable cable-based, hydraulic pipe burster range.
U Mole also supplies a full and extensive range of trenchless and limited dig equipment including: Suction/vacuum excavation systems (including MTS systems alongside Vac-Tron systems) and surface coring equipment for the 'Keyhole' excavation of utilities and services with minimum disruption to the local area and minimum damage to the buried service.
Other trenchless related equipment available includes the market leading Robbins SBU equipment, Pipe to Site coiled pipe trailer range, pipe fusion systems, Reed Tools and a complete range of accessories such as Cobra flexible rodding, towing heads, cable socks, pipe pigs, swivels, and breakaway connectors.