Green and very reliable
With a smaller footprint and low power requirements, lamella solutions have the edge on conventional tank units.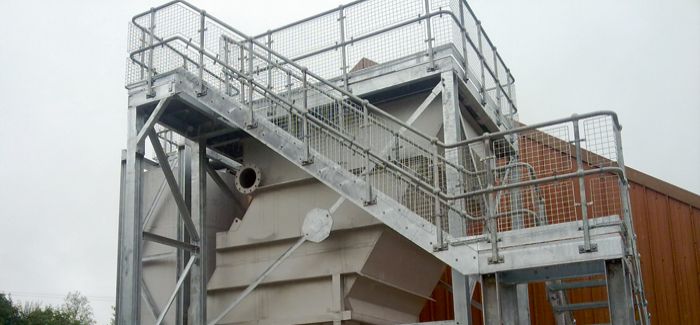 Drinking water treatment typically includes the stages of pre-treatment, flocculation, sedimentation, filtration, adsorption and disinfection. The key stage of filtration is a final step to remove the remaining suspended solids and any unsettled flocculants after the sedimentation stage.
The standard filtration process is based on rapid sand filtration. Also now widely used is the newer membrane filtration process, which has the capability of removing virtually all particles larger than 0.2 micrometres. Sometimes they are used in tandem, with sand filters removing coarser particles and membrane filtration for the final removal.
Each of these processes requires periodic backwashing to flush out the particulate matter that has settled, and allow the filter media to regain full potency. Wash water is typically sourced from the final potable water discharge and, once flushed through, may either be returned to the head of the treatment chain or discharged directly to the water course.
Both of these wash water disposal methods have potential problems because of the high solids content. Return to the head of the treatment works may start overloading the treatment process, while discharge to the water course can result in a failure of discharge consent.
If Cryptosporidium is present, this adds a further biological danger. There has therefore been increasing emphasis on wash water recovery as a standard part of the potable water treatment process. For example, The Cryptosporidium Directions (Scottish Water) 2003 requires that "where wash water is returned to the head of the works it must be adequately settled and returned upstream of the coagulation dosing point".
To avoid the potential for excess solids overloading the treatment process, and of exacerbating any problem of Cryptosporidium presence, best practice dictates that captured solids should be eliminated from the recovery cycle altogether. The ideal method for achieving this is to treat the settled solids in a sludge treatment process.
Conventional wash water recovery systems have consisted, typically, of three tanks operating on a batch basis, rather than continuously. The sequence of operation in each tank is filling, settlement of solids and return of solids to the head of treatment, arranged so that each tank is at a different phase of operation.
Systems such as these have not been designed to a specific quality standard. There are also limited water quality data from studies to determine the performance of this recovery process. Even if the settled solids are sent for sludge treatment, the process is time consuming and the tanks also occupy valuable space in the treatment works, making it difficult to retrofit into many existing works.
To overcome these problems, a proven design of lamella plate separator supplied by Hydro has been successfully used in many water treatment installations, and offers improvements in sludge settling performance as well as saving space through its compact design.
Comprising a set of angled plates with a controlled upward flow of effluent over them, the separator incorporates a patented flow control system that is a breakthrough in modern plate separator design. The flow control system uses the clarified liquid as the control medium and ensures that the flow is distributed uniformly across the plate assembly.
With a reduced settling distance compared with a standard tank, solids settle much more quickly and the hopper shape of the stand-alone unit makes de-sludging easy.
The primary advantage is that it offers operators high performance clarification of water in around one fifth to one tenth of the space occupied by an equivalent settling tank. For example, with a flow rate of 180m3/h, a separator with a footprint of 2.9 by 4.4m contains 120m2 of settling area. The Lamella Separator is supplied as a complete, easy-to-install unit or as a plate pack assembly for installation into either a concrete or steel tank with a sludge scraper.
Lamella solutions have been adopted by a number of major utilities companies nationwide as part of AMP4 and AMP5 investment and performance upgrade programmes. The performance achieved within a small footprint offers significant advantages over conventional tank units, and their low power and maintenance requirements meet the water industry's carbon footprint objectives.
Also, with continued pressure to minimise Cryptosporidium, the lamella units provide an efficient and effective means of removing it from the potable cycle to the wastewater treatment works.
Typical of potable water treatments is the installation at Coulter treatment works in Lanarkshire, recently upgraded by MWH for Scottish Water. Here, the raw water from hill reservoirs typically carries suspended fine organic solids that can look brown-tinged and peaty.
In the upgraded process, the incoming water is treated with flocculant and goes into primary clarification, again treated with flocculant and then passed through secondary filtration. The treated water is discharged as potable water, while the sludge washed from these treatments is passed through the lamella units for further settlement and compaction. The resultant clean water is returned to the head of the clarification process, while sludge is removed from site for disposal.
"The lamella units installed by Hydro provide a very effective and efficient technique for removing the finest suspended matter," comments Mark Gallagher, MWH process engineer.
"Even with a maximum design throughput of 50m3/hour, the units are very compact which is ideal for a refurbishment project fitting into an existing site."
A £17M programme to improve drinking water quality for 50,000 DWR Cymru Welsh Water customers in the Swansea valley included investment in Lamella plate separation technology to process increased volumes of backwash water generated by the upgrade to clarification and filtration facilities at Crai WTW.
The upgrade was required to address the need for Manganese removal from the drinking water.
The additional clarification and filtration plant incorporates a new CoCoDAF process upstream of existing filters, new media in existing filters and new chlorine and lime dosing points.
Dirty washwater from the new filtration plant is collected and fed at 14l/s through the Hydro Lamella plate clarifiers. The supernatant liquor is returned to the balancing tanks, whilst the separated solids are fed through existing sludge thickeners before being removed for agricultural use.
Chris Day, operations director of Hydro Wastewater, says:"With the Hydro Lamella plant we will achieve a high quality of supernatant liquors and achieve the required volumetric throughput for the dirty wash water process to deal with the increased loading of the plant. By providing 10m2 of settling area per 1m of ground area, Hydro Lamella Plate Clarifiers provide a footprint up to 90% smaller than conventional settlement tanks."
Rong Sun is process engineer at Hydro International.