Great escape served up for Dartmouth's tennis courts
The task of boring a new gravity sewer in Dartmouth ended up like a scene from 'The Great Escape' for a team of engineers working for South West Water. Natasha Wiseman reports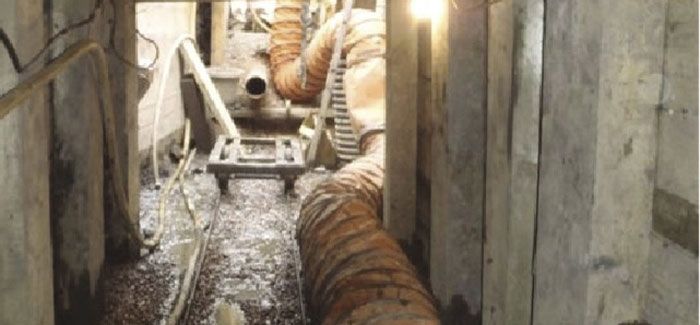 The installation of a new gravity sewer in Dartmouth's Coronation Park took an unexpected twist when a tunnel reminiscent of The Great Escape had to be built by engineers working for South West Water. The sewer run is part of a five-year £42M investment in the network across the region to renovate sewers identified as being at risk of collapse and to alleviate potential flooding problems.
Engineers used laser-guided auger boring to install a steel-sleeve MDPE inserted pipe, with a 5-6mm fall, under tennis courts in Coronation Park. The courts had recently been refurbished at a cost of some £150,000 and it was imperative for South Hams District Council that they were not dug up.
However, 34m along the 48m sewer length, and 8m from the edge of the courts, the bore came to an abrupt halt. Massive tree trunks about 1-2m in length and 8mm diameter were in the way and the team decided the best option was to relieve the obstruction by hand, using air tools and picks.
A traditional 'timber heading' technique was employed and the tunnel was constructed manually. Air was pumped into the heading as a four-man team carried out the works and removed the obstacles under the confined space permit entry system, with gas detectors and emergency breathing apparatus.
The 1.2m x 1.2m mine was constructed at 2.5m depth to support the excavation of eight tree trunks, two of which were extracted whole, while the others were chipped away.
Site manager, Tom King of contractor Balfour Beatty Utility Solutions (BBUS), told WWT that it was known at the outset that the nature of the ground at the site – reclaimed land from a Second World War dump – was less than ideal for the bore.
"Normally you do auger boring if you know the ground, " he said. "When boring made-up ground you don't generally attempt it."
He said that the need to protect the tennis courts was paramount and the team decided to have a go. Given the nature of the site, hitting the obstacles was not unexpected, King said: "We are glad we didn't hit anything bigger."
South West Water project manager Stephen Cross said: "We have been working hard on this complex operation since last December and we were determined to do all we could to protect the new tennis courts – even working by hand in order to connect the new sewer pipe."
After clearing the obstacles, the project team were able to finish laying the new pipe before filling the hole with concrete. While the project took a little longer, King said it was seen as a success by the council and the water company.
Councillor Bill Hitchins, South Hams District Council, said: ""The fact that South West Water were able to bore beneath rather than dig up the courts required an innovative approach which resulted in a successful outcome for all parties, and is a good example of the two organisations working closely together."