Graphene filtration: the cutting edge
G20 Water Technologies and the University of Leeds are developing a graphene-based water filtration system for the water industry: a cutting-edge technology that could put UK water innovation on the map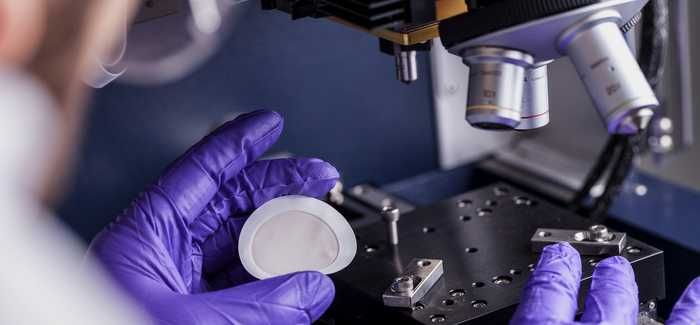 by Martin Tillotson, Professor of Water Management, University of Leeds
The team of 150 scientists and engineers working at water@leeds – the world's largest interdisciplinary centre for water-related research – is tackling a wide range of global water issues.
We offer a "front door" at the University of Leeds for industry and other organisations to access academic expertise to find solutions to specific water industry problems. The way we work begins with obtaining a clear understanding of what companies need to ensure that it shapes the research our academics do.
Working with Tim Harper and G2O Water Technologies is one example of this, but an example with a difference. It has given us the opportunity to work with graphene, a cutting-edge material that offers potential utility for water and wastewater treatment. And while G2O has the technology, we have the consultative expertise to help it explore the opportunities that graphene offers.
As a new technology for the water industry to evaluate, graphene offers the chance to produce a genuine step change in the way water is treated right now, and significantly increases the efficiency of processes such as desalination and wastewater treatment.
Graphene-based filtration provides the potential scalability to improve the performance and longevity of existing membranes and reduce the overall footprint of treatment plants. It also opens up the possibility to build plants where it's otherwise not considered to be feasible or economic.
The challenge we have is to understand the performance of graphene-coated or printed membranes and match their performance to different industry applications – including desalination, oil and water separation and wastewater treatment – and to explore future manufacture of domestic water treatment products. The scale of the opportunity is significant, and it's beholden on G2O and our team to establish the industry-wide viability for graphene membranes.
Solving water industry issues for the long term
So, how does our work fit with the challenges we know the water industry is faced with in the coming years?
The traditional way of supplying water in the developed world – building large, centralised water works and piping water into people's homes – is increasingly being questioned. If water has to be supplied as a food-grade product fit for human consumption but is reaching the consumer via a network of ageing pipes, for how long is the traditional approach sustainable?
Desalination is already being utilised as a way to tackle water-stressed areas in the UK. For example, Thames Water is using this approach in the Thames Estuary to address forecast water demand in southeast England. Desalination technology may also be an option for other water-stressed areas of the UK, such as East Anglia and East Yorkshire.
Alternatively, having a water treatment and purification technology that is situated more locally and scaled to become a washing machine-sized unit that could fit comfortably in, for example, a domestic garage could potentially solve a massive infrastructure problem.
New technologies, such as G2O's graphene water filters, could be a way to provide more cost-effective and easier-to-maintain treatment systems at a more local level. This is something that could also change lives in the developing world where, currently, only urban areas tend to have centralised water treatment facilities that may also be poorly maintained.
Putting graphene filters to the test
As part of the water@leeds project with G2O, we're using analytical and experimental techniques to assess how well graphene oxide can be applied to different types of membranes. That involves preparing different concentrations of graphene oxide solution and using filtration and deposition systems to deposit the material onto existing membranes.
We need to understand how graphene adheres to the membranes, to be able to control the thickness and, consequently, how well the membranes perform when filtering water. Therefore, our team has – for example – been applying artificial saline solutions to the membranes with varying levels of salt concentration to assess the level of filtration performance.
Also, looking at the structure of graphene on the membranes is giving us an insight into how graphene sticks to the membrane, which also offers clues about its long-term performance.
The ultimate goal is to scale up the technology from the thin coatings of graphene oxide being used in the laboratory to something more significant and applicable to the water industry.
This is vital because certain approaches – such as current desalination technology – have limited application because of the high cost of membranes and energy involved, therefore restricting its use to wealthy, developed countries.
Engaging the UK water industry
When developing any new technology for the water industry, it's essential to provide confidence among the decision-makers in different technology choices.
Existing regulation and charging rules for customers mean that the UK water industry has been historically risk-averse when it comes to the deployment of new technology. Equally, drinking water is a low-value product costing fractions of a penny per litre to the customer and therefore yielding fewer funds for research, development and innovation. This has meant the industry has become a technology follower rather than innovator, jealously watching other sectors making greater investments in organisational efficiency.
Therefore, it's essential that we ask and answer all the questions pertaining to G2O's graphene filter technology before approaching industry with a proposition.
The water industry has not always been good at defining what it needs from new technologies, typically leaving academia and innovative, smaller businesses trying to guess. So, rather than guess incorrectly, water@leeds is taking a more joined-up, partnership approach with companies to develop new technology and follow through to ensure its take-up in different applications and locations.
G2O's technology is a good example of a candidate for this, with funding support from Innovate UK, a company board comprising experienced professionals with both water industry and technology expertise and the academic insight of water@leeds. This is about shaping the engineering into something the water industry will want to use.
Alongside the main project, G2O is also sponsoring PhD students at Leeds and Sheffield universities to help cultivate a new generation of scientists with expertise in two-dimensional materials, seeking new ways for the world to benefit from discoveries such as graphene.
Overall, the graphene water filter project is acting as a catalyst for G2O and water@leeds to put the UK firmly on the map for innovation in this area of water and wastewater treatment.
About the author: Martin Tillotson, professor of water management and director of water@leeds at the University of Leeds, has spent more than 20 years solving problems in the water industry, including working for United Utilities on its capital programme and working in research and development with Yorkshire Water.