Good cheer on boom and bust
The Treasury's report on investment cycles in the water industry is good news, says Sam Ibbott of the Environmental Industries Commission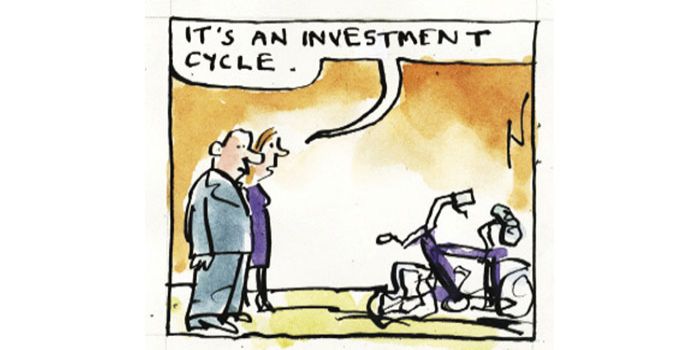 The year 2012 has seen some important movement in the way the water industry is regulated, even if it has not always been front page news. In particular, great strides have been made toward solving the long-standing problem of 'boom and bust' investment cycles within the industry.
The 2011 National Infrastructure Plan committed the Government to working "with Ofwat and the water companies to consider measures to smooth out investment cycles in the water sector to reduce costs." It appeared a fairly innocuous commitment, and one that was not initially expanded upon in any meaningful way. As a result, some were rightly cynical. After all, 'boom and bust' has been officially recognised on many occasions, but the vital next step of solution planning and implementation has always been left wanting.
Defra's review of Ofwat (published in July 2011) concluded that "it is bizarre that such a long-term stable industry with relatively consistent supply and demand has such a cyclical pattern of investment. No-one has suggested to us that there is any intrinsic reason for the flow of business to the supply chain to be cyclical at all."
Absurd
Around the same time EIC held a meeting with the Minister responsible for the water sector, Richard Benyon MP, at which he described 'boom and bust' as "an absurdity." But even those within the industry would admit that there is no easy solution, and without any supporting detail to the Infrastructure Plan's commitment, it seemed destined to once again be kicked into the long grass.
But despite this understandable hesitance, the Government came through on its pledge. In July this year, Infrastructure UK (part of HM Treasury) in conjunction with Ofwat published the recommendations report Smoothing Investment Cycles in the Water Sector.
"The formal recognition that boom and bust is an economic as well as environmental issue is a major step forward, and one of which EIC is rightly proud having hammered the message to government for many years"
Despite its rather clinical title, it is an important leap forward in solving the problem of 'boom and bust', laying down a comprehensive set of potential solutions, which are unfortunately (but encouragingly) too detailed to list here. Arguably the most sizeable shift, even if it appears very subtle, is where the report originated.
Defra, as the lead department for the water sector, has always had a duty to at least acknowledge the problem, but as is the case in nearly all political life it is the Treasury which holds the real transformative power. The formal recognition that at its core 'boom and bust' is an economic as well as an environmental issue is a major step forward, and one of which EIC is rightly proud having played a key role in hammering this message to government for many years.
High bar
The document sets itself an impressively high bar, arguing that if its recommendations are implemented in full, they have the potential to "reduce the average customer water and sewerage bill by two per cent; save the water industry £600M every five years; and prevent up to 40,000 job losses over the next five years." If this were achieved it would be truly astonishing.
The report chooses not to place blame at any one sector of the water industry, instead arguing the need for collaboration between the regulators, the water companies and the supply chain, who will all need to work together to see a successful outcome. To this end, the Government see itself as a facilitator of change rather than an enforcer.
They believe, perhaps rightly, that change on the scale required cannot be imposed, and must have the buy-in of the industry itself. To achieve this, an industry-led Implementation Review Stakeholder Forum (or similar) is to be convened with an independent chair who will set a terms of reference, the priorities and benchmarks for success.
In this respect, 'real world' change will be initiated by Industry, with Infrastructure UK acting as a neutral external observer and adviser. Even if you do not agree with all recommendations in the report, it opens up a dialogue, and there is nothing to insist that all recommendations must be implemented – it will be for the Stakeholder Forum to filter out those it does not deem workable.
Economic growth of any of kind is music to the Government's ears right now, but long-term sustainable growth is the real prize. In essence, growth means jobs; and if this process saves 40,000 of them (for both the present and the long-term) then everybody wins. The challenge is a sizeable one, but the potential benefits are even larger.
This is an opportunity that must not be wasted – the enthusiasm for change is there, and now we have the driver to achieve it. I believe for the Industry as a whole this is a positive end to the year, and leaves us ready to hit 2013 running – after the over-indulgence of the festive period, it is likely that is exactly what we will need to do.