Getting to Grips With... SuDS
With SuDS systems set to be regulated through the planning system in England from April, the focus will be on quality of system design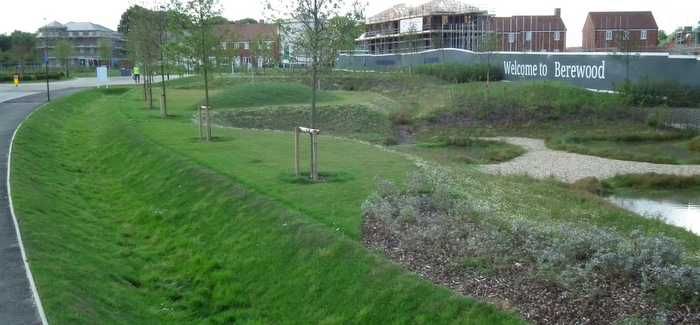 A SuDS system at Berewood housing development in Waterlooville, near Portsmouth
Top 5 Tips for SuDS Best Practice
Start early: SuDS plans should be incorporated right from the start of a project, preferably during masterplanning and guided by the Local Plan. Close working relationships are needed from the start between landscape architects, drainage designers, developers, Lead Local Flood Authorities (LLFAs), water companies and the Environment Agency.
Engage the community: Getting local people passionate and involved in sustainable surface water management has been shown to be highly effective in achieving successful schemes.
Use the full SuDS toolbox: Create a surface water management train using the most appropriate 'natural' and manufactured components, taking into account the space available for storage, the ground conditions, the level of pollutants present, the level of infiltration that is possible, and so on.
Plan predictable and repeatable maintenance. The new planning rules for England place a much greater responsibility on developers to show how SuDS schemes will be maintained effectively throughout their life. Ensuring that SuDS continue to perform requires skilled ground maintenance, as well as following manufacturers' schedules for inspection and maintenance of proprietary systems.
Insist on quality contractors: Construction of a SuDS infrastructure can require a different skillset for contractors from conventional drainage approaches. Especially for natural SuDS features, incorrect construction can mean the drainage does not perform as designed from the outset.
by Alex Stephenson, Group Market Development Director, Hydro International
The Government's revised plan to regulate the design and construction of Sustainable Drainage Systems (SuDS) in England drew a strong and mixed response when it was first announced last autumn.
With the new regime due to begin in April, local authorities, developers, contractors and water companies will need to get to grips with the new rules and how best to interpret them.
The existing planning framework will now incorporate an 'expectation' for SuDS to be used to manage surface water flood risk for developments of ten properties or more. There will also be a requirement for developers to demonstrate how SuDS components will be effectively maintained throughout their life, avoiding the potential for schemes to be left neglected or rendered ineffective through lack of regular care and inspection.
Approval of SuDS designs will now be streamlined as part of the National Planning Policy Framework (NPPF), rather than having a separate approval route via Lead Local Flood Authorities, as originally set out in the Flood and Water Management Act in 2010.
What impact will the new regulations have?
Overall, the new rules could leave the design and construction of SuDS more open to interpretation and more subject to local priorities. But what might become a "postcode lottery" on the one hand, could also result in flood risk and water quality protection best suited to the local conditions.
Remember, too, that the rules only apply to England; different regulations apply in Scotland, Wales and Northern Ireland. In Scotland, for example, there has historically been a much greater emphasis on achieving water quality objectives.
It could be argued that Defra and DCLG, in bringing in the new regulations, drew a line under years of industry debate. The change should usher in a more sensible, "back to basics" approach for SuDS with principles that have been well established for many years.
The new regulations for England only apply to new development, of course. To truly achieve comprehensive management of surface water quality and flood risk is going to require a concerted focus on retrofitting SuDS, but the drivers for retrofit SuDS are much less clear and far more complex.
The good news is that the technical and philosophical arguments for using SuDS have largely been won. So, the real question is not whether to incorporate SuDS, but what kind of SuDS to insist on.
What makes a good SuDS scheme?
There is also a growing acceptance that SuDS are not merely a pastoral vision of 'natural', green, above-ground features. Instead, they represent a best practice engineering and management approach, using a full "toolbox" of components to achieve sustainable principles.
The principles of SuDS are first and foremost to mimic natural drainage paths and processes and deal with rainwater as close as possible to where it falls. As their name suggests, SuDS are a more sustainable approach to surface water management that avoids costly and unsustainable transportation of surface water runoff into the local environment or through an overloaded sewer system. Good SuDS schemes satisfy both quantity and quality objectives and are likely to provide multiple benefits to the community by promoting local amenity and biodiversity.
How do SuDS work?
SuDS use a sequence of 'natural' and/or proprietary techniques to control surface water flow and limit the volume of water discharged to the drainage network or local watercourse. SuDS intercept and hold back (attenuate) excess surface water runoff, then manage it through temporary storage, infiltration, evapotranspiration or reuse.
Storage may be achieved with above-ground features such as retention ponds or by using underground geosynthetic modular systems. Designers may need to consider the most efficient way to minimise storage volumes e.g. by use of optimising vortex flow controls.
At the same time, a good SuDS management train should also remove pollutants by filtering or separating out silt/sediment, litter and hydrocarbons from surface water prior to discharge into the watercourse. Removal can be achieved through natural features such as filter strips or swales, as well as by manufactured devices such as hydrodynamic vortex separators.
Often a combination of above-ground landscaped features and manufactured devices come together to achieve the best results. Increasingly the focus will be on demonstrating how the system can remain effective and continue to perform as designed through appropriate ownership and maintenance.

Who is Most Likely to Build SuDS?
Although much recent attention has been on developers and housebuilders, SuDS are also regularly built by highways authorities and by water companies, who can build, own and maintain SuDS to prevent flooding and over-capacity of their sewer networks.
Indeed, water companies are a key stakeholder in surface water control and treatment, as the sewer network may be the last line of defence for poorly-designed or maintained SuDS features. Water companies also arguably have a pivotal future role to play in SuDS retrofitting to enhance our urban environments.
What Design Guidance Is Available for SuDS?
The need for everyone involved to share and learn from best practice is fundamental to future acceptance and successful delivery of sustainable drainage systems. Many local authorities, and some water companies, have developed their own design guidance which provide excellent sources of reference. CIRIA's expected update to C697, the SuDS manual will be more important than ever in providing a national framework for best practice.
Industry resources such as the Engineering Nature's Way and Susdrain websites provide a good source of reference, industry news and comment, as well as policy updates and links to resources such as design guidance and online design tools.