Getting to Grips with...sludge cake
With utilities seeking to get the most value from sludge, it's vital to ensure sludge is dewatered, transported and stored in an optimal way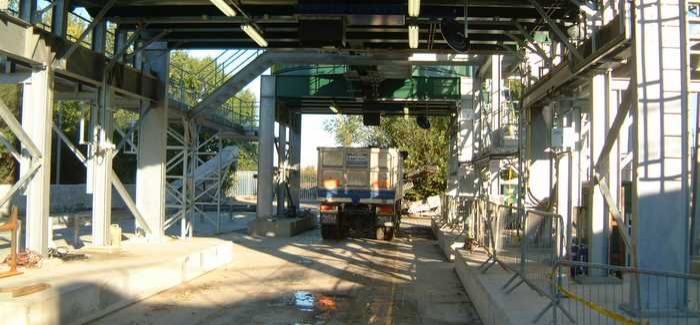 Truck loading systems for transferring sludge need to run smoothly
by Mark Neal, UK Sales Manager, Saxlund International
Today's innovative water companies are shifting their focus from sewage disposal to energy generation: processing waste in new ways can transform it from being a costly overhead to a source of revenue. Water companies can apply new technology to address the combined challenges of a rapidly growing population which is producing more sewage, the need to reduce overhead costs, and the need to meet environmental targets. Generating gas from sludge at large water treatment sites using anaerobic digestion and thermal hydrolysis infrastructure is a key part of the solution.
Sludge can be dewatered into a cake to minimise its bulk, thus reducing transportation and storage costs by up to 75% - sludge cake optimisation is therefore an essential factor in managing waste.
What are the key challenges in exploiting sludge through advanced digestion?
There are several issues water companies face in building new advanced digestion facilities. Obtaining planning permission to build large industrial structures in the countryside is often cited as a key issue, along with concerns over unpleasant odours and disruptive truck movements. Population growth requires wastewater treatment technology to keep pace with ever-increasing volumes of sewage sludge, while grid connection and certainty over continuous industrial fuel supply and consumer fuel demand are essential in the long term.
The spread of landmass available to receive waste from water companies (as well as from food, drink, and biofuel manufacturers) is limited, so an alternative solution is required.
Why do water companies need to transfer sludge between sites?
Economy of scale means the default model is a large digestion hub serviced by smaller satellite storage units. Large treatment sites in towns and cities (hubs) can receive sludge transported from smaller storage stations (satellites). The alternative is for multiple smaller treatment works to cover demographics, but to date these have not proved cost effective.
In order to maintain economy of scale investment in advanced anaerobic digestion (AAD) efficiency at each installation, indigenous waste needs to be topped-up, which means transferring sludge between sites. Davyhulme (United Utilities) and Colchester, Cliff Quay and Pyewipe (Anglian Water) are examples of hubs being served by satellites.
What methods are available for transporting it?
Existing transport options include roll-on, roll-off (RORO) containers handling pumped or screw fed cake, and articulated tankers for liquid sludge.
More recently, the alternative rigid and articulated trucks are being used for cake transport with up to double the capacity for transporting cake.
Existing RORO containers are not completely enclosed, which presents a risk of contamination from foreign objects debris (FOD) which can damage pumps and cause narrow restrictions in downstream plant. They also suffer from an inherent problem of odour control.
Why is sludge dewatering important?
By dewatering sludge, for example through centrifuge or belt press, slurry of circa 6% dry solids can be dewatered into cake comprising 22% dry solids, representing a 4:1 reduction in volume. This means one truck could potentially be used instead of four for the equivalent mass (without water). This represents a massive potential saving in haulage costs (and carbon footprint contribution) of up to 75%. Dewatering, considerate sludge handling and storage in a silo makes the material more friable, stable, safer and easier to transport and store.
What are the considerations in the choice of storage system?
Friable sludge (free from FOD), handled without excessive force and with an accurate DS% is what the AAD operator needs to manage the optimum performance of the digester.
Security is therefore the first consideration, to prevent the risk of FOD contamination.
Secondly, the infeed system (pumped or chain) has an effect on sludge consistency, in terms of storage and handling. Thirdly, the storage system must be large enough to accommodate up to four days' fill, taking account of reduced manpower over four-day-long bank holiday weekends.
Why change from a hook lift container storage system?
The more recent silo storage systems that replace hook lift containers are more efficient in construction and operation. They can fill larger rigid trucks or articulated tipper trailers. Larger truck-loading silos and truck reception silos enable greater volumes to be handled, reducing the waiting time for a truck delivery, the number of return trips required and importantly ensuring greater security from FOD. There is also a reduced cost of container rental and shunting, as a larger standard lorry can service more locations during normal working times.
Truck Loading Silos (TLS) offer a quicker turnaround (an estimated 15 mins loading as opposed to a 30+ mins shunting time) and reduce physical strain on drivers, who remain in their cabs during loading. TLSs also reduce odour, as silos are odour controlled whereas hook lift containers are only covered.
What factors should be borne in mind when designing the reception facilities on site?
A quick turnaround is ideal in relieving trucks / WwTW operators from unnecessary demurrage and reception blockage costs. 'Tip and go' has definite benefits against shovel loaders, albeit that consideration needs to be given to the effect of large loads on the discharge method. Inclined receptions need a high torque to move the equivalent rigid/ articulated load. Ideally, sludge should be discharged on a 'first in first out' basis. Silo discharge and conveying solutions (such as the latest Sliding Frame technology with screw conveyors) that can deliver a constant, precisely metered volumetric flow is critical to AD and thermal hydrolysis systems. This requires properly engineered solutions that take account of the materials' non-free flowing properties.

How can the costs of the process be reduced?
Switching to a truck-loading silo from RORO container system can result in typical savings of around £10,000 to £17,000 per month, for a 100m3 truck loading silo compared with an existing 2-3 RORO container system. For a 240m3 truck loading silo, the saving could be around £27,000 per month. The exact cost saving is largely determined by distance and load volumes from satellite sites.