Getting to Grips with... mechanical seals
Advances in modular component seal design have raised the industry standard by enabling configurable component seals to be built to order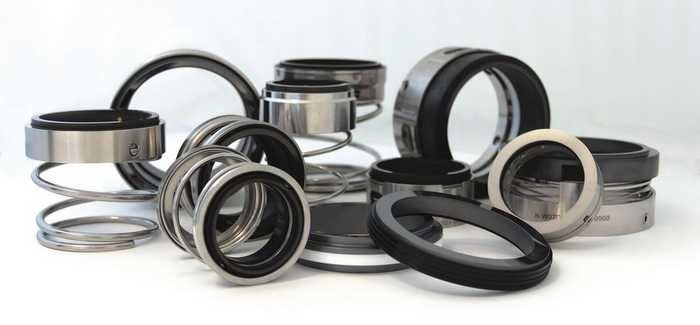 A collection of spring and bellows-type component seals
by Tom Broadbent, Project Manager, AESSEAL
Mechanical seals are found on most rotating equipment such as pumps and mixers to prevent the leakage of liquids and gases from escaping into the environment. It is best, therefore, to see the pump as only part of the system – and its performance and reliability is directly linked to that of the seal. A mechanical seal consists of two principal components. One component is stationary and the other rotates against it to achieve a seal.
There are many types of seal, ranging from simple single spring component designs to considerably more complex cartridge seal types. The design, arrangement and materials of construction are essentially determined by the pressure, temperature and speed of rotation and product being sealed.
The component seal ranges available today incorporate seals to suit a wide range of applications in the water and wastewater sector. These seals are used in large volumes and, as the name suggests, are supplied as separate rotary and stationary assemblies for installation on site.
What are component seals?
Component seals consist of multiple parts including rotor, rotor face, stationary face, springs, O-rings, gaskets and seal gland. Each of these needs careful handling and considerable care and skill during installation. As a result, component seals incur greater potential for assembly errors, for example, incorrect spring setting (resulting in improperly loaded faces), dirt or grease contamination on sealing faces and damage to sealing components due to mishandling. All of these have the potential to result in premature, or immediate, failure of the seal.
One of the major limitations with component seals historically, therefore, is that they were time consuming to install. Another consideration was that if conditions on site were not ideal or there was added time pressure to get equipment up and running it may have resulted in any one of these factors further compromising the seal's performance and the pump's reliability.
Where are component seals used?
Component seals are commonly used across a variety of industries; the type that is used depends on the pump type and its compatibility. For the water and wastewater sector, they are commonly used in sewage and water treatment applications. The most common type of component seal used in these applications are bellows-type seals.
What are the most common reasons that seals fail?
A common failure mode of some bellows seals is the bellows being ruptured leading to premature failure. There are two common ways in which this rupturing can occur. The torsional drive, which in normal operation goes through the spring, is transmitted through the bellows due to the spring disengaging from one end; or from particulates or sharp objects in the water tearing the bellows.
The design of AESSEAL's B09-U bellows seal incorporates a patented drive mechanism which not only means that drive is always transmitted through a metal to metal interface but also that the majority of the bellows is encased in a metal shroud during operation. This ensures that the soft rubber is not exposed to particulates or sharp objects.
What factors do you need to consider when sealing pumps in the water and wastewater sector?
With increasing pressure on water companies to reduce leaks, reliability is vital to reduce both environmental and monetary costs. Also time pressed maintenance personnel want to be able to install component seals quickly and be confident that it will be correct.
That is why we have developed upgraded alternative designs that fill a gap between component seals and cartridge seals as they incorporate features that improve seal life and aid installation. This is a major step forward in terms of component seals and brings them closer to that of a cartridge seal, reducing the risk of reliability issues.
Furthermore, depending on the application, the face and elastomer materials can be critical to the performance and reliability of the seal. A build-to-order model allows greater flexibility to the customer in the water and wastewater industry, who can be assured the most suitable material combination is available at a competitive price.
What product design features can maximise sealing reliability?
The B09-U contains a rotary drive through the retainer, ensuring that the drive force is transmitted through the retainer and not the bellows, reducing the risk of bellows failure. Maximized material thickness and specially designed spring ensures that disengagement does not occur and reduces the risk of hang up. There is also a pre-tensioned spring, meaning that the amount the seal has to be compressed before it is at the correct working length is reduced, reducing the stress applied to the bellows in its pre-installed state. An 'armadillo' retainer protects the working length of the bellows, while its rotary face is resiliently mounted to make sure it cannot fall out of the seal on installation.
AESSEAL has also redesigned its P0-U range seal to incorporate a number of patented features: a flanged drive ring which ensures that the risk of hang up is reduced; an axially retained drive ring which ensures that it will not separate during installation (a common problem with traditional parallel spring seal designs) and full convolution bellows allowing axial movement of the rotary face.
The T0-U range has been redesigned to incorporate a patented O-ring groove back up ring. This means that hard O-rings, such as FEPs or TTV, can be offered without compromising the space in which the O-ring operates.
Summary
We believe that reliability is key to helping companies in the water and wastewater industry reduce costs and improve service to their customers. In re-engineering our component seal range we have achieved this goal, raising the industry standard and allowing configurable component seals to be built to order.
Until now few companies have been prepared to invest this amount of time and resource into developing the next generation of component seals. However, we felt that it was important because we now have the same modular build-to-order business model in our component seal range as our cartridge seals – a major step forward.