Getting to Grips with... Cryptosporidium
All was quiet on the Cryptosporidium front but now the water industry's bête noire has re-surfaced. What can water companies do to address its threat?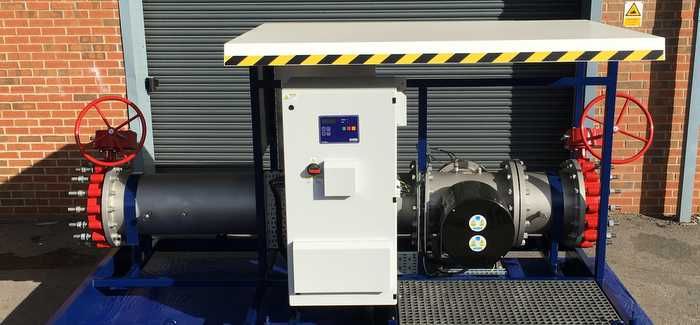 A UV rental rig on standby
by Barry Hopton, Municipal Business Manager, atg UV Technology
Cryptosporidium incidents are thankfully fairly rare, but when they do occur they bring high-profile misery to the water supply industry. The Drinking Water Inspectorate (DWI) is currently investigating an incident which occurred last year, and, if it concludes that system changes are necessary to ensure that similar incidents will not occur in the future, this could result in a delay to the opening of the business water retail market. If a further water quality incidents were to occur during the shadow market period, which started in October 2016, the DWI could lose confidence in the ability of the industry as a whole to manage an incident, resulting in a complete rethinking of the future arrangements as they currently stand. So what can the industry do about Cryptosporidium?
What is Cryptosporidium?
Cryptosporidium is a parasitic protozoan that infects a range of animals. In humans, it remains in the lower intestine for up to five weeks causing cryptosporidiosis, an illness characterised by diarrhoea, often accompanied by stomach pain, nausea or vomiting, fever and sometimes dehydration and weight loss. Healthy people usually recover quickly but those with a compromised immune system or with other medical conditions may be more seriously affected and cryptosporidiosis can be fatal for those receiving chemotherapy or for AIDS patients. So it's a real health risk.
How does it spread?
Infected animals excrete the organism in the form of oocysts – a sort of egg with a tough outer shell that protects it from the environment – that can survive for long periods and which find their way into water sources. Streams running through grazing land are an obvious problem, but poorly protected wells and boreholes can also be at risk. Other animals then ingest the oocysts when they drink the water and the cycle starts again. Two species cause human cryptosporidiosis. C.parvum generally occurs in farmed animals and C.hominis appears to be specific to humans.
How does it get into supply?
Provided that the Badenoch/Bouchier recommendations are followed, a conventional water treatment plant should remove the oocysts, but failures can and do occur, resulting in contamination of the supply. There is also potential for post-treatment contamination - for example, oocysts entering the distribution system from pipe fractures. Cryptosporidium is very common so these risks are ever-present.
How easily can it be detected?
Probably the biggest problem of Cryptospordium is the difficulty of detection. Oocysts are particulate and about 5µm so they can be detected by turbidity or particle counting but, of course, these methods are not specific. At present the only positive method of identification is microscopical observation and counting. This involves filtering a water sample to recover oocysts, but failing to detect oocysts in a sample does not guarantee that the sample is actually free of Cryptosporidium because no method is capable of achieving 100 % recovery, and indeed actual recoveries are much lower. All this means that identifying a problem and tracing its source takes time.
What treatment options are available?
Cryptosporidium oocysts are pretty much immune to chlorine and resistant to other oxidising biocides, although chlorine dioxide and ozone are effective at high doses, whilst microfiltration and ultrafiltration have been used as physical barriers. The revoking of Regulation 29 in the 2007 Water Supply (Water Quality) Regulations opened the door to the use of alternative technologies and, for the first time, DWI allowed the use of ultraviolet irradiation as a means of control. A 2004 WHO report had already reported a 3-log (99.9%) inactivation of Cryptosporidium at a UV dose of less than 10mJ/cm2 – a significantly lower dose than is required to inactivate most bacteria.
The efficacy of UV disinfection is dependent on the dose of radiation required to handle the microbiological load and the ability of the UV equipment to deliver that dose consistently. That depends on the design of the UV reactor. UV disinfection has been used for water supply in the United States for over ten years and the DWI UV Disinfection Guidelines requires validation of equipment by independent 3rd party bioassay to the protocols developed in the US EPA Guidelines. UV is rapidly becoming the process technology of choice for Cryptosporidium, being chemical-free, easy to control and more cost effective than other options.
What's the best way of responding to such an outbreak?
Obviously an immediate response is essential but, as we have already seen, identification and tracking of Cryptosporidium in the distribution system is the rate determining step. In many ways, the response to recent outbreaks in the UK and Ireland was exemplary. Following the issue of boil water notices, installing UV rigs at service reservoirs together with mains flushing and reservoir cleaning is now seen as the best available technique. The problem however is the time taken to procure and install UV equipment.
How prepared are water companies to deal with this issue in future?
For the most part the industry is not well equipped to deal with a Cryptosporidium incident and, with the current state of technology for detecting and identifying the organism, it is not easy to see a quick fix. The situation will be exacerbated with the implementation of competition and the high levels of switching which are likely to occur.
Emergency mobile UV rigs that can be rapidly deployed to specific parts of the distribution network is a very efficient way of containing an outbreak, but it is a risky strategy with high cost implications. Many companies in AMP 6, including Affinity Water, Southern Water, South East Water and Irish Water have adopted the safer solution to integrate purpose built UV plants into treatment works and service reservoirs for full network protection.
What are the implications for customers?
The industry will have to demonstrate to DWI that it is able to handle any future incidents or there could be a delay in the opening of the competitive market for non-household customers in April 2017. Eighteen water wholesalers together with Market Operator Services Ltd (MOSL) met at Water UK at the beginning of August to discuss issues that could delay the start of shadow operations in October. Delegates expressed a particular worry about the lack of planning to test large-scale switching prior to live operations. If DWI requires changes to the systems currently being developed for the non-household market there could be a significant delay to the market launch, and customers will then suffer from the lack of competition.
What is atg UV doing to help?
Together with providing water companies and contractors with tailored advice and consultation on long term preventative methods, we decided to invest in a number of self-contained mobile UV rigs which can be hired in emergency situations. These turn-key packages are factory tested and pre-validated to the DWI Guidelines so we know that they will meet the performance criteria required to inactivate Cryptosporidium; therefore, it's just a question of getting them to site and connecting up.
In the case of an emergency callout we can get these units up and running within 24 hours, so the incident can be under control in a very short time. With our 24/7 service support and maintenance team, we can ensure that the customer is never at risk.
www.atguv.com