Getting to Grips With... Blowers
Whether in water or wastewater applications, choosing the right low-pressure blower for the right job is crucial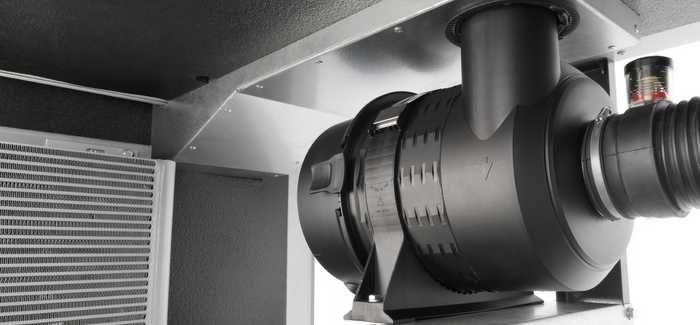 The interior of a ZS11 rotary screw blower
by Rob Boughton, Low Pressure Sales Manager, Atlas Copco
For industries that deal with water and wastewater treatment, the breadth of blower technology available today can be confusing. In the past, the means of providing a supply of low pressure air for purposes such as water treatment aeration, pneumatic conveying and other industry applications required relatively simple blower equipment. But with reliability, performance and energy efficiency higher on the agenda than ever before, specifiers should address a series of key considerations before committing to a purchase.
There are a number of important factors to take into account when making the right choice of low pressure blower equipment.
Which is best, positive displacement or dynamic / centrifugal?
There are two main methods of air compression: positive displacement, which creates pressure by reducing air volume, and dynamic or centrifugal compression, which uses speed to create pressure by turning kinetic energy into static energy. Positive displacement blowers usually handle lower flows than centrifugal blowers, but provide a bigger turndown, which maintains a steady level of efficiency. Centrifugal machines operate with bigger flows and can be optimised at specific points. The choice depends on the application. For processes that require wide variations of flow, positive displacement blowers are ideal; whereas those that require a big flow with little variation might find a centrifugal blower to be better suited. However, it's not unusual to combine the two types. For example, a centrifugal machine might look after the base load, while the positive displacement machine manages variations of flow.
Is operating range important?
In positive displacement, the market has been traditionally led by lobe blowers, which are commonly used for aeration in wastewater treatment plants or for pneumatic conveying within a factory. Low pressure applications invariably feature fluctuations in air demand for the process so you need to know that turndown on conventional lobe blowers can incur increased energy penalties. However, a blower incorporating more modern screw technology can operate from 100% capacity down to 25% with very little change in specific power requirement.
How much air can actually be delivered?
Make sure that you know the actual volume of air the blower package delivers, not just the air intake figure stated by the manufacturer, which is a common practice in the lobe blower market. The air output is a critical factor in sustaining essential oxygen levels within any aerobic process and, what's more, it is a requirement of industry standard ISO1217 that performance data is stated as FAD (Free Air Delivery) – the actual volume of air at the blower outlet.
Do you need to eliminate pressure drops in the system?
It is a proven fact that lobe blowers have to work harder, and consequently less efficiently, than screw technology blowers to deliver the same output. That is because the delivered air is compressed externally and depends on back pressure from the connected pipe work – or, in water treatment applications, water resistance in the aeration tank – in order to maintain the required air flow and pressure. Bear in mind that resistance to the internal air flow can lead to substantial pressure drops and increased energy consumption. In contrast, a rotary screw type blower demands up to 30% less energy because its proven internal compression principle is far more energy efficient.
How can power transmission losses be minimised?
Belt and pulley transmission from the motor shaft to the compression element has been the industry standard system for some time now but the downside is the need for constant maintenance and frequent replacement. A blower with close-coupled integrated gearbox transmission offers a more efficient alternative and can gain more than 3% in energy savings.
What about discharge temperature?
The discharge air temperature of a screw blower is, on average, some 5% cooler than that from a lobe blower. A lower operating temperature can benefit the aerobic process in wastewater aeration applications and allow for more options on the pipework layout.
Is low noise operation essential?
Environmental impact is a vital consideration for many blower application sites.It's possible to enjoy quieter operation and reduce installation costs by choosing a blower with intelligent internal baffle design and canopy configuration. Sound levels can be down to 72 dB(A) so there is no need to provide noise-insulated rooms and doors.
Could pulsations in the air delivery be a problem?
It's not generally understood that vibrations and compression element pulsations affect blower efficiency. So it is best if your unit can deliver high frequency, low pulsation air.
This can be achieved when air is delivered via the flexible hoses that feature on screw technology blowers. The hoses help to provide a smooth discharge and vibration de-coupling between the compression element and the filter housing.
Consider installation time
There are benefits to be derived from opting for advanced screw blowers incorporating plug-and-play technology. This is because they can be easily installed and quickly become active, thus the time and resource normally spent on set-up is minimised.
What is the cost?
Lifecycle cost comparison can be divided into three main considerations: investment cost, power cost and maintenance cost. In terms of upfront investment, some suppliers apply extra charges to ancillary items, while others offer simpler plug-and-play concepts.
Power costs should be considered in terms of free air delivery and maintenance costs can depend heavily on the likely need for replacement parts and the availability of warranties.
How do the different types of blowers compare in terms of energy efficiency?
The independent TÜV organisation measured the energy efficiency of a rotary screw blower against the performance of a conventional tri-lobe blower.
In these like-for-like tests it was proven that the rotary screw blower was 23.8 per cent more energy efficient at 0.5 bar(e)/7psig and 39.7 per cent at 0.9 bar(e)/13psig.
Relative values
In addition to these few considerations there will be many other factors for the specifier to take into account such as bearing life, drive motor specification, pipework requirements, panel building and control systems.