Getting through the bog of water deterioration together
A partnership between United Utilities and the RSPB to help restore moorland peat bogs near Manchester illustrates how environmental NGOs and water companies can work together to make a difference on water quality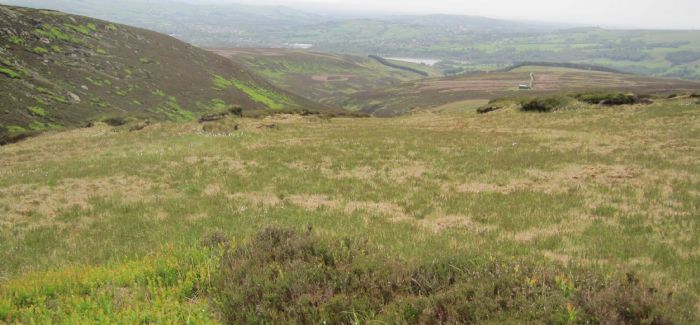 Dove Stone shown after the restoration work
Dove Stone success
"We are hugely proud of what we've achieved with the RSPB at Dove Stone. Our customers get to benefit from a beautiful area which was previously in great decline, where rare birds, insects and animals are thriving, and better quality water is entering our reservoirs. This sort of project is a win-win-win for customers, the environment and our business. We're looking forward to working even more closely with nature partners in future to help leave our environment in a better condition than we found it."
Jo Harrison, United Utilities
"Dove Stone is a great example of the environmental transformation that can be achieved when water companies and nature experts work hand in hand. It is important that the momentum that we've developed from joint-working on these key projects is built upon so that benefits to nature turn from a trickle into a flood. It's not just through on the ground projects that we can make a difference, by showing the common ground and joint voice that water companies and environmentalists have on difficult issues like agricultural pollution, climate change, drought and flooding we can get these messages heard more clearly, and acted upon, by Government."
Nathan Richardson, RSPB
With only 14 per cent of rivers in England classed as healthy, it is a huge challenge to get our waterways fit for purpose, not only for water customers and businesses but also for the wildlife that relies on healthy water to survive. Freshwater ecosystems are the most threatened on the planet, and we have seen huge declines in plants, mammals, birds, fish and insects around British waterways in the last 50 years.
The scale of the environmental problem in our waterways means that no one sector can solve it on its own. That's why 20 environmental NGOs, co-ordinated by Blueprint for Water, and nine water companies have pulled together to create a set of shared ways of working setting out how they will work together to help leave the environment in a better state.
The shared principles include: greater collaboration on policy and projects; promoting greater awareness of the links between water management and the natural environment; working together to achieve and build upon Water Framework Directive obligations; sharing key data sets; and joint efforts to enhance and improve the resilience of water-based ecosystems.
Water companies and nature charities are already working together on many exciting and innovative on-the-ground projects across England on a huge range of environmental issues, from tackling pollution, to natural water filtering, to public engagement. These projects have had some dramatic successes and show the very real benefits that a joint approach has for helping wildlife and ecosystems to recover and thrive, and for companies to deliver sustainable changes which can provide effective and cost-saving solutions to business problems.
One such successful on-the-ground joint project is RSPB's partnership with United Utilities at Dove Stone – an area of open moorland above the Dove Stone reservoir in Greater Manchester, with internationally important blanket bog that supports a host of wildlife. The project involves working with tenant farmers to restore 4,000 hectares of moorland including 2,500 hectares of blanket bog degraded by decades of damage. The joint work started in 2010, continuing the work of United Utilities' Sustainable Catchment Management Programme.
This is a significant restoration project which has been recognised as a model of success with the partnership winning the Natura Award for Conservation in 2016 and the CIEEM Award for Large-scale Conservation in 2018.
Peat bogs are a hugely valuable landscape for both wildlife and in regulating environmental pollution. The peat that cloaks our highest land forms a blanket of life that supports characteristic plants and animals, especially the Sphagnum mosses, with 'Blanket Bog' a very rare habitat globally for vulnerable wildlife. Peat bogs, when in good condition, are also a massive carbon 'sink', continually soaking up CO2 from the atmosphere. Upland soils are the largest carbon store in England with 300 million tonnes of carbon stored in English peatlands, mostly in the uplands, and restoring these habitats is a key way to help tackle climate change.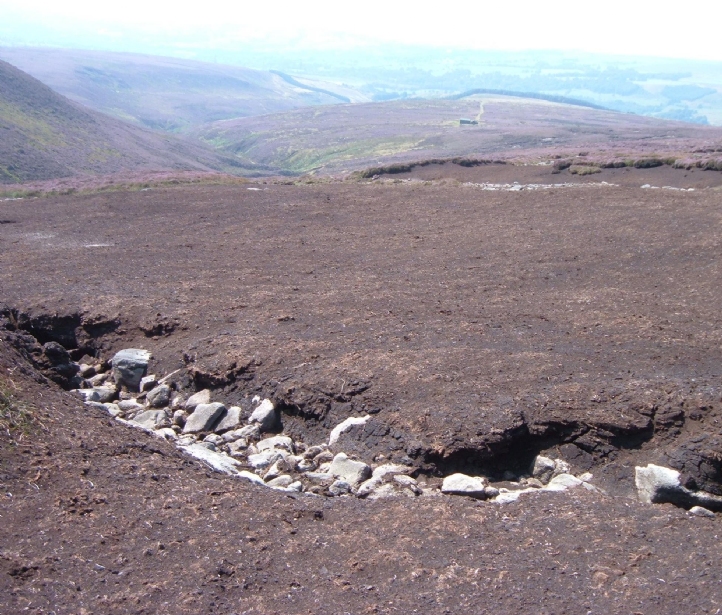 The bare, oxidised peat at Dove Stone was prone to be washed away in heavy rain prior to restoration
But these invaluable peat bogs are under attack. Historic atmospheric pollution from the northern industrial towns and cities killed more than 99 per cent of the peat-building Sphagnum moss at Dove Stone. With overgrazing and burning the peat oxidizes and is prone to be washed away in times of heavy rain. Peat-staining in our water is costly to remove and the peat that disappears through chemical oxidation ends up pumping carbon into our atmosphere.
RSPB and United Utilities' work on the ground involves planting up the bare areas of peat, blocking eroded gullies and innovative work sowing over 400,000 individual handfuls of peat-forming sphagnum mosses. It's a work in progress, but there have already been dramatic changes in the landscape. As the peat recovers, we are seeing benefits in water quality, water retention and the work is helping to tackle climate change by locking up carbon. There has also been a flurry of wildlife as a result of the project with birds such as dunlins, golden plovers, curlews, peregrine falcons and red grouse, insects and amphibians increasing and vulnerable mammals like water voles starting to flourish.
"With the UK's waters in a critical state this pooling of resources and expertise is essential to help make them healthy again," says the RSPB's Nathan Richardson, who is vice chair of Blueprint for Water. "Joint projects on the ground across the country are already achieving success and we look forward to more joint work on policy, targets, campaigns, and initiatives delivering results for the environment."
Jo Harrison, asset management director at United Utilities, added: "It is essential for wildlife, for our customers and for us as a business, to pool our resources and expertise with that of nature experts. From peat bogs to politics behind the scenes, we are increasingly working with partners to make our business more sustainable, deliver innovative solutions to environmental problems, and benefit our customers through an improved service and improved landscapes for them to enjoy."
This article originally appeared in the December issue of WWT