New Connections: will reforms help utilities serve developers better?
Reforms to the way that water companies charge for new connections are the most visible element of a drive from Ofwat to make water companies provide a better service to developers. So what are the changes about and will they work?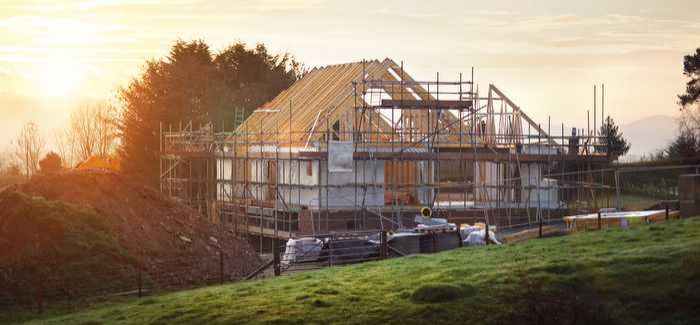 Improving the service given by utilities to developers is seen as important to promote housebuilding
by James Brockett
It's a common complaint that the UK is not building enough houses to support its growth, and so anything that can be done to remove barriers to new development is likely to appeal to the country's policymakers.
A small but important part of this agenda will be taken forward in April 2018 when water companies must implement the new charging rules imposed by Ofwat. The utilities each need to publish on their website a fixed, upfront schedule of fees that they charge for laying mains and pipes that connect new buildings and housing developments to their network.
It's one significant step in a process to get water companies to provide better service to developers. Other reforms on their way include a new Code for Adoption Agreements (to smooth the process when developers lay assets themselves and want to get them adopted by the water company) and a new measure of developer experience (DMEX) which will incentivise or penalise water companies for their customer service to developers after the PR19 price review.
For some critics of the industry in the construction sector, it is not before time. Housebuilders have had many complaints over the years about the service they receive from water companies when connecting up new properties. These include a lack of predictability: charges often cover work away from the development site (such as mains reinforcement and enhancement) which are hard to anticipate and over which the developer has no control.
Other common gripes include a lack of consistency between water companies, and a lack of transparency – with charges calculated using arcane formulae which left developers scratching their heads about what they were paying for. Finally, there were complaints about the length of time it took for water companies to quote and carry out work, and of procedures which were anti-competitive: developers who might have wanted to lay mains themselves or pay a third party to do so were put off because of water company actions that were perceived as obstructive.
Ofwat's new charging rules make a clear distinction between charges for work that needs to be done on site to lay new assets (requisition charges) and those for work to enhance and reinforce the wider network (infrastructure charges). By making water companies go public about exactly how they calculate their requisition charges, the rule change will encourage competition because developers will be able to work out themselves what the requisition charge would be and find out if they could get a better deal from a third party such as a self-lay provider or NAV (New Appointments and Variations).
Meanwhile, although network improvements will still be ultimately funded by developers through the infrastructure charge, this is a flat rate, regulated charge levied on all new connections over the five-year AMP period, putting the onus on water companies to work out the likely extent of such work in advance and to invest the money they receive efficiently.
New charges explained
-Ofwat's new rules on charging come into force in April 2018. Before then, water companies are expected to consult on and then publish their own charging arrangements which are compliant with the requirements, and make them easily available on their websites.
-They must distinguish clearly between charges that are associated with contestable work (which could be carried out by providers other than the water company) and which are for work that is non-contestable.

-Requisition charges, which are charges for laying water mains or mains sewers on a development site, are contestable. In their charging arrangements, water companies must set out a schedule of upfront fixed charges that enables developers to calculate what the requisition charges will be for their site. The developer can then measure these likely costs against competitive options such as a self-lay provider or NAV (new appointments and variations).
-To enable a direct comparison, the water company must also publish a fixed, upfront cost for the connection charges made when they adopt pipes and sewers laid by somebody else. Any asset payment or discount made the other way must be kept separate
-Requisition and connection charges must not include the cost of work to enhance supply or reinforce the network away from the site. These off-site works must be funded by the infrastructure charge, a non-contestable, fixed fee gathered from all new connections in a region. Water companies must demonstrate to Ofwat that they are using all the money from these fees on necessary enhancements
Regulator View: Sally Irgin, Director of Enforcement, Ofwat
"Developer services has been a key area we have been concentrating on at Ofwat for the last three years; but when we started this journey back in 2014, it was a pretty bleak space. Companies had a very limited view of their activities in this field and didn't really recognise developers as customers. There was also a real inconsistency in the level of service provided by companies to developers, both in terms of timing and in the quality of customer experience.
"New connections was one of the first areas of the water sector to have an element of competition, and self-lay organisations are key to that. However, there is a north-south divide in terms of the take-up of self-lay in the country. Of course there are a whole range of factors that sit behind that, economic and regional issues, but there is also something about company behaviour that makes that market more effective in some areas than others.
"The problems weren't limited to water companies - there was also a challenge for Ofwat in that the vast majority of work we were doing on developer services was on casework, dealing with disputes that came to us, rather than it being a consideration that cut across our organisation. With housing being a big priority for the government, there was a feeling that we had to address this. We wanted to put the spotlight back on to developer services and to make sure we were using the range of tools at our disposal to get companies to step up to that challenge.
"The charging rules and the code for adoption are the more formal pieces of work that we've done, and they both fall under the new legislation of the Water Act 2014. The charging rules piece is particularly important as it gets to the heart of why we used to get a lot of disputes in this area: current charging arrangements are complex, a bit unpredictable, and at times unfair. We have issued our rules for new connections for England for Wales, and companies at the moment are developing their individual charging schemes to fit in within this framework. The new charges should be clear and predictable, and avoid the need for so much back and forth between water companies and developers.
"But we have also engaged the softer tools that we've got: on levels of service, we challenged the sector to develop a set of metrics on levels of service that they would report on, and they've been doing that quarterly through Water UK since April 2015. The quantitative elements contained in those metrics create a 'league table' which is a powerful reputational incentive.
"The methodology for the next price review also includes a new measure called DMEX, which is the qualitative element of developers' customer experience. It will be based on a customer satisfaction survey, and will be the first time that there will have been a clear incentive within the price control that's related to developer services, with penalties and rewards attached to it. That all helps to reinforce with senior managers within water companies that this is an important area.
"The final strand of what we've been doing is around planning for growth: we've been using our informal powers to make it clear to companies that we expect them to be proactively engaging with local authorities and with other infrastructure providers to make sure they really understand the future development pipeline in their area and the associated planning, so there are few big surprises for either developers or the company in terms of their requests to connect to the network."
Water companies' plans
Most of the water companies have published an initial consultation on their charging arrangements but at the time of writing (Dec 2017), none had yet revealed the final version. They have until February 2018 to do this.
David Strang of Water UK says that coming up with a schedule of fixed requisition charges has been a challenge for water companies. "Companies are having to create a whole series of fixed charges, not just for different lengths of pipe or different valves, but for different circumstances: whether the pipe is under a carriageway, whether the work requires traffic management, whether it is on contaminated ground; there are a lot of different variables. I think the bigger companies will find it easier as they will have data which they can mine to come up with robust figures, but it's a tricky job to come up with a robust figure when you don't do something very often."
On infrastructure charges, water companies face an even bigger challenge because estimating the total amount of network enhancement, and planning this reinforcement work in a timely manner, requires them to have a clear picture of the pipeline of development in their region, says Strang.
"At the moment, water companies get early contact from developers, which means a lot of information, whereas in future if the developer is just looking up the charges on their website then the water companies won't necessarily get that information. We're going to have to see exactly how that goes - I think some water companies are going to try and encourage developers to have early contact with them anyway, so they can have a better understanding of what network reinforcement might be required for a particular development."
One strand of innovation that is clear from water companies' plans so far is a willingness to offer discounts on the infrastructure charge for developers who build in sustainability features, such as rainwater harvesting or sustainable drainage, in order to reduce the burden on the water or wastewater network.
Other ideas that have emerged include zonal charging, where building in water-stressed areas attracts a higher infrastructure charge than in areas where water is more readily available.
Developer View: Steve Wielebski, Senior Consultant, Home Builders Federation
"From the outset house builders welcomed the reforms introduced by Ofwat, but the current round of individual consultations (an expected 19 in all) have fallen a long way short of the initial assurances given, in particular the promise of robust evidence in support of each company's new charging arrangements.
"From a house builder perspective, only three issues have ever been of concern: firstly, infrastructure charges and what they are meant to fund; secondly, the need for developer funded off-site work when such work has not been in direct consequence of new development; thirdly, why some WaSCs have difficulty (from a financial perspective) in discharging their statutory obligations under the provisions of the Water Industry Act 1991, in particular Section 94.
"House builders had hoped that the new charging rules and charging arrangements would have effectively addressed these issues but as we approach the date when each company's crystallised costs must be disclosed on their respective web-sites - i.e. no later than 1st February 2018, not a single company has subjected its intended cost structure to any form of consultation. Yes, there are some indications as to what these costs might be but from the evidence gathered to date, the variability in these costs is already noticeable, largely as a result of the discretion that has been handed to companies by Ofwat.
"The acid test is whether this latest raft of reforms by Ofwat will deal with the issues raised – we have yet to be convinced that this will be the case."
The Self-Lay Market: A north south divide
The fortunes of self-lay providers – companies which will lay new water mains on behalf of developers – in different parts of the country is revealing about the patchiness of efforts to overcome barriers and encourage a competitive market in this area. United Utilities and Severn Trent are recognised as being particularly open to self-lay, but there is very little traction for SLPs around London and the south east: a true north-side divide, notes Martyn Speight of self-lay trade association Fair Water Connections.
"The market really become established in UU's area, and about 60% of their connections are done by self-lay," says Speight. "When you consider that many of the others are individual properties, flats and apartments on existing highways, or smaller sites that aren't that attractive to independent providers, you would say that the market there is saturated. But if you go down to the south-east of England, the figure is about 5%. Understanding why that has not been addressed in the south of Britain is difficult and that's the challenge to take forward."
He explains how slow response times and obscure charging structures can put off developers from pursuing the self-lay option.
"What usually happens is that developers might have a rough idea of how they want the site supplied early on, but they don't make a decision until later when they start to commit expenditure to that site. Now, if response times from the water company at that stage aren't particularly fast because of the complicated charging process that's been in place, developers have tended to choose the safe option in terms of going to the water company, rather than looking to the open market."
Having an upfront schedule of charges from the water company should enable developers to make a decision about water supply at an earlier stage, says Speight. Furthermore, the requirement that all non-site-specific work such as network reinforcement should be paid for by the infrastructure charge should overcome the perception that many developers had in the past that they were being charged twice for such work.
"The issue with infrastructure charges has been that nobody is totally certain what they fund," says Speight. "You can end up with sites where you pay infrastructure charges, but you also pay for a lot of mains work which could mean going right back to the source works. So in that instance, why are you paying infrastructure charges to enhance the current network? That will all disappear under the new arrangements."
However, he is concerned that water companies may respond to the reforms by increasing infrastructure charges; Anglian Water, for example, has stated an intention to increase the charge by £90. This would be "swings and roundabouts" to a larger developer but would tend to hit smaller customers, he says. He also says he is yet to see evidence that subsidies and discounts that are paid by water companies to take account of future income from new connections (income offset) will be dealt with fairly; or that the information that water companies give on their websites about connections will make it sufficiently clear that there is a self-lay option.