Gasification of Sludge: Innovation in Action
Yorkshire Water's advanced thermal conversion (ATC) gasification plant at Lower Brighouse WWTW has achieved a timely breakthrough in the extraction of energy from sludge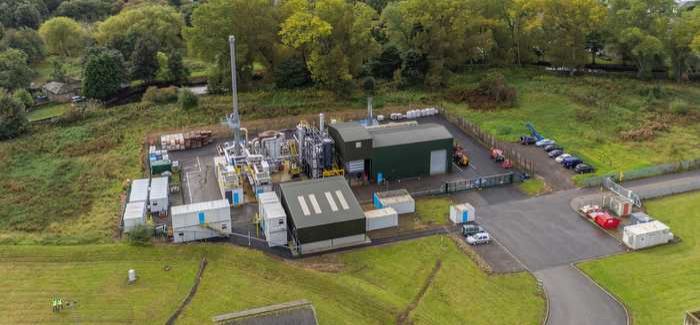 The ATC gasification plant at Lower Brighouse WWTW seen from above
by James Brockett
Yorkshire Water has unveiled a first-of-its-kind innovation at its Lower Brighouse WWTW which is set to raise the bar for the amount of renewable energy that water companies are able to extract from their sewage sludge.
The demonstration-scale, proof-of-concept Advanced Thermal Conversion (ATC) gasification plant is the result of ten years of research and development by Yorkshire Water and its partners. It has now operated successfully for 10,000 hours – meeting established industry benchmarks – and has generated 3.2GWhrs of electricity in that time.
The process uses dried, pelletised sludge, mixed with pelletised wood, as fuel for a gasifier which produces syngas, which is then used to generate electricity, heat and char. If deployed at a suitable scale, the process has the potential to generate four times as much renewable electricity as anaerobic digestion (AD), the most commonly used technology for sludge treatment, while reducing the risks of recycling sludge cake to agriculture. Yorkshire Water plans to recover nutrients for more efficient, beneficial use; if deployed widely, the level of energy generation involved would make energy neutrality a realistic prospect for Yorkshire Water, as well as carbon neutrality – in fact, analysis from the Carbon Trust has confirmed that the operational ATC site is significantly carbon negative.
The key technology at the heart of the process - the gasifier - has been designed and developed by Yorkshire Water's commercial partner Enertecgreen. Based on a system originally used in Latvia, it uses a proprietary process to produce a consistently high quality gas and avoid the problems of clogging which have hindered previous R&D efforts in the gasifier space. Suitable for deployment on a relatively small scale, as well as large modular deployment at wastewater treatment works, the emergence of the technology is extremely timely given Ofwat's imminent reforms to the sludge market.
Technologies
Yorkshire Water approached its R&D work using a hierarchy of sludge treatment technologies produced by Cranfield and Sheffield universities:

1. Pyrolysis: Thermal degradation of the sludge in the absence of oxygen. This process is the most efficient in terms of producing energy, but its operation is the most challenging to achieve.
2. Gasification: A similar process but with a controlled, reduced oxygen flow and a slightly higher temperature. This trade-off results in a cleaner gas being produced.
3. Advanced Anaerobic Digestion: Anaerobic digestion of sludge that has been pre-treated with thermal hydrolysis. This produces a better yield of biomethane which is used to create energy.
4. Standard anaerobic digestion: The most common sludge treatment used in the industry, AD works similarly to a cow's stomach, producing methane and solid digestate that can be recycled to agricultural land.
5. Incineration: Burning sludge produces some energy, but is the least efficient as well as the least sustainable method of sludge disposal, and is therefore being phased out.
6. Landfill: With sludge now widely seen as a resource, disposal to landfill is an option to be avoided.
Transformational change for sludge
Jon Brigg, Manager of Innovation, Yorkshire Water, says:
"When I started in this role in 2007, we were incinerating about 50% of our sludge and putting about 50% of it into anaerobic digestion (AD). AD is good, solid technology, and we see it as a mainstay of our sludge process: all of our incinerators are now shut down, and in two years' time we will be 100% AD.
"However, our R&D programme is all about transformational change: doing different things, as opposed to incremental improvements. It's the Henry Ford thing – if you ask people what they want, they want a faster horse. You can give them a faster horse, that's incremental, or you can be transformational and produce the model T, which is what we are trying to do.
"Yorkshire Water uses about 600GwH of energy a year, costing almost £60M, and if we put all our sludge through AD, even with thermal hydrolysis up front, we would only ever be 26% self-sufficient in energy. The cost of electricity is only going to go up, so there's a compelling, burning platform to maximise the energy recovery from what is a resource in our business.
"In a hierarchy of technologies that are emerging for energy recovery from sludge, pyrolysis is the most efficient, and gasification is a close second. At the end of 2008 we partnered with a company called Intervate, and we tried pyrolysis, at significant pilot scale at our Esholt site at Bradford. We operated that plant for nearly a year, but we couldn't make it work – it's an incredibly difficult process, and getting the chemical output right required us to move away from our core skills as a business. So we hit the stop button.
"We then moved to the next in the hierarchy, gasification, and put in a pilot plant. We got some very positive results in terms of gas quality, but also some negatives, in that if the temperature around the grate wasn't controlled to a very fine degree, then the ash would melt and it would clog up very quickly. Given the probable downtime from having to clean the gasifier out frequently, we were on the verge of giving up on this as well, when in 2013 we were made aware of Enertecgreen.
"It's a family business in Latvia started by Eriks Samulis, who has the IP on a gasification system which he designed, built and operated himself. We visited it in Riga and it had operated for 30,000 hours - the efficiency levels were beyond anything that we'd seen before globally in any system, and it could be operated remotely from a mobile phone.
"At that point we started building the business case for a significant investment of around £8M. We think it was the biggest investment that anybody's made in the R&D arena from the UK water sector, so it attracted quite a lot of challenge and governance process from the business. We brought in significant external expertise to design a commercial demonstration plant which had the Enertecgreen gasifier at its heart.
"Over the last three years, there have been some niggles which we have ironed out, but the exciting thing is the consistent high quality of gas coming out the gasifier. From the moment it was switched on it has consistently produced a flat line graph of gas quality, which is incredible."
ATC Gasification: How it Works
- The sludge from the wastewater treatment works at Lower Brighouse is brought into the adjoining advanced thermal conversion (ATC) plant as cake of around 22% dry solids. It is fed into a low temperature STC drier, supplied by Suez, where it is dried on a belt at a temperature of 70-80 degrees, and shaped into pellets
- The pellets are then mixed with pelletised wood, in a proportion of 30% sludge and 70% wood. The aim is to create a fuel for the gasifier which is as uniform as possible; however, the proportions can be changed if required, with up to 50% sludge content possible
- The pellets then enter the gasifier, where they are kept moving continuously through the unit with hot air meeting the fuel. The temperature is kept carefully controlled, and unlike other gasifier models, there is no grate which can become clogged. Hydrocarbons in the fuel are converted into hydrogen and carbon.
- This process produces syngas, which is around 20% hydrogen, 20% carbon monoxide and 2% methane. This is fed into two Jenbacher CHP engines which create electricity and heat.
- The heat is conveyed back to the sludge drier where it helps earlier in the process; the electricity is taken to a grid connection or private wire connection
- The process also produces char, which is largely carbon and sludge ash. This material can be used as a coal substitute, and Yorkshire Water have identified possible users for this. Research is also underway to discover if the carbon can be activated for use elsewhere in the wastewater treatment process
The implications
One of the advantages of the ATC gasification process is that it does not require aggregation in order to be efficient: unlike advanced anaerobic digestion, which is best used at a large hub site drawing in sludge from many locations, it could be deployed at numerous smaller wastewater treatment sites, near the points where the sludge is produced and the energy is used, cutting down on transport costs. Moreover, these installations can be controlled remotely, and visited periodically for maintenance rather than manned round the clock.
The technology could therefore have far-reaching implications when considered in the light of Ofwat's reforms to create a deregulated sludge market in 2020. While much of the commentary around these reforms has focused on moving sludge between areas and making use of spare capacity, the widespread deployment of technology such as gasification could mean that the future of sludge-to-energy is much more local.
The apparent solid investment case could lead third-party companies and investors to set up ATC plants to take sludge from wastewater treatment sites and sell the energy back to the water company, to nearby industrial users, or the grid. This model would potentially be profitable for the entrant company, and provide the water utility with cost savings, sludge disposal and sustainability benefits.
Water companies themselves are unlikely to roll out gasification assets speedily after PR19, since they have many functional and relatively new anaerobic digestion assets and replacing them will not be a priority. However, with Yorkshire Water's efforts proving that the technology works, some deployment in AMP7 is likely, and gasification could then find itself a mainstream option, which is in pole position when AD sites need replacement in AMP8 and beyond.
On the back of the demonstration plant's success, Enertecgreen will also be able to market the gasifier technology around the world.
"This has been a real partnership with Yorkshire Water, and their commitment to the technology and its use on an industrial scale has been invaluable for us," says David Pitt, director at Enertecgreen. "After 10,000 hours of operations here, with highly efficient conversion and very clean performance on the engines, we've met all of the goals we set ourselves from a scientific and R&D perspective; the boxes are all ticked.
"Everyone we've spoken to has expressed real interest in finding out about the plant and what we are doing here: Germany has huge potential, and we've had particular interest from Scandinavia," continues Pitt.
"Anaerobic digestion plants will not be thrown away overnight - AD works, and in certain situations very successfully - but ATC gasification will be seen as complementary to other technologies in this space. It can deal with some sludges that AD can't deal with, it produces a lot of heat, which can be used in drying processes as well, and it helps avoid sludge to land. The power is produced locally, the expectation is that it's used locally, and that's ultimately going to provide a lot of value in terms of both cost and carbon savings."
-This article appears in the November 2017 issue of WWT magazine
-You can find out more about Yorkshire Water's ATC gasification plant when Jon Brigg presents at WWT's Water Industry Technology Innovation conference in Birmingham on November 30th.
Details: events.wwtonline.co.uk/innovation