Future-proofing the water supply
Wyke Farms has invested £1.3M in a new industrial recovery plant that will see 95% of factory wastewater recovered and reduce future water consumption by 70%. Steed Webzell takes a closer look at the project.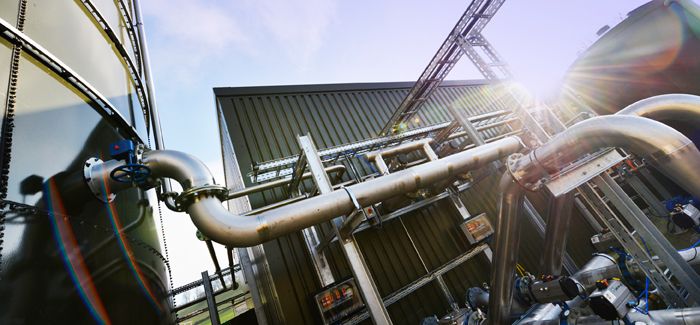 The new recovery plant ensures self-sufficiency when it comes to water, and guarantees business continuity, whatever the weather.
Drivers, Challenges and Perspectives
Drivers
To provide tertiary treatment (reverse osmosis and UV disinfection) to produce potable water for re-use.
To extend the existing wastewater treatment plant by providing further biological treatment (UF and RO membrane systems), producing high quality wastewater for discharge to the river.
Challenges
A litre of process water is required to produce each litre of milk for use in Wyke Farms' products.
The cheese factory and local dwellings are supplied with potable water from boreholes on Wyke farmland. There is no mains supply in the area.
Mains water had to be tankered-in to supplement borehole supply in dry periods.
The existing wastewater treatment plant had seen a number of upgrades over the past 10 years but was reaching its limit as peak production increased.
Perspectives

The plant
"We've worked with Brian Rebbeck Technical Services for many years and the company was a natural choice for this project. They planned the entire plant and selected Aquabio technology after close consultation with our own team of project engineers. The knowledge and professionalism of Brian Rebbeck Technical Services has stood this project in good stead. With hindsight, I only wish we'd done it sooner."
Rich Clothier, managing director, Wyke Farms
The supplier
"I've known the Clothier family for around 25 years – I worked with Rich's father John originally. Hats off to Wyke Farms, they've really taken the plunge and are truly flying the green banner. The wastewater recovery plant epitomises what they stand for and is a good example of how engineering can help overcome the challenges presented by climate change."
Brian Rebbeck, owner, Brian Rebbeck Technical Services
The cost and supply of water is a critical threat to many business, particularly manufacturers. Wyke Farms, a producer of around 14,000 tonnes of cheese a year for virtually all of the major supermarkets, knows this better than most. In fact, calculations show that around 1 litre of process water is required to produce 1 litre of milk for use in its products.
"We've been worried about water for a number of years," states Rich Clothier, the company's managing director. "We draw our water from boreholes, which reached critically low levels during the dry period in 2011-12. One borehole even started to bottom-out, which meant we were pulling up silt and sediment. With climate change experts predicting this will become increasingly common, we decided to consider the reuse of wastewater."
Until recently, Wyke Farms ran an activated sludge plant to treat its wastewater, with a licence to discharge the final effluent into a tributary of the River Brue under an EA EPR permit. The plant comprised a primary treatment stage (divert system, silt and fat traps, balancing, and DAF with chemical flocculation and pH correction) followed by secondary treatment featuring extended aeration activated sludge with clarifiers.
Initially, a number of improvements were considered, including replacing the clarifiers and adding tertiary treatment in the form of continuous backwash sand filters or reed beds. However, at the end of 2011 it was agreed that alternative options for upgrading the plant should be investigated to ensure adequate capacity for future increases in production, as well as provide water for re-use in the cheese factory.
After evaluating and costing the main options, then taking into account the compliance standards, land requirement, and the fact the existing plant would have to continue in use until the new facility was fully commissioned, it was agreed to push forward with a £1.3 million wastewater recovery plant based on membrane technology. This would feature a series of processes including aeration and dissolved air flotation (DAF), followed by a bioreactor stage, ultra-filtration (UF), reverse osmosis (RO) and ultraviolet (UV) disinfection, ultimately allowing the company to recover up to 95% of its factory wastewater.
Wyke Farms commissioned Brian Rebbeck Technical Services – a company specialising in the provision of practical advice on the statutory, financial and technical aspects of water, wastewater and waste disposal in the food industry – to draw up the plans for the new plant.
"We put together a specification based on capacity demands and water quality requirements," says the company's owner, Brian Rebbeck. "The plant capacity was set at 750m³ per day, with up to 70% for reuse as potable water. In October 2012, Aquabio was selected as the technology supplier, essentially because of their energy costs. Also, the Aquabio system comprises standard, commercially available units which we could go and see in operation at a major salad producer."
So, how does it work? Well, in the primary treatment stage, factory trade effluent (wash water, no human waste) passes into an underground interceptor which allows any solids to settle inside integral chambers. The wastewater then overflows from the interceptor into a balance tank – the previously deployed aeration tank – where two aeration mixers do their work. From here, the aerated effluent is pumped into an existing DAF tank to remove further suspended matter and impart pH correction.
After DAF, secondary treatment begins, which is where the new Aquabio plant takes over. Firstly, the wastewater is pumped into a bioreactor (feeder tank), which holds the biomass population that breaks down organic matter. The biomass requires oxygen to operate and this is provided by a jet aeration system and air blowers.
The water is then separated from the biomass using an ultra-filtration membrane separation system. This involves the circulation of biomass through external membrane banks. Under pressure, the treated effluent is produced as permeate from the membranes, with the biomass retained and returned to the bioreactor. The permeate from the membrane system is subsequently discharged to a UF permeate tank which provides a reservoir for UF membrane flushing or discharge to the river.
Alternatively, when the factory requires recovered water, tertiary treatment begins with transfer of UF permeate to the RO system. Water is driven through two stages of RO membranes to produce an ultra-clean permeate stream which is transferred to a recovered water tank via a UV disinfection unit. The system, which was installed by Wyke Farms' own project engineers, is currently producing around 300,000 litres of potable water per day. It is designed to be maintenance-free – the only consumables are the membrane filters with an expected life of around 10 years.
"Construction took around 12 months from start to finish," says Clothier. "There was a lot of building work and pipework, not to mention electrical installation [the civils were provided by Dunford Construction]. It's fair to say there was a fair bit of disruption in the changeover period, although this was minimised because we built the new plant room right beside our old activated sludge facility."
The good news is that the wastewater recovery plant will ultimately reduce water consumption by 70%. At peak, it is estimated that it will treat up to 750,000 litres of water per day, and recover 525,000 litres for re-use, offering a certain amount of future-proofing for the company. Furthermore, the closed-loop approach is far more sustainable than additional water extraction or tankering-in more mains water.
"We're able to use about 300m³ of extra water extra per day because of this plant," says Clothier. "It also saves the amount that we're drawing from boreholes. At maximum output the plant can recover up to 525m³ every day, which would make us more than self-sufficient. I view what we've created as a permanent fix."
At present, Wyke Farms is reusing about 60% of its wastewater via the new plant. However, in the spring, when milk levels are high, this will climb a lot higher. In the future, the company even envisages a time when no clean water is discharged to the river, using it instead for irrigation or to fill drought ponds.
Located in rural Somerset near the village of Bruton, water has long been an issue for Wyke Farms. What's more, pressure from customers to show climate change resilience has added to the need for a strategy switch.
"We see water as a finite resource," says Clothier. "The EA predicts that domestic water demand will rise 30% by 2040, which if nothing else will almost certainly make it more expensive. Sure, the most recent winter was very wet, but we view this as demonstrable proof of climate change. There will be more extreme weather patterns to come; dry periods followed by deluges with a lot of run-off. In addition, average temperatures are set to rise by up to 4°C in the next 20 years. This will increase summer evaporation rates by 80%, with the obvious adverse effect on the water table."
Wyke Farms has been producing its award-winning cheddar in the lush pastures of the Mendip Hills for over a century, in the process becoming the fastest growing Cheddar brand in the UK. This £1.3M investment in the wastewater recovery plant is part of the company's £10M long-term sustainability plan, called '100% Green'.
"All manufacturers are going to have to start viewing the way they use water completely differently," concludes Clothier. "Supplies are beginning to fluctuate dramatically and, like all factories, we can't operate without water. Making ourselves self-sufficient is not only better for the environment but it makes the business far more robust going forward.
Steed Webzell is a freelance technology writer