Front Line: Simon Lee, Water Parks Ranger, Northumbrian Water
WWT meets Simon Lee, one of Northumbrian Water's water park rangers who works at the company's fisheries and waterside parks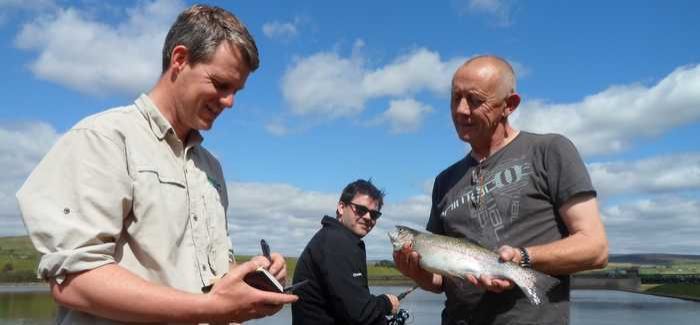 Simon Lee (left) on duty at one of Northumbrian Water's fishing spots
Background
- Northumbrian Water operates seven sites as premier fisheries and waterside parks: Derwent, Fontburn, Scaling Dam, Grassholme and Kielder Reservoirs in the North East, and Hanningfield in Essex
- It employs 17 water park rangers in total
- The rangers also look after 16 other public-access reservoirs and leased fisheries
- Northumbrian's sites attract half a million visitors a year and 52,000 anglers
- The seven fisheries stock 185,000 fish, including 45,000 reared at two in-house fish farms
What's the main purpose of your job role?
Looking after our waterside parks and fisheries and making sure that visitors to these sites have an enjoyable experience.
When did you start working in the water industry and what led you to your current job?
I started working in the water industry five months ago. I have a passion for fishing, so this is the ideal position to help other people learn and master a sport which I love.
Describe your typical working day.
I carry out duties at our fish farm which include feeding fish and doing cleaning and maintenance work. I am also responsible for making sure that our leisure sites are safe, tidy and well presented for our visitors. I deal mainly with anglers and am responsible for answering their queries and supporting them with their day out. Another important part of my role is to help the team to raise the profile of our fisheries and to boost visitor numbers in a very challenging economic environment.

What attributes do you need to do your job well? 
You need to be hard working, flexible and passionate about delivering excellent customer service. A good understanding of the activities available on site is important so you can help visitors get the most out of their visit. You also need to work in all weathers!
What is the most rewarding aspect of your job?
Seeing newcomers to angling catch a fish and seeing people enjoy the beautiful surroundings that our leisure sites are located in.
And the worst (or most challenging) aspect?
Treating fish that are poorly.
Which people do you work most closely with in your working day?
Our visitors, other members of the ranger team and colleagues from our production, estates and conservation teams.
If I wasn't working in water, my ideal job would be…
I enjoy restoring old items of furniture and making props for theatre productions.
- Front Line is a new WWT feature aimed at highlighting the wide variety of specialisms and job roles within the water sector. If you are interested in appearing in a future issue please contact editor James Brockett: jamesbrockett@fav-house.com