Front Line: Richard Park, Community Education Centre Manager, Anglian Water
In this month's Front Line feature we meet Richard Park, who teaches school groups about the water cycle at Anglian Water's centre in Chelmsford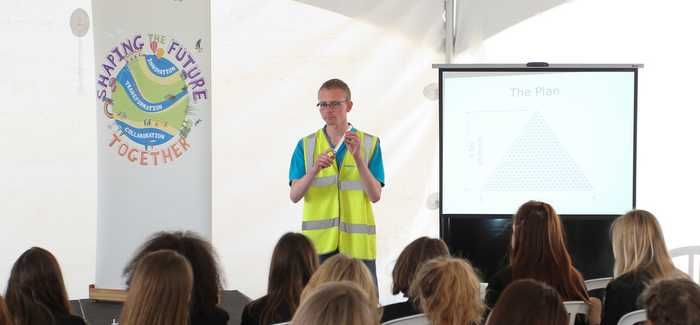 Richard Park talking to a school group at Anglian's education centre in Chelmsford
What's the main purpose of your job role?
To educate customers on the role Anglian Water plays in their lives, how and why it is important to save water and the consequences of the things we put down our sinks and toilets.
When did you start working in the water industry and what led you to your current job?
I started working for Anglian Water in 2012. Before that I was a primary school teacher but had a keen interest in the environment from my degree, so it was a natural fit combining both interests.
Describe your typical working day.
I normally start with a pre tour to check everything is safe on the site for the visit, then set up the classroom for day. When a school group arrives, I do a brief introduction and then run a health and safety check. In the initial briefing we'll look at all the things you put down your sinks and toilets, and help children understand what they might see on the works. We then have a tour of the works looking at how we recycle the sewage so it is safe to go back into the river. After lunch - a crucial part of the day for any school trip - we have a closer look at micro-organisms in the afternoon.
What attributes do you need to do your job well?
Preparation and flexibility are key. All school groups are slightly different and want something different from the visit, even when the activities are the same. I will make sure I speak to teachers and leaders before to find out what they want from the visit.
What is the most rewarding aspect of your job?
The feedback form teachers and leaders about what they have shared with others when they have left. It is great to hear that the messages are spreading.
And the worst (or most challenging) aspect?
The most challenging part is the questions that are asked. There is always a new question - some I have the knowledge to answer, but others I will have to ask someone!
Which people do you work most closely with in your working day?
Visitors at the centre, the staff on site and the wider Sustainability team.
When not at work, my ideal way to unwind is…
Going out for a run and coaching junior athletes at my local athletics club.