Front Line: Riaz Malek, Life Science Manager, Anglian Water
In this month's Front Line feature, we meet Riaz Malek, who oversees Anglian Water's Life Science department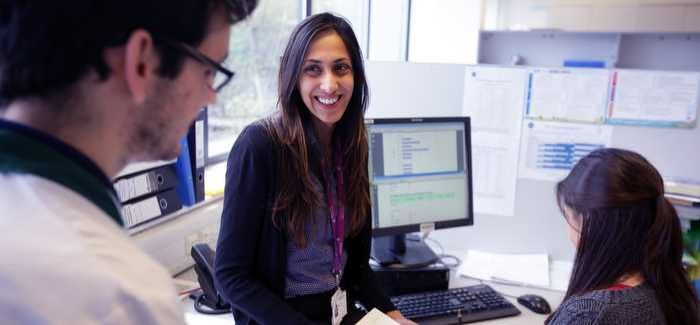 Riaz Malek at work in Anglian Water's laboratory
What's the main purpose of your job role?
I oversee the Anglian Water Life Science department (microbiology, parasitology and biology laboratories), that produces consistently high quality results for samples taken to continually monitor the quality of water in the region. Testing is conducted within ISO17025 accreditation and within regulatory compliance with a high focus on quality and continual improvement.
In the microbiology laboratory we can get up to 300 samples per day. We test for coliforms, E.coli, and other faecal indicator organisms in both source and treated water. This is a highly regulated environment so we have to ensure full traceability of all results. In the parasitology department we test for cryptosporidium – another highly regulated area - and both labs run 365 days a year. In the biology department we look at sludge samples to see how treatment is going and also evaluate water quality in the reservoirs, looking at animals, algae and chlorophyll.
How did your career in the water industry lead you to your current job?
From being a scientist in the parasitology lab at Southern Water, where I also gained my first management skills, I moved on to work on the 'CRYPTS' proficiency scheme, which was set up to assess water company parasitology labs.
Later, expanding my management skills, I was team leader within the pharmaceutical testing industry, undertaking 'Lean Six Sigma Green Belt training', which I often turn to for improvements that I have since undertaken.
Staying in GMP testing and management, I went on to become a Senior Study Manager for batch release and stability tests for large pharma clients and then Laboratory Manager, which involved overseeing validation and qualification activities of GMP systems.
Describe your typical working day.
Ensuring all testing in the labs runs smoothly for the day, efficiently and in line with all regulatory requirements. Samples are of regulatory type and operational type. Regulatory samples are taken as per an agreed schedule calculated by risk, and need to be taken within the scheduled time frame. Operational samples are taken while works are being carried out on the water network or on site to ensure that water quality is not affected. Results are reported as soon as possible to ensure that when the water is turned back on it is of the right quality that we are required to by law to supply and that customers expect. My job mainly ensures that processes and procedures are set up correctly to ensure effective testing to high quality standards.
What attributes do you need to do your job well?
Good leadership skills and an ability to collaborate with internal customers to continually improve processes. Change management, risk assessments, improvement actions, investigations, impact assessments and root cause analysis are all quality tools used on a daily basis.
What is the most rewarding aspect of your job?
Seeing how many samples have passed through the department over the year and knowing that we used our specific expertise to get those results out so everyone can continue using water without even knowing how much work goes behind every drop. I'm also delighted to have achieved Chartered Scientist status through the Institute of Water which is great recognition of my competence and knowledge in my field.
- To find out more about how to achieve Chartered Scientist status with the Institute of Water, visit www.instituteofwater.org.uk/science-registration