Front Line: Morag Angus, Mires Project Manager, South West Water
This month WWT meets Morag Angus, who leads a catchment management project for South West Water aimed at restoring peatland on Exmoor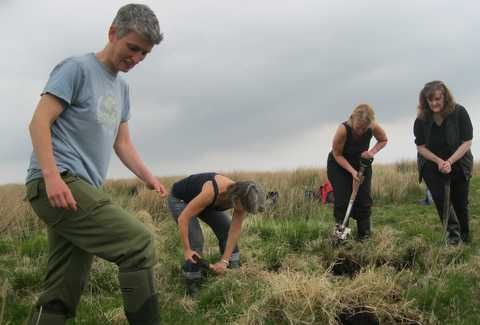 Morag Angus (left) at work on the moor
In context
-Upstream Thinking was launched in 2010 and was the first landscape-scale catchment management programme to work on land not owned by a water company
-Between 2010 and 2015, 2,000 hectares of moorland were surveyed and 1,100 hectares were restored.
-The programme also includes working with farmers to prevent pollution of rivers on 54,000 hectares of farmland across the South West.
-During K5 Morag and the team blocked 133kms of ditches with over 14,000 ditch blocks on Exmoor.
-Restored peatland holds a third more water during a storm and releases it more gradually.
What's the main purpose of your job role?
To oversee the delivery of the Exmoor Mires Partnership project, part of South West Water's Upstream Thinking programme of catchment management works, and advise in the development of other peatland restoration projects on South West Water's landholdings and across the South West. On Exmoor we are working towards delivering a further 1,000 hectares of peatland restoration. This work has multiple benefits, such as improving the amount and length of time water is stored on the moor. This will in turn be one part of helping to reducing flooding and means less treatment of the water. I also work on a wide-ranging research programme to understand and inform our process of peatland restoration.
When did you start working in the water industry and what led you to your current job?
I started working for South West Water as the Exmoor Mires Project Officer in 2011. My passion and interest in nature conservation saw me starting off as a volunteer about 10 years ago and since then I have worked for various nature conservation organisations around the country.
Describe your typical working day.
It is so varied, it ranges from helping the Mires Team to oversee contractors carrying out peatland restoration to project planning, budgets, emails and engaging groups of schoolchildren about where water comes from.
What attributes do you need to do your job?
Diplomacy, being organised (because it is so varied!), a desire to learn (to keep up to date with all the peatland projects and research that is going on), lots of enthusiasm and energy!

What is the most rewarding part of your job?
Knowing that by carrying out peatland restoration on Exmoor on a landscape scale, I am part of a team that is starting the process of leaving a beneficial legacy for wildlife, for water and for future generations.
And the worst (or most challenging) aspect?
As we are working across vast areas of Exmoor there are a lot of interest groups (access groups, landowners, farmers, archaeologists, ecologists, local people) who all want to ensure their 'use' of the moor is taken into account when we are planning any restoration work. Bringing all those groups and interests together to achieve consensus can be very challenging, but when it works it is very rewarding.
Which other person/people have had the most influence in shaping your career?
Graham Standring, who was the Project Officer at Lancashire Wildlife Trust. When volunteering with him in a bluebell woodland, he opened my eyes to the amazing nature we have in this country, and that I could be part of shaping its future.
When not at work, my ideal way to unwind is…
Digging on my allotment, watching the food growing with the season, harvesting it, sitting down an hour later with my partner eating a meal that has amazing flavours and all 'home' grown! It's the simple things in life!