Front Line: Joe Charlton, Water Industry Apprentice, Wessex Water
WWT meets Joe Charlton, one of the participants on Wessex Water's two-year apprenticeship programme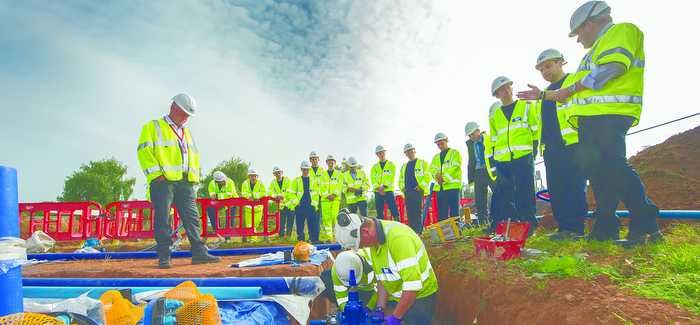 Joe Charlton with fellow apprentices at Wessex Water's Bridgwater College facility
In Context
- Wessex Water runs two apprentice schemes, one for construction and the other for operations, as well as a construction technician programme
- Apprenticeships are delivered in partnership with Bridgwater College, where Wessex has supplied a purpose-built educational facility for apprentices to learn practical skills
- Two week block courses enable the apprentices to work alongside Wessex Water's current utilities team
- Construction apprentices can earn an NVQ Level 2 and the potential for a full-time job in the main laying or repair and maintenance teams
What's the main purpose of your job role?
I'm on the second year of my two year apprenticeship programme where I'm learning the practical skills needed for a full time position within the mainlaying or repair and maintenance teams.
When did you start working in the water industry and what led you to your current job?
I joined the company in September 2014 as part of a new water industry apprenticeship programme with Bridgwater College.
Describe your typical working day.
My day to day routine varies but I spend a large part of my time on the Wessex Water funded purpose-built site at Bridgwater College's Cannington Campus, which closely replicates real-life working conditions for on-site staff. Here I reinforce what I've learnt in the classroom and carry out practical tasks such as main laying and reinstatement and the rest of my time is spent in college studying for my NVQ Level 2 in the water industry.

What attributes do you need to do your job well?
It's important you put yourself forward and are willing to learn. I like to try my hardest and be open-minded and make a good impression by always working with a smile.
What is the most rewarding aspect of your job?
I enjoy working on the site and learning the different practical skills. It's rewarding to know that at the end of my apprenticeship I'll be putting my new skills into practice and be providing a service for customers.
And the worst (or most challenging) aspect?
There's always a lot to learn and it can be quite a physically demanding job. Come rain or shine you could be called out on a job and you can be working in a variety of different locations like the public highway.
Which people do you work most closely with in your working day?
I spend a lot of time with the other apprentices learning on site and there has been great involvement from other colleagues within the business who have been offering their help and advice.
If I wasn't working in water, my ideal job would be…
Of course playing football for Leicester City, but more realistically I would say a job in animal welfare would interest me.