Front Line: Emily Wallis, Sutton and East Surrey Water
In the latest in our Front Line series, WWT meets Emily Wallis, Community Engagement Officer at Sutton and East Surrey Water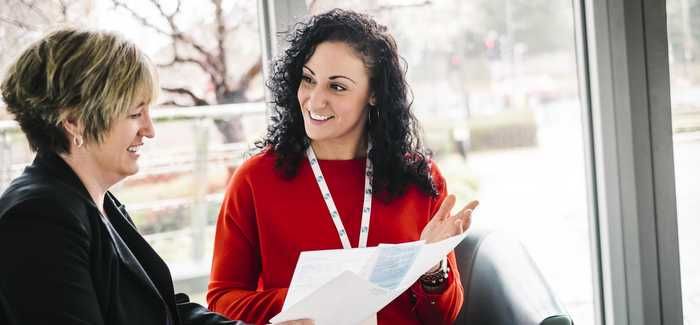 Emily Wallis (right) helps customers save both water and money
In Context
● Sutton and East Surrey Water has a customer service team of 50 people, who engage with customers on a daily basis
● SESW has four help schemes for customers who are struggling to pay their bills: the Water Support Scheme, Water Sure, Helping Hand and Clear Start. Each has different eligibility criteria.
● It also offers customers free water saving packs. SESW's water saving target for 2015-2020 is to reduce demand by 5 litres per person per day.
● Around 140,000 SESW customers are metered, out of 267,000 connections in total.
What's the main purpose of your job role?
To interact with our community, providing knowledge of our help schemes and devices we offer to help them save water and money on their bills.
When did you start working in the water industry and what led you to your current job?
I started working in the water industry in 2007, with no career path in mind. I started as a data entry clerk on a temporary contract; I was then made permanent and became a customer service advisor. Being a part-time fitness instructor in my spare time, I have always enjoyed interacting, helping and meeting the general public, so when the role of Community Engagement Officer came up for grabs I jumped at the chance.
Describe your typical working day.
I am out and about two and half days per week, and the other day I'm in the office processing any administration duties which follow on from the promotion of our schemes. While I'm out in the community, I present our help schemes to charity groups, coffee mornings for the elderly, and mother and toddler groups. I also promote them in shopping centres, supermarkets and local newsagents.

What attributes do you need to do your job well?
An understanding that every person in the community is an individual: not one person has the same situation as the next, so every interaction is personalised to fit that customer's needs. Patience, and putting yourself in the customer's shoes, is vital in order to deliver the best form of customer service.
What is the most rewarding aspect of your job?
Seeing someone's face light up with appreciation from the help you have given them gives me that warm fuzzy feeling.
And the worst (or most challenging) aspect?
Hearing customers have no family or friends to help assist them. I hate to think of anyone being on their own.
Which colleagues do you work most closely with in your working day?
'Team Super Good' as we call them (or TSG for short); the whole customer service department.
If I wasn't working in water, my ideal job would be…
I'm a fitness fanatic, so I'd like to be a Les Mills Body Attack Presenter.