Front Line: Dr Mike Jones, Thames Water
In this month's Front Line feature we meet Dr Mike Jones, Water Resources & Process Modelling Lead at Thames Water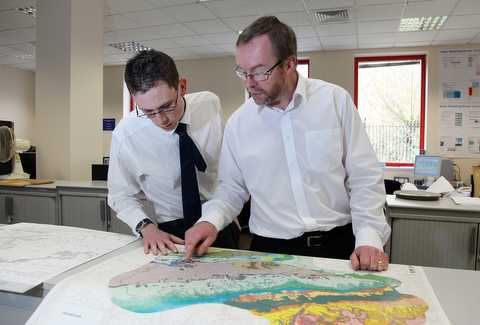 Dr Mike Jones (right) keeps a close eye on the performance of Thames's groundwater sources
In Context
-Dr Mike Jones and his team model the ongoing water supply performance of 175 groundwater sources, 22 reservoirs and 100 treatment works for Thames Water
-During drought these assets can deliver around three billion litres per day
-With groundwater sources capable of providing one billion litres per day, managed aquifer recharge is an important strategic supply for London, providing up to 230 million litres per day.
-Dr Mike Jones uses Twitter to raise awareness of groundwater issues. He can be be found tweeting using the following handles: @GroundwaterMike and @UKGWForum.
What's the main purpose of your job role?
Although groundwater remains my technical expertise, I lead a team of hydrogeologists, water resource and treatment asset modellers. Together, we work to understand the sustainable performance of our abstraction, storage and treatment assets, particularly during drought as well as their response to water quality and future climate challenges. My role also includes directing the identification, testing and assessing the viability of future groundwater supply options.
When did you start working in the water industry and what led you to your current job?
I joined Thames Water as the Groundwater Team Lead in 1999. Previously, I had been a hydrogeologist in consultancy for 10 years, in the UK and internationally, working on water supply, contamination remediation and infrastructure impact assessments.
Describe your typical working day.
Variety! It can include assessing the impact of contaminants and urban development on groundwater, meeting local stakeholders to explain how our groundwater abstractions interact with the environment, as well as supporting the development of new tools to prioritise water treatment investment.
What attributes do you need to do your job well?
Flexibility and adaptability are key to managing a diverse technical team, as well as the ability to communicate effectively with key decision makers, including the Environment Agency, as well as our customers.
What is the most rewarding aspect of your job?
Exploring and developing new conventional and innovative groundwater sources, such as managed aquifer recharge, then delivering them into supply. Since I've been at Thames Water I've delivered or directed all the hydrogeological inputs in the development of our groundwater abstraction capability, increasing that capability by around 180 Ml/d (million litres per day); enough to supply an extra 1 million customers.
And the worst (or most challenging) aspect? Improving people's understanding of groundwater, which is often out of sight and out of mind, can be a challenge. It's rewarding when they grasp its crucial role in supporting river flows and water supply, including London's managed aquifer recharge scheme.
Which other people have shaped your career?
Trevor Price, my school geology teacher, still enthusing at 94 years old; Prof Tim Broyd, ICE President, who first employed me as a hydrogeologist, and Shammy Puri, until recently Secretary General of the International Association of Hydrogeologists, who enabled me to work in places like the desert of Jordan and industrial heartlands of South Korea.
When not at work, my ideal way to unwind is…
Music, armchair rugby and tennis, plus time down the gym to keep fit.