Front Line: Craig May, Technical Specialist, Lanes Group
In the latest in our Front Line series, WWT meets Craig May, technical specialist at Thames Water's wastewater maintenance partner, Lanes Group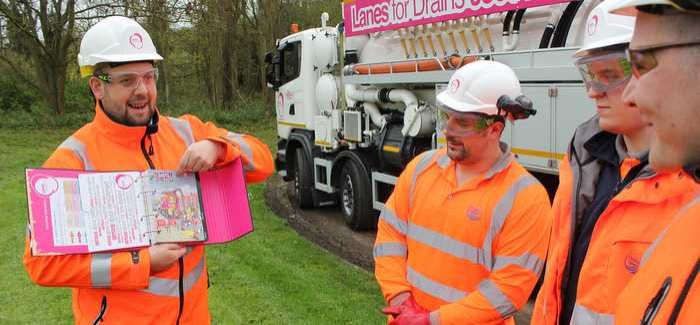 Craig May (left) conducting onsite training with a team from the Lanes utilities depot at Gerrards Cross, South Bucks
In Context
- Lanes Group started working for Thames Water in 2012, and became its sole wastewater maintenance partner in 2014.
- Maintaining a 110,000 km sewer network for Thames Water, Lanes completes around 1,000 jobs every day, 600 of them emergency call outs
- To do this, Lanes employs 986 staff (FTE), 431 of them blockage engineers, and operates a fleet of more than 400 vehicles.
- The biggest fatberg Craig and his team has cleared, in Knightsbridge, London, was 30 metres long, 1 metre high, and weighed more than six tonnes.
WWT: What's the main purpose of your job role?
CM: Lanes Group is Thames Water's sole wastewater maintenance partner. I project manage all high profile maintenance projects for the contract, and oversee all confined space work.
When did you start working in the water industry and what led you to your current job?
My dad was a drainage engineer. I started working with him as a labourer in 2000. I've worked for Thames Water since 2007, and Lanes since 2012. I liked the standards Lanes set. Our focus on safety and customer service is relentless, and that's how it should be.
Describe your typical working day.
My time is spent 50/50 on emergency and planned work. I start at 7am, and may have to go straight out to a sewer flood or blockage. I then put a project plan together, and mobilise an emergency team to tackle the problem. Some of these jobs, such as fatbergs and rag blockages, can run for weeks. At other times I help schedule and manage planned maintenance. A vital part of what I do is liaising with customers during and after each project, to make sure they are happy with our work.
What attributes do you need to do your job well?
Being a problem solver who gets results, and has a passion for sewer work. I have to be a leader. Some jobs are tough. The team has to have confidence they can be completed, and they get that from me. Wanting to set high standards, like health and safety, is also vital.
What is the most rewarding aspect of your job?
Making a seriously blocked and flooding sewer perfectly free-flowing again, with all customers happy.
And the worst aspect?
Taking fatbergs and rag out of sewers. It's the hardest part of the work, and gives us the biggest health and safety challenges.
Which people do you work most closely with in your working day?
My team of very skilled sewer engineers, and Thames Water colleagues. We all work together. Our senior managers, at Lanes, are also very supportive and closely involved in what we do.
If I wasn't working in water, my ideal job would be…
When I was a kid I wanted to be a doctor. I've always enjoyed helping others. That's how I see my job today.