Front Line: Amy Jack, Environmental Monitoring Technician, OHES
This month we meet Amy Jack of OHES Environmental, who is part of a team providing rapid response environmental impact assessments in the Thames Water region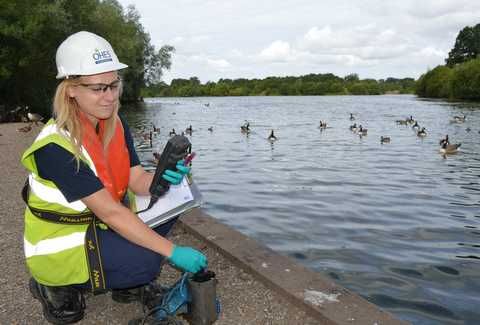 Amy Jack, Environmental Monitoring Technician, OHES Environmental
In Context
- OHES is a multi-disciplinary environmental consultancy operating across the UK and the Republic of Ireland
- It provides incident impact surveys including macroinvertebrate, fisheries and water quality assessments
- The company has ISO 9001, 14001 and 18001 accreditations in quality, environmental and health and safety management systems respectively, is a UKSpill accredited contractor, and a registered supplier with Achilles UVDB
- In addition to environmental monitoring, OHES provides protected species surveys, urgent spill response, contaminated land services and training programmes.
What's the main purpose of your job role?
I am an Environmental Monitoring Technician. I work as part of a team of technicians providing rapid response environmental impact assessments following waste water pollution incidents arising from Thames Water assets.
We respond to incidents across the Thames Water waste service area; this involves taking in-situ water quality readings, water sampling & macro-invertebrate survey work. I also undertake a planned work programme assessing outfalls and data capture from specified Thames assets.
When did you start working in the water industry and what led you to your current job?
I started working for OHES Environmental in May 2015. My passion for the environment led me to take an environmental science degree at Plymouth University. While studying I found field work most enjoyable and water quality was my preferred aspect of the environment.
Describe your typical working day.
My main role is incident response, I begin work at 08:00 and my first job is to attend any incident instructions that have come in overnight. I receive an incident instruction through with information regarding possible wastewater infiltration to a watercourse and have to attend immediately. Field data and observations are gathered to inform remediation and response measures to help minimise environmental impact. When I am not responding to incidents my time is spent drafting incident reports or completing planned survey work, assessing outfalls from Thames Water assets such as sewage treatment works and sewage pumping stations. In the spring and autumn I also collect macro-invertebrate samples at various sites requested by Thames Water, for lab analysis.
What attributes do you need in your job role?
Due to the unpredictable nature of the job preparation is key, you have to be able to drop everything and attend incidents immediately so everything you will need has to be ready. In addition to this you have to be physically fit. Identifying the full extent of an incident can involve long walks alongside a river carrying monitoring equipment.

What is the most rewarding part of your job?
Playing a key role in minimising the environmental impact of pollution incidents. I'm also lucky to spend a lot of time outdoors in some beautiful areas I wouldn't necessarily visit and meet plenty of friendly, interesting people.
And the worst (or most challenging) aspect?
The smell of fresh sewage in the morning.
Which people do you work most closely with in your working day?
During incident responses I liaise with Thames Water network engineers and Thames Water sewer maintenance contractors Lanes Group, who share network mapping and operational knowledge as well as some banter!
When not at work, my ideal way to unwind is…
I trampoline, which is a great way to unwind, but also enjoy a glass of wine or two with friends.