Flushed with success: FOG and Unflushables
Southern Water's FOG and Unflushables programme has brought a significant improvement in the state of its sewers. Robin Hackett hears how the company has gone about educating customers and food service establishments in the fight to keep its networks clear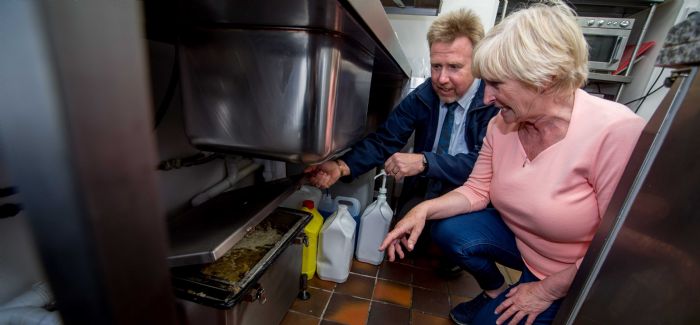 Stephen Williams, network protection and enforcement officer at Southern Water, helps FSEs understand the importance of grease management
TOWARDS ZERO POLLUTION
Southern Water has set a target of zero pollution by 2040. While education is a major part of that, it is clear that the company cannot achieve its ambition solely by raising awareness.
In 2018, the company's pollution performance deteriorated, including three more serious pollution incidents than in the previous year. As such, it has put a Pollution Reduction Plan in place, including the development of a dedicated Pollution Task Force as part of its Environment+ programme.
"Our run-rate in terms of pollution is not in the right place," Nick Mills, Southern Water's head of asset performance, says. "We've got some pretty hefty targets, which led us to design quite an intensive programme."
The Pollution Reduction Plan, which was reviewed by the Environment Agency, identifies which sites have the highest potential environmental impact so that the company can prioritise its efforts. It also seeks to improve the culture of the organisation to ensure that every member of staff knows the appropriate response when incidents are reported.
"That cultural change is happening," Mills says.
While the company plans to use predictive analytics and automated control of its sewerage network as standard by 2040, Mills stresses that many sites currently have the technology required to deliver immediate improvements.
"The big focus is on the sites that have got telemetry already," Mills adds. "We've got alarms on pumping stations and treatment works. Really there should be no excuse – we shouldn't have pollutions on those assets and we still have, so a lot of the focus is on how we get those down.
"It's not just about the asset failing, it's about how the asset's failed, how we're maintaining it, how we're investing in it, how we're looking at the data that comes from it. The focus starts with prevention, then detection, then response, and that process is starting to reap some results. The trends are suggesting the number of events is going down."
By Robin Hackett
While Southern Water has had to contend with negative headlines in recent times over its pollution performance, the company is making real progress in its work to bring about reductions in sewer blockages.
The FOG and Unflushables project, named Drainage & Flood Management Initiative of the Year at the 2019 Water Industry Awards, is a wide-ranging educational and behavioural change programme that is having a major impact on the health of the region's wastewater networks.
The project got underway in 2015 after the company analysed the data on the 23,000 blockages it had been experiencing each year and realised 65 per cent were being caused by fat, oil and grease (FOG) as well as wet wipes, sanitary items and small bathroom objects.
"Sewer blockages cause a lot of problems for our customers but we realised that nearly two-thirds of them were caused by human behaviour, which meant they could be avoided," Elvira Gabos, the company's FOG and Unflushables manager, says.
"Because of this, we set up FOG and Unflushables as an educational and proactive sewer maintenance project. This was new territory for us."
Southern Water began targeting two groups: domestic customers and food service establishments (FSEs).
For domestic customers, the company has sought to build relationships and raise awareness, with customer engagement officers sent to visit the most problematic areas to knock on doors, talk to residents and try to get the message through.
"Our team use different props and literature, created based on customer research, and they are trained in the sewers so they can lift manhole covers and check for evidence of FOG," she adds.
"They sometimes deal with small blockages and use CCTV cameras to try to find the source. Customers often say it's not them flushing wet wipes but their neighbour, but usually they appreciate that we go.
"Water companies are not always loved by customers but we visit them and we don't want anything from them – we just want to have a chat and give them information."
For FSEs, the company also seeks to build relationships and raise awareness but, as their potential to cause harm to the sewers can be significant, it has developed a more stringent approach, which has been labelled the 'Southern Water Model' by Water UK.
For a first offence, Southern Water will clear a blockage free of charge and provide information on grease management. Second time around, the FSE will be invoiced for the clean-up if no grease management has been put in place. If there is a third blockage and the FSE still refuses to install grease management, they face the prospect of court proceedings.
"We much prefer carrot to stick," Stephen Williams, network protection and enforcement officer at Southern Water, says. "We'd rather engage with them and give them all of the information to prevent it happening, protect their own environment and stop them flooding themselves or their neighbours. It's much better that way and, generally speaking, they're happy to receive the information and share it.
"In terms of fitting grease management in food service establishments, we're looking at a return rate of about 42 per cent. Obviously we want them all to fit it and then we're heading towards our zero pollution ambition, but it's difficult because there's no legislation that says you must have grease management. We're sharing the message and asking them to work with us."
The company has also worked with larger organisations – including Sainsbury's, McDonald's and Prezzo – to bring about wider change.
"The way we are dealing with food businesses is definitely industry-leading and I would say cutting-edge because we don't just visit food businesses but we also engage companies at a high level," Gabos says. "We work with food equipment manufacturers as well, and some of them have already redesigned their products based on our advice. This benefits the whole industry."
Direct engagement is a central part of FOG and Unflushables, with a five-strong team having contacted 80,000 people over the course of three-and-a-half years, but the project has utilised a wide range of tools to get the message across, including print media, social media and radio.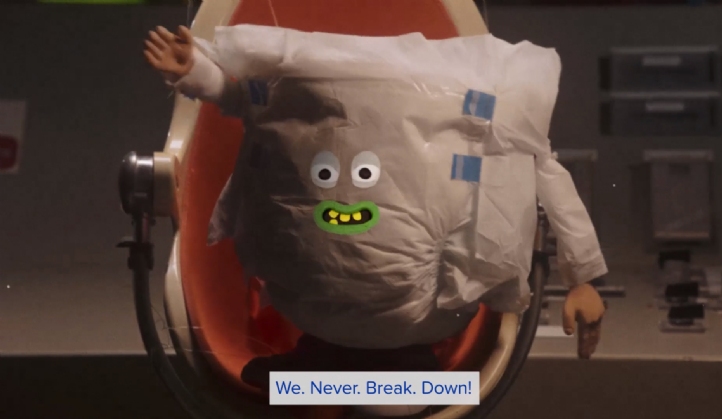 The Unflushables Assemble film is partly influenced by Thunderbirds
There have also been two short Unflushables films, which bear the influence of TV classics such as Thunderbirds, as well as a free app for children in which items appear – either pee, poo and paper or a variety of 'Unflushables' – and the user has to swipe them into the toilet or bin.
The company has also worked with a communications consultancy, Corporate Culture, to sharpen its understanding of how to shape public opinion and now has its own insight department, which is helping to reveal information about how people think and how to influence behaviour.
For example, amid the Blue Planet II-inspired concern over plastics' impact on the sea, Southern Water's messaging now serves to highlight the presence of plastics in wet wipes and female sanitary products.
"One sanitary pad equals four plastic shopping bags," Gabos says. "When people look at that image, they suddenly connect plastic with the Unflushables."
The project is delivering results. According to Southern Water's own research, customer awareness of issues around FOG and unflushable items has risen from 69 per cent to 76 per cent over the last three years.
More significantly, despite an increase in both population and wet wipe usage, the number of sewer blockages has fallen more than 25 per cent to 17,000 per year.
The project also won the Sustainable Use of Natural Resources prize at the 2019 FOOTPRINT Awards, which recognise sustainability and responsible business practice in the foodservice sector.
"When it comes to stopping blockages, education is at the core," Williams says.
"It's top of the tree. When this project started, we said we'd see a mushroom cloud effect – there'll be a little explosion and then a lot of fallout.
"We're at the stage where we're starting to get the fallout and the message is getting out there – if it doesn't go in the sewer, it doesn't cause us a problem and we can prevent all those spills and pollutions from affecting the environment."
Stephen Williams will be speaking on the future regulatory landscape for FOG at the WWT Wastewater 2020 Conference & Exhibition on 28 January in Birmingham. For more information, visit https://event.wwtonline.co.uk/wastewater
This article originally appeared in the September issue of WWT