Flood scheme prevents flooding in Chipping Campden
A flood alleviation scheme at a vulnerable site in Gloucestershire provided protection in the 2012 floods, explains Richard Kellagher, HR Wallingford's technical director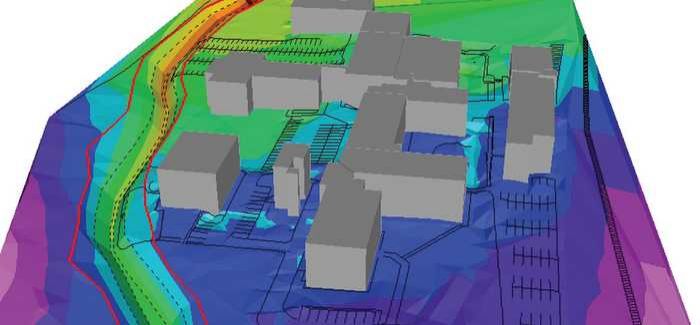 HR Wallingford's has implemented a flood alleviation scheme (FAS) that has prevented potentially serious flooding of buildings at the Chipping Campden site of Campden BRI, a food and drink research association. The design of the FAS was both innovative and environmentally friendly, combining 2D modelling with best practice as developed by the Environment Agency.
During the second wettest year since 1910, the FAS prevented flooding of the site in November 2012. Campden BRI had experienced serious flooding on its site in 1998 and 2007, and as a result its buildings insurer wanted to withdraw cover for insurance.
HR Wallingford designed a rerouted and expanded water channel which allowed flood water to be diverted around the Campden BRI site. It also suggested protecting the entrance road to the site with a sleeping policeman as this was a point of ingress for flood water onto the site.
The 2007 flood was modelled using a 2D overland flow model. This model captured the flooding mechanisms onsite: in particular, runoff from road surfaces passing into the site and overtopping of culverts, which resulted in overland flow. The model was verified using photographs taken during the 2007 flood event before being used as a basis to design the alleviation scheme.
The latest 2D modelling techniques allowed modelling not only of the speed of water flow, but also identified exactly where the water would go. This meant that the topography of the landscape on the site of Campden BRI could be taken into account.
As a result, a solution that was both effective and which would support wildlife, like water voles in the area, could be designed.
Mike Jeffries, head of engineering services at Campden BRI said, "In 2007, the site was knee-deep in water, with over 4,000m2 of buildings flooded. As a result, we were faced with the risk of losing our insurance cover.
"HR Wallingford's design of a new flood channel to divert flood water around the site and the introduction of a sleeping policeman to hold back water at the site entrance has meant that in the recent floods all buildings remained dry."
Campden BRI commissioned HR Wallingford in 2008 to propose possible flood defence schemes. The current solutions were constructed in 2009.