Flood resilience: what you need to know
Geoff Williams, northern sales manager at Sykes Pumps, discusses the need for businesses and local authorities to think ahead with a clear flood response strategy for pump hire.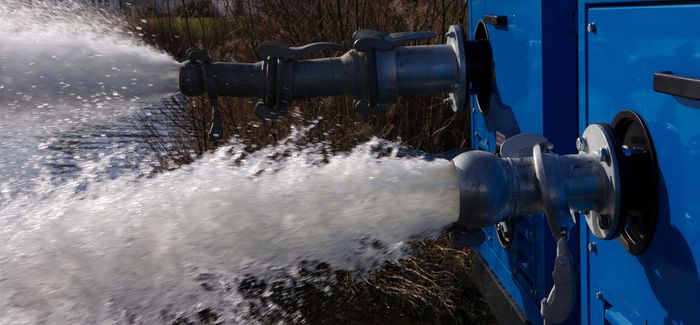 Water is overpumped away from the affected area and discharged downstream
It's been a big year for emergency response. Even before the COVID-19 pandemic took hold across the world, many homes and businesses in the UK have already been coping with a crisis due to flooding caused by storms Ciara and Dennis. While the plight of the people affected may have dropped from the news headlines, lots of homes, businesses, construction sites and local authority assets are still recovering from the floods.
The impact of the two storms we experienced in February, with torrential downpours falling on already water-logged ground, was mitigated by significant investment in flood defences, improved flood protocols and the fast response of the emergency services. And yet, the damage to property, the clean-up involved, and the estimated £425 million insurance costs are immense. This is because, regardless of improved infrastructure, the changes to our weather patterns, with warmer, wetter winters filling our water courses and saturating the ground, are making flooding more severe and more frequent. Moreover, drier, hotter weather in the summer months only exacerbates the problem because hard, dry ground cannot absorb water as readily.
We cannot change the weather, at least not in the short-term while we seek to find solutions to climate change. We can continue to invest in flood resilience measures and environmental schemes to reduce the likelihood of flooding, and this is being expedited at both a central and community level. The reality is, however, that part of the resilience needed going forward is a focused and co-ordinated approach to tackling flood waters quickly and efficiently. What happened in February will happen again, and it's important to have strategies in place to pump away flood waters quickly so that damage can be limited, the clean-up can begin promptly and properties can be returned to service as quickly as possible.
Sourcing pump assets
Whichever way you look at it, pump hire following a flood is a distress purchase. But that doesn't mean it has to be a panic buy. Companies and local authorities in some areas of the country have learned lessons about preparedness from previous flooding incidents which have made them better equipped to enlist the right help when it happens again. Recent events have demonstrated, however, that flooding is a hazard that could affect locations across the country, not just those known to be at risk. Consequently, a flood response strategy should be part of operational planning for any business or local council, which means identifying suitable pump hire specialists in advance so that they can be contacted urgently when needed.
A key element in identifying a pump hire provider is to consider the local response they can provide. A local depot is an ideal scenario for ensuring a site survey is completed quickly and installation, servicing and maintenance can be done as soon as possible too. Selecting a company with a large and diverse fleet across multiple locations, means that this local depot resource can be optimised by enabling equipment to be sourced from other areas to meet the local need. This is particularly important if flooding is severe in a specific location and demand for pumps is high.
Siting and access
One of the challenges of installing pump equipment to tackle flood waters is finding a location where it is both safe to site the pump and feasible to gain access to deliver and install it. While pumps are often deployed to tackle flood water once it has started to recede, there may still be difficulties getting vehicles through so it's important to work with a pump hire supplier than can help to manage the logistics of the project, along with supplying the right equipment.
Hard-standing will be required for delivery of the pumps to enable the vehicle's stabilizers to be used, and this is one of the reasons why a site survey is so important. By attending site to consider the pump requirements along with any challenges of access and topography, the pump hire specialist will be able to advise on the right equipment, site and access requirements. Sometimes it may be better to specify two smaller and more manoeuvrable pumps than to choose a single, larger capacity pump, and it may also be advisable to include installation services within the hire contract for any pipework, connections and generators.
The other key factor involved in a survey is the discharge location for the flood water. During a major incident like those we saw in Yorkshire and the Midlands in February, the water may need to be overpumped a significant distance to ensure it is discharged outside of the affected area.
Environmental factors also need to be considered. In the immediate phase of pumping away the flood water the priority is protecting people and property but, as the water subsides, a Silt Away unit may need to be deployed to meet Environment Agency requirements for discharging water.
Pump selection
The choice of pump must consider a number of factors including the access and topography issues already discussed, the amount of water and any sludge or solids requirements and noise restrictions in relation to residents or wildlife.
While submersible pumps are appropriate in some circumstances, a lack of access to electrical power usually means that diesel pumps are the most suitable solution for flood scenarios, and these also offer faster deployment. Although integral fuel tanks can provide hours of continuous operation, refuelling is another factor to consider, because either a separate large fuel tank will be required, or an operative will need to access the equipment to top up the fuel as necessary.
By their nature, flood remediation projects also include the challenge of varying water levels. The installation not only needs to consider that water level may go down, but that it may increase if further rain falls or flood defences are breeched. Consequently, the right pump equipment for peak flood levels should be able to respond to variable flow rate requirements using float switches to ensure the pump only runs when required. Telemetry should also be considered in hard to reach locations for remote monitoring of the equipment.
Leveraging experience
Businesses and local authorities in the locations that have been hardest hit by floods this year will, no doubt, use the experience to help them plan what action to take should similar events affect them again. This planning should go hand in hand with utilising the expertise and resources of pump hire specialists to ensure help is on hand where it is needed most.