Finding value in liquid waste streams
Matt Hale, international sales and marketing director at HRS Heat Exchangers, looks at how value can be extracted from liquid waste streams and what to consider when choosing technology to achieve this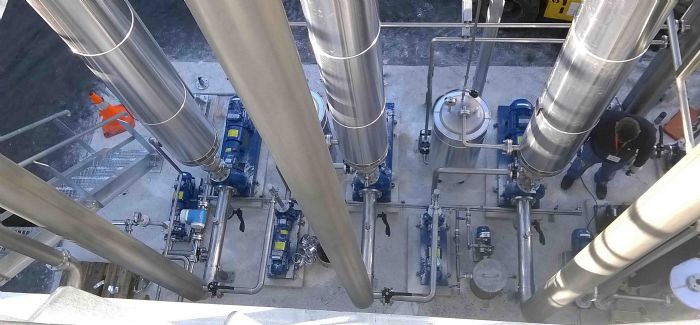 HRS Unicus Series scraped-surface evaporators are used to maintain thermal efficiency and remove fouling during evaporation in ZLD installations
Waste is increasingly being viewed as a resource. From well-established practices such as recycling paper and aluminium to the development of the circular economy, an increasing volume of resources are now being recovered from materials that were previously seen only as inconvenient wastes.
Why recover waste?
Waste valorisation is the process of recovering value from waste materials, for example through reusing or recycling them, or by composting or anaerobically digesting them and converting them into more useful products such as materials, chemicals, fuels or other sources of energy. In a circular economy, compared to a linear one, the materials within products are reused, turning previously burdensome wastes into valuable resources.
The European Union has proposed to double its rate of resource productivity by 2030 and as part of this adopted a communication, 'Towards a circular economy: a zero waste programme for Europe', in July 2014. Like key industrial stakeholders and businesses, it asserts that moving to a circular economy can have a positive effect on economic growth and strengthen the competitiveness of companies, in addition to providing a number of environmental benefits.
Unleashing the potential for liquid waste streams
Wastewater treatment and 'water mining' has also been identified as a key platform on which to base the technological development of such circular production systems. Effective water treatment and material recovery can provide a double economic return. Every cubic metre of recycled or reused water results in a corresponding reduction in mains water demand and wastewater discharge. There are also benefits in terms of the energy and carbon footprints associated with material recovery when compared with primary extraction and processing, together with further environmental benefits arising from reduced waste disposal impacts.
In addition, researchers are increasingly identifying food processing and supply-chain waste streams as a major resource for the development of bio-based products and processes, suggesting that the valorisation of food waste should focus on both commodity and higher-value speciality products.
Examples of resource recovery
While we are still a significant way away from the commercial development of large-scale biorefineries that can treat wastewater streams to produce a range of products including biofuels, energy, fertilisers, metals, inert media and a whole range of fine chemicals, parts of this process are already established. The use of anaerobic digestion (AD) to recover energy and create organic biofertiliser (digestate) from food and sewage waste is now widespread, and there are various examples of material recovery from different waste streams at all scales, from early research through to fully commercial recovery units at industrial facilities and water treatment works around the world.
Some examples of this type of material recovery include:
Recovery of key nutrients such as phosphorous from sewage streams for use as agricultural fertilisers
The potential recovery of biopolymers such as polyhydoxyalkanoates (PHAs) and polyphenols from the wastewater from olive mills
Cheese whey wastewater (CWW) comprises waste streams including whey and wash-out water, and could be treated using various processes to produce a range of products which are useful in food manufacturing and pharmaceuticals, such as whey proteins, peptides, lactose, glucose and other useful chemicals
The recovery of spent yeast products from various processes for use in food production, such as stabilising and pH buffering
Fruit processing is another sector that is ideally placed to capitalise on the potential value of some of its waste products. Citrus peel waste accounts for up to half the total volume of citrus fruit processed globally and contains up to 80 per cent water. It is a potential source of many useful products including dietary fibre, antioxidants, food colorants and flavours, and contains a wide variety of compounds including cellulose, pectin, sugars, hemicelluloses, flavonoids and essential oils such as D-limonene.
Moving towards zero liquid discharge
Zero liquid discharge (ZLD) is a technique by which liquid waste streams are eliminated. Instead of being discharged at the end of the treatment cycle, any wastewater is purified and recycled, while other residues, which often include the type of valuable by-products mentioned above, are extracted.
Various processes are employed in ZLD, including membrane bioreaction, reverse osmosis, electrolysis, filtration and more. However, evaporation is also a key process, both in order to concentrate residues sufficiently to allow their economic extraction or physical removal, and as part of the water purification process.
However, solid-liquid mixtures are complex and it is important that the first stage of any potential project includes a research study to evaluate the nature of the waste stream/s and the saturation levels required. In laboratory experiments, HRS evaluates the maximum concentrations that can be reached for different temperature regimes. This then determines the type of equipment we design. For example, at high temperatures more salts may be dissolved, compared to low temperatures.
The importance of evaporation
HRS Heat Exchangers has been involved in ZLD projects in Europe using evaporation systems, including the recovery of potassium and sodium sulphates from organic brine waste streams. A typical HRS process might consist of three steps as follows:
1. Evaporation/concentration (using one or more evaporators depending on the materials involved and the level of concentration required) to levels above the saturation point at high temperature
2. Cooling down of the product to provoke the formation of salt crystals
3. Further crystallisation in specially designed tanks and separation of the crystals that are formed to allow them to be processed for use. In the third step, a supernatant layer of concentrated solution remains after separation of the crystals. This solution is returned to the second evaporator for concentrating again to above its saturation point
Correct heat exchanger choice for product recovery
Both the evaporation and cooling steps result in a high degree of material fouling on the inside of the equipment, so HRS Unicus Series scraped-surface heat exchangers are used to maintain thermal efficiency and remove fouling as it occurs. Coupled with HRS R Series coolers and custom-designed crystallisation tanks, the result is an efficient process that can work continuously without requiring scheduled downtime.
In the example above, two evaporators are used to concentrate and remove pure water from the solution, which can be used elsewhere. The coolers and crystallisers produce solid crystals, and the remaining solution returns to the evaporation process. No liquid waste remains after the process, so that as well as recovering valuable salts, waste management costs are also reduced.
This article originally appeared in the January issue of WET News
To find out more about developments in wastewater, attend the WWT Wastewater Conference in Birmingham on 31 January 2019. For more information, click here.