Festival of ideas: Reflecting on NWG's 2019 Innovation Festival
Northumbrian Water Group's 2019 Innovation Festival was the biggest to date. Robin Hackett talks to director of information services Nigel Watson about how the latest event will help guide the company into the future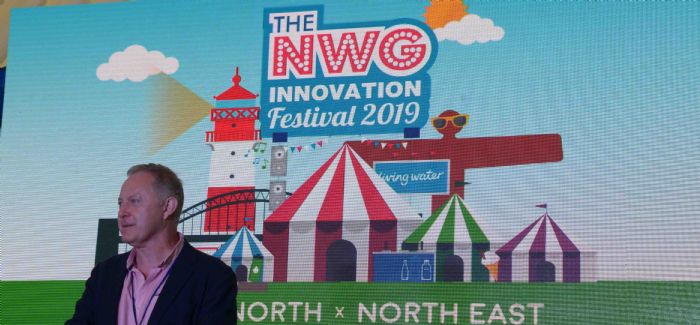 Success stories
NWG celebrated 26 of the best ideas that have emerged from the company's recent innovation programmes and events
1. Common infrastructure map (IF17/18/OS)
2. Satellite monitoring (IF17/Microsoft)
3. Nuron (IF17/Reece Innovation)
4. Moss tree (IF17/OS)
5. Barnacle (IF18/CGI)
6. Digital Twins (IF18/Newcastle University)
7. Street level sensing (IF18/Wipro)
8. Survey automated management (IF18 Interserve/Wood)
9. IQ18 – Smart Diffusion
10. IQ18 – runner up
11. Leaky Loos (IF18/Every Drop Counts)
12. Fans for Life (IF18/Explain)
13. Remote monitoring device (IF18)
14. Utileyes (IF16/NWG innovation event)
15. Asset maintenance analytics (iAM)
16. Electronic DMA Information packs (IF18/Wipro)
17. Social listening (IF17/CGI)
18. Alexa skills (IF17/CGI)
19. Andrew Turner Innovation Ltd Torpedo (SME collaboration)
20. Down pipe
21. Suds Planter/Soficus (IF18/Durham University)
22. Anaerobic gas upgrade (R&D project)
23. Clampy (IF18/CGI)
24. Sewer flooding analytics (IF18/Hitachi)
25. Well Being App/menopause training (IF18/O2)
26. Field worker app
Over the course of five days in July, more than 3,000 people from nearly 750 different organisations attended the third NWG Innovation Festival at Newcastle Racecourse, tasked with coming up with solutions to a variety of challenges through design sprints, data hacks and workshops.
While the focus of the event is on quality ideas rather than quantity, this year's event was the biggest to date, with attendance up around 50 per cent on 2018, and has helped the company conceive and develop a wide range of projects.
"The primary objective is coming up with ideas to help improve our business, and I think we achieved that," Nigel Watson, Northumbrian Water Group's director of information services, says.
"We're always looking at our processes and encouraging our staff to come up with ideas for improvement, but the Innovation Festival is about doing something that's perhaps a little bit more of a quantum leap – something that takes us forward in a big step that you wouldn't ordinarily get through incremental improvement."
This year's event provided an opportunity to celebrate some of the company's most successful innovations of recent times, with NWG presenting 26 ideas that had been developed either at previous festivals, including an initial three-day innovation sprint in 2016, or through other channels such as the 'InvestQuest' employee competition.
Those ideas (see box) include the Water Industry Award-winning Utileyes app, which allows technicians to view potential problems inside customers' homes and elsewhere remotely; the common infrastructure map, a digital system for underground utilities developed alongside Ordnance Survey that has attracted Government support; and Barnacle, a smart sensor for toilets that gathers data at every flush and can pick up issues such as leaky loos.
Watson, though, says the greatest value so far has emerged from the data hacks.
"We use data science for pollutions, flooding and leakage, and we've clearly seen some big impact in terms of return on investment," he says.
"Some of the other ideas aren't reaping the same rewards just yet, but they surely will. With the common infrastructure map, for example, we've identified about £1 million in efficiencies every year and probably £10 million in reduction in damages to other networks. That one is significant to our business and massive from the country's point of view as well."
Three data hacks took place this year, with 190 data scientists looking at interruptions to supply, water quality and using unstructured data to gain greater intelligence on assets. The festival also hosted 10 sprints – including diving deeper into digital twins and improving surface water management strategies – and 10 one-day mini-sprints, known as 'daily dashes', with topics such as wiping out sewer flooding by tackling customer behaviour.
A key aspect of the various brainstorming sessions is the presence of those working outside the sector. While many other water companies attended the event, the festival welcomed new ideas from technology companies such as CGI, Microsoft, O2, IBM and Apple plus engineering companies, public sector bodies and more.
"We also had Bridget Rosewell, who's the chair of Atom Bank and sits as a non-executive director at Network Rail," Watson says. "We love getting people from outside the sector to come in and work with us – we bring our sectoral knowledge to the table but it's always interesting to understand what other sectors are doing. When you make those soft collisions between the two, I think that's where the best ideas tend to emerge."
This year's festival also had a strong STEAM (science, technology, engineering, art and mathematics) programme that attracted a substantial number of youngsters.
"It was fantastic and we had a really good range of ages," he says. "There were some around 10 years old building a bridge using cardboard and then they had to stress-test it by putting some weights on it. That generated quite a lot of excitement.
"With the older kids, we set up a 'Fix It Café' – we brought in three expert menders and they taught the kids how to fix things, including a cello, a guitar, a radio and some toys. It was trying to get away from this concept of just throwing things away whenever there's a problem – the planet can't sustain that. We thought it was important to start to grow that movement."
NWG is now gearing up for Innovate East – a joint event from Essex & Suffolk Water and Anglian Water that takes place in Ipswich between 10-12 September – and that should provide a platform for even more creative solutions.
"Really what we're trying to demonstrate is that water companies can collaborate," Watson says. "We've identified four main subject areas for that one – leakage, which we deliberately didn't touch at this year's Innovation Festival, plus the environment, social inclusion and digital twins. It is helpful having other events in the calendar. It focuses people's minds and gives them something to aim for."
THE BEST OF 2019
NWG picks out a selection of the most exciting new ideas to come out of this summer's festival.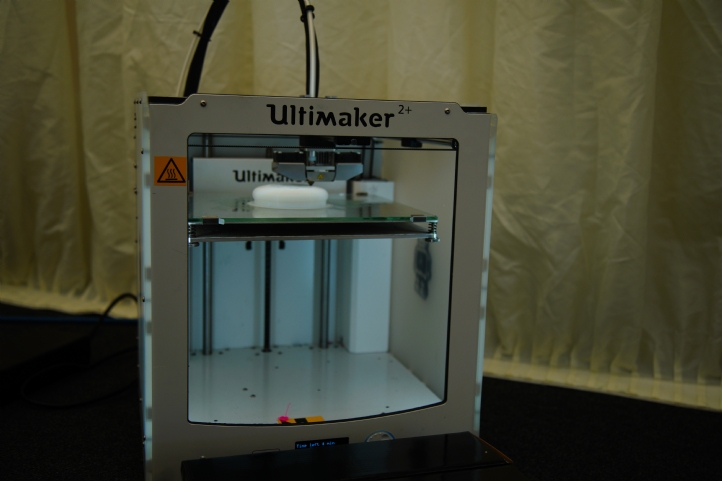 Dragonfly
The Dragonfly emerged from NWG and CGI's sprint, which explored ways to enhance rural communities and the environment using emerging technologies.
The Dragonfly is an idea for a solar-powered, real-time water sensor for rivers that provides data to support asset management, promote catchment management and allow communities to engage with the rivers. The data analysed would be shared with stakeholders via digital applications, linking into existing data sources and platforms. Enabled by 5G and facilitated by fibre-optic cables in the sewer systems, a network of Dragonflies would support a 5G mesh to bring high-speed connectivity into rural communities.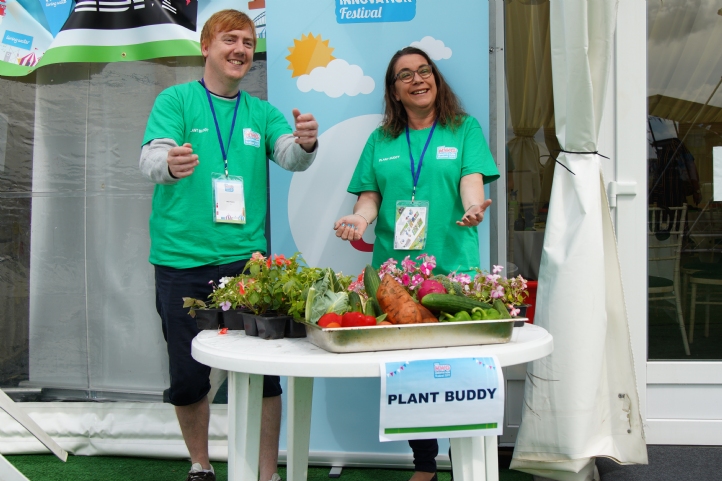 PlantBuddy
IBM worked with NWG on the question of how gardeners and food growers can use less water without affecting the quality of what they produce, and came up with PlantBuddy – a platform that hooks up simple sensors to plants to gather specific information about how much water they need and when.
Seeking to develop the idea further, the team sought ideas for an app, with 76 developers registering, resulting in 35 proposed designs from 10 countries, and a design from South Africa was selected as the winner. A learning platform was also selected to receive £5,000 in seed funding to undertake market research to build on the idea.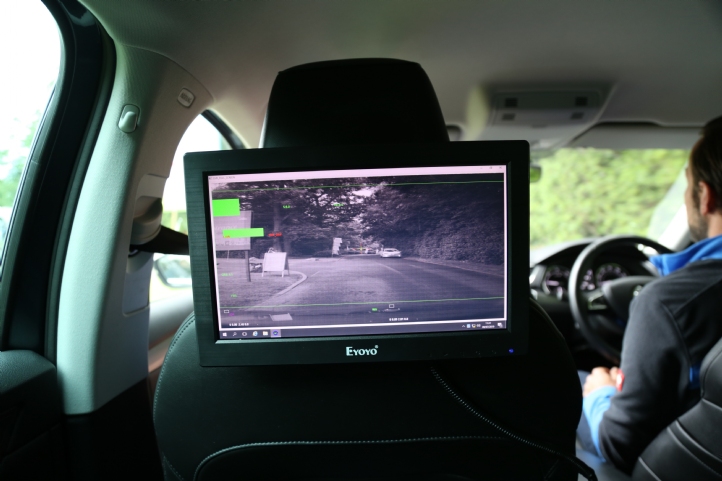 Mobileye
Building on the common infrastructure map project to provide a digital representation of underground utilities, NWG set about completing a year's worth of work in a week alongside Ordnance Survey in the Mapathon session.
Mobileye was selected as the best technology to map the above-ground streetscape – providing a mirror to the underground mapping – and was also found to have the potential for secondary mapping benefits.
The team agreed on the key assets that would be mapped and hope to see 100 vehicles fitted with Mobileye across the region over the course of six months.
This article originally appeared in the August issue of WWT