"Farmers want to be part of the solution" on catchment management
Emma Goddard, Head of Environment, South East Water, speaks to WWT about the company's award-winning catchment management initiative which targeted the use of the slug pellet metaldehyde in catchments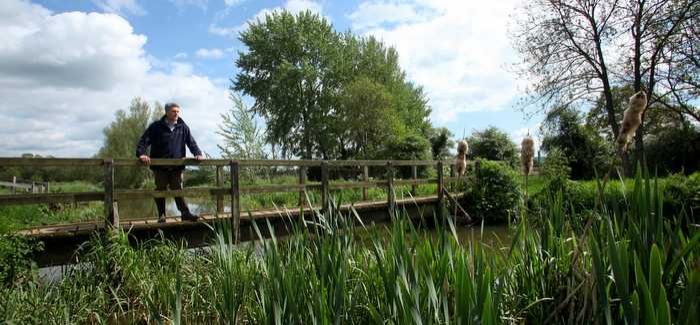 South East Water's Simon Lohrey leads on surface water catchment management work for the utility
"Our water and farming partnership initiative 'Together we know h2ow' – named Water Resilience Initiative of the Year at the 2018 Water Industry Awards – was launched in April 2015 but has its roots in events that unfolded a decade ago.
"In 2008, we started to see increased levels of metaldehyde in some of our catchments and looked at blending to ensure we were compliant with the European Drinking Water Directive. For a long-term solution, we looked at a water treatment process called reverse osmosis, but that was very expensive and carbon-hungry.
"We started thinking that if we could do something in the catchment, that would be far more sustainable. We did a lot of modelling work with the agricultural and environmental consultancy firm ADAS UK Ltd (now RSK ADAS Ltd) to look at the geology of the catchment and rainfall. They outlined the methods we could use to reduce metaldehyde in conjunction with farmers, helping us to understand land use, crops and the times of year where pesticide application may cause us a problem.
"We could have looked at the whole of our catchments, but they're huge, so trying to get water quality data would be expensive, time-consuming and quite difficult to achieve.
"Using the ADAS work, we looked at the key parts of our catchments where, if we had metaldehyde failures, that would cause a big issue. Rather than just utilising Environment Agency baseline data, we started to create our own. Instead of only looking at water quality at the point of extraction, we looked at key points in the catchment where there was likely to be metaldehyde run-off, starting to create a really good baseline of scientific data. From that we created risk areas – or hot spots – where we knew we needed to target metaldehyde usage.
"By 2010, the Environment Agency had flagged the metaldehyde levels as a key risk, so we knew we needed to go in and engage with farmers in our first catchment.
"Simon Lohrey, who leads all our surface water catchment management work, has a background in livestock farming so he understood their needs and how best to approach the issue. The farmers said they were willing to engage if we would talk to them about a range of topics – environment stewardship and how they can secure grants as well as water quality and how to manage pesticides and fertilisers – but they were reluctant to have more and more new people knocking on the door.
"We decided to talk to Catchment Sensitive Farming (CSF), which is run by Natural England in partnership with the Environment Agency and Defra and offers training and advice to farmers to raise awareness of diffuse pollution from agriculture. In our area, the CSF coverage wasn't very good, and we could see there was a risk that quality might deteriorate because land use might change over time.
"We asked CSF to consider coming on board with us, using our scientific data to target their work so that they could go into our catchments and really target metaldehyde alongside their own priorities such as biodiversity. We helped them to understand the impact of pesticides on water quality, and we were really fortunate because we were the first to enter a five-year partnership with CSF to deliver our work with us.
"What we are seeing is that the farmers are engaged and they're working with us. We're talking about very small amounts of pesticide losses – microgrammes – and when you show them the spike in metaldehyde levels from the scientific data, they can see that it correlates with the time they put the slug pellets down.
"We became the first water company to conduct field trials to demonstrate to farmers that there is no difference in results between metaldehyde and non-metaldehyde pellets. Some of the other things we've done are really simple, like going in and training the farmers to calibrate their equipment for applying slug pellets, so they don't spray them straight into the river. We've also invested in pesticide-handling facilities and wash-down facilities.
"When the CSF guys go in, they also talk to them about soil health and trying to keep all their soil and resources on the land. For us that means you don't get the sediments and pesticides; the benefit for the farmers is that pesticides and soil stay on their site. It's win-win.
"There's a whole range of solutions – there is no magic bullet that fixes everything. It's very much case-by-case and using our data to make sure the measures we implement work.
"Certainly on our smaller catchments, we're seeing that this collaborative approach is bringing down metaldehyde levels. When you've got a very large catchment with thousands of diffuse sources of metaldehyde, the approach we're using might not be as effective – in those cases, there is a role for regulation and possibly a place for targeted bans.
"Even so, there's definitely a bigger role for catchment management in the future. It's not a short-term fix – it's very much a long-term solution – and there's going to be a lot of course-correction with land use change and new chemicals coming onto the market.
"For us, the key thing is working in collaboration. Our approach has very much been working in partnership, trying to educate and get people to understand the side effects of their activity. Farmers don't want to be seen as polluters – they want to be part of the solution."
-South East Water's 'Together We Know H20W' project won the Water Resilience Initiative of the Year award at the Water Industry Awards in May 2018.
-This article appears in the July issue of WWT magazine.