Expert View: Care against corrosion
Leaks caused by pipe corrosion are often preventable with a little extra care and training when the pipes are originally installed, writes Keith Corfield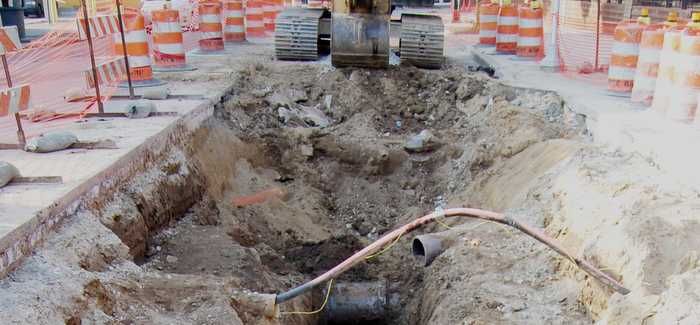 by Keith Corfield, Sales Manager, Winn & Coales (Denso) Ltd
It is regularly reported in the news that one of the water utilities' main objectives is to reduce the amount of leakage from their distribution systems. When it comes to leaks caused by corrosion, they already have the right tools handy to prevent many of them when the pipes are originally installed. All they really need to do is to ensure that these tools are used properly by asking for adequate product application training.
I know that leaks can occur for lots of reasons. Broken pipes or couplings through mechanical damage or ground movement is a possible cause but one of the most common reasons must be corrosion. New pipe lengths are usually supplied with a factory applied corrosion prevention coating but this can get damaged during handling, fitting, backfilling etc and most pipe couplings require nuts and bolts to fasten them and are extremely vulnerable to corrosion. So despite factory applied coatings there is almost always a need for field applied corrosion prevention.
To overcome this need the P1 and P2 Civil Engineering Specifications for the Water Industry 5th Edition were issued which cover the protection of ferrous pipes, joints and fittings using anti-corrosion and sealing materials prior to burial.
Winn & Coales (Denso) Ltd have manufactured and supplied anti-corrosion systems that comply with both the P1 and P2 specifications for many years now and when the systems are applied correctly our archives show that they are extremely effective at providing long-term corrosion prevention. The Denso system comprises (after cleaning), an initial coat of Denso Paste over the entire area followed by the use of Denso Profiling Mastic to fill voids and form a smooth profile prior to wrapping. The whole joint is then wrapped with Denso Tape (petrolatum) for the P1 spec or with Densoclad Tape (bitumen laminate) for the P2 spec, where a tougher level of protection is needed. The system is very easy to apply but care must be taken to use the product correctly, particularly when filling voids with profiling mastic. It is this stage that sometimes gets missed out by contractors with grave consequences for the coupling as wrapping our Denso Tape over a void will create a pocket where water can enter, build up and lay, causing rapid and extensive corrosion to the surrounding area.
The enormous wasted cost and serious environmental issues that are caused by incorrect or incomplete system applications affect everyone and we at Denso are very keen to make sure our products are always applied correctly to meet the required specifications. To remedy this situation we offer free product application training, either on site or at our training centre in London. We are also happy to work closely with the utilities/contractors producing free customised instructional literature and application videos etc. For more information on Denso Products and training contact our head office: the full address and contact details can be found at www.denso.net.