Engineering innovative solutions
Most construction projects aren't finished on time or to budget. Could offsite construction be the answer for the water industry? According to NG Bailey, it cuts costs, slashes job time and is greener too.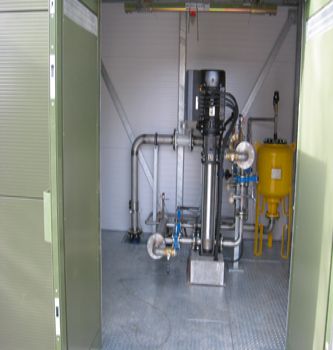 Just 63% of site-based, traditional construction projects are completed on time, with only 49% being delivered to budget. With a project portfolio that encompasses numerous innovative offsite solutions, UK company NG Bailey utilises the technique to save businesses 20% in costs in comparison to traditional construction methods, whilst also reducing job times by up to 50%.
Offsite construction refers to the practice of building structures at a different location to that of their use, primarily in specifically designed manufacturing facilities. In his Never Waste a Good Crisis report, Andrew Wolstenholme, chair of Constructing Excellence, called for the industry to demonstrate how it can "create additional economic, social, and environmental value through innovation, collaboration and integrated working".
In a direct response to Wolstenholme's challenge, NG Bailey has created several offsite manufactured solutions for the water sector, playing testament to these new industry values.
Water authorities remain under constant pressure to deliver a reliable supply of clean, safe, drinking water and effective wastewater services at an affordable rate. However, achieving this in certain regions assessed by the Environment Agency (EA) as areas of "serious water stress", or in places that are geographically large with remote areas, is a tough challenge.
Every new housing development places additional load on the water mains, reducing pressure and potentially compromising water quality. Typically, in flatter, rural areas, the challenge is magnified, with authorities often required to operate thousands of pumping stations, each one being integral to the water supply infrastructure.
Traditionally, the process of designing and building a booster pumping station to meet legislation takes several weeks with multiple trades on-site. NG Bailey addressed these time constraints by setting out to develop an innovative way of overcoming the problem, with a solution that would deliver additional pumping capacity both quickly and cost effectively.
The team from NG Bailey's Offsite Manufacture division saw the opportunity to deliver an "off-the-shelf" product range of new pumping stations. The total cost saving of delivering this product, including design and engineering time, would be more than 20%, in comparison to traditional methods.
The result is not only a value-engineered design, with all the cost-advantages of standardisation and industrialised production, but also a "configurator".
Specific model
This system, designed by NG Bailey, enables project managers to configure the specific model they need by pumping capacity and choose from 17 other options, ranging from colour to whether it requires a burglar alarm.
The assembly process is also refined. A template is set into the concrete base on-site to precisely determine the positions of all pipework coming into the plant room, so that when the unit is delivered it can be installed and ready to pump water in as little as four hours.
The solution has now been adopted by utility companies up and down the country that recognise the importance of cost efficiency and speed of delivery. The benefits of offsite construction, however, stretch much further than mere financials. In terms of sustainability, offsite construction considerably reduces materials wastage through the optimisation of resources.
It also reduces the industry's carbon footprint, through reduced traffic to and from construction sites. This in turn holds huge benefits for local communities, as various forms of pollution from traffic and noise are curtailed. From a safety perspective, a 90% reduction in site hours translates to fewer accidents.
Ultimately, offsite construction offers a guaranteed consistency of product, pre-commissioned in a controlled environment.