Drinking water reed bed system nears completion
The many benefits of natural wastewater systems will be illustrated by a £4.5M system scheduled to be up and running in September to dewater ferric sludge produced by Hanningfield Water Treatment Works.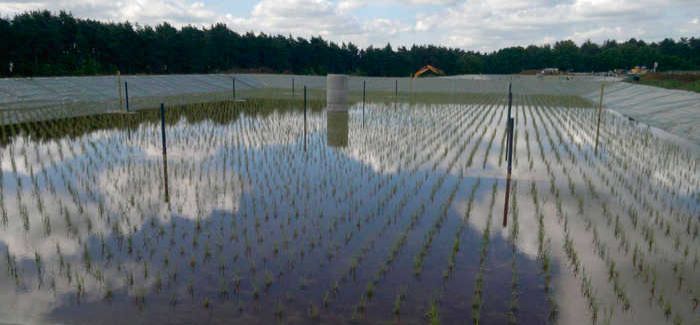 The planted reeds
Essex & Suffolk Water, part of Northumbrian Water, is nearing completion of its £4.5M reed bed system to dewater up to 3Ml per day of the ferric sludge produced in its drinking water treatment processes at its Hanningfield Water Treatment works.
Traditional methods of dewatering involve centrifuges and belt presses, which require high levels of maintenance labour and power. They also only serve to reduce the volume of sludge rather than treat it.
The Hanningfield works generates sludge waste primarily from the desludging of the pulsator clarifiers, producing a mineral sludge.
Historically, these sludge wastes have been pumped to sludge lagoons adjacent to Hanningfield Reservoir. However, these are now nearing the end of their serviceable life and a new sludge handling process is required.
The water company has found a way to reduce the volume of the sludge residue generated in drinking water treatment by dewatering it as well as storing it − thereby reducing whole life costs compared to the mechanical alternatives.
"MWH were Essex & Suffolk Water's framework designers who undertook the optioneering exercise," says Steve Harvey , project manager at ARM Reed Beds.
"MWH concluded either reed beds or traditional mechanical dewatering options – mainly centrifuges – should be taken to the outline design stage. After detailed analysis, Essex & Suffolk Water determined that reed beds should be progressed. Not only did this option offer distinct environmental advantages, the reed beds were also the most cost effective solution.
"We joined forces with Danish company Orbicon to devise a world first – reed beds designed specifically to treat drinking water sludges. We initially proved the technology works on ferric sludges. But we then ran a trial on alum sludges, at Lumley again for Northumbrian Water, and had similarly successful results," says Harvey.
He continues: "Denmark has been treating sewage sludges with reed beds for 20 years. A number of basins are regularly dosed with sludges − comprising approximately 2.0% dry solids − so they have resting periods.
"Dewatering happens on several levels: evapotranspiration, filtrate percolates through the system and mineralisation.
"The final result is a sludge of up to 60% dry solids content.
"We estimate the basins will probably reach capacity after ten to 15 years."
Harvey says: "Reed beds in Denmark have provided a sustainable long-term solution to treat 80% of all its sewage sludges and a sustainable long-term solution to treat 30% of all its SAS (surplus activated sludge).
"Residues are classified as an Enhanced Treated Product, excavated and spread on land as fertiliser. The beds are then ready to be dosed with sludge again."
Paul Grimwood, project manager – investment delivery at Essex & Suffolk Water, says: "These are the first reed beds of their kind in the world for water treatment sludge and we are delighted to be installing them as part of our treatment process at Hanningfield.
"Our extensive on-site trials over the past four years have given us the confidence to progress with the full-scale system.
"Upon construction completion in September this year, the beds will be commissioned over the next two years until they are able to accept all of Hanningfield's sludge output.
"Natural wastewater systems have got to be the way forward because they're so lean in the way they dewater sludges – lower operational and maintenance costs as well as a smaller carbon footprint because they involve less transport and chemicals."