Digital engineering for the totex environment
Digitalisation of the design and construction process as well as the use of intelligent piping and instrumentation diagrams made for a successful outcome on the Oldham and Royton Integrated Strategy (ORIS) wastewater treatment project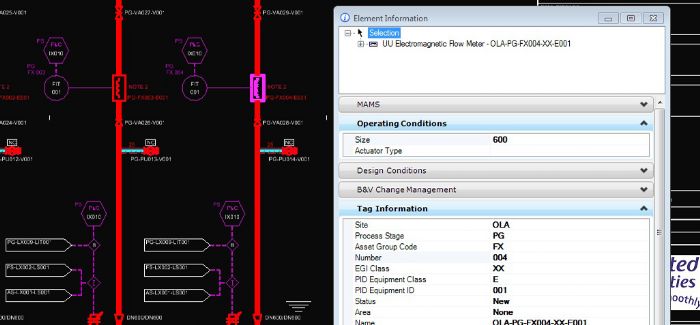 iP&ID application showing the Interstage Pumping Station, with open information box showing a section of the asset attribution for one of the electromagnetic flow meters
Project specs
• Decommission Royton WwTW (PE 28,000) and expand Oldham WwTW (PE 157,000) to manage increased capacity
• Create a new 4.2km sewer to transfer flows formerly treated at Royton to Oldham WwTW
• Improve standard of treatment to meet new compliance requirements, including a final effluent consent of 6 mg/l BOD and and 1mg/l ammonia, and an end to unsatisfactory intermittent discharges from storm tanks
The use of intelligent piping and instrumentation diagrams (iP&ID) can play a key role the digitalisation of design and construction process on water industry projects, as exemplified by the recent Oldham and Royton Integrated Strategy (ORIS) wastewater treatment project.
Embedding digital tools during the capital delivery phase has the potential to yield legacy benefits later in the asset's lifecycle. Overlaying the capital delivery and asset management spheres is important in a totex environment.
A P&ID shows the piping and related components of a physical process flow – in the case of ORIS, a wastewater treatment process. They provide a schematic illustration of the functional relationship of piping, instrumentation and equipment components used for performance measurement, or functional control. P&ID's functions include:
 Designing a conceptual schematic representation of the WwTW
 Evaluating construction interfaces and supplier scope boundaries
 Forming recommendations for cost estimates, equipment and pipe design
 A basis for the system control programming
 A basis for operations and maintenance documentation
 A basis for a Hazards in Operation (HAZOP) Study
 Providing a common language for discussing plant functionality 
Black & Veatch's Information Management and Analytics team has extended P&IDs' potential by configuring exclusive software to enhance functionality. The software – compatible with standard design tools such as OpenPlant – facilitates the creation of schedules populated with equipment information that can be used to expedite commissioning activities, as well as generate asset inventories, as extensions of the P&ID.
Using Excel as part of the user interface enables data from virtually any source – clients, suppliers, subcontractors and other Black & Veatch professionals – to be incorporated into the iP&ID's database. For example, details such as physical size, connection flange, power rating, flow capacity, part number, cost and manufacturer for each pump in the treatment process can be stored in the P&ID database.
The synchronisation of the database and the P&ID software makes the asset identification tag the common link between the two, relating asset information directly to the diagram symbol.
These intelligent P&IDs (iP&ID) allow the extrapolation of a BIM environment 3D model with 4D (time) and 5D (financial, such bas unit costs) data. This functionality sources data from a common database, ensuring that throughout an asset's lifecycle, the data is relative, current and available from a live, single version of the truth.
ORIS: DIGITAL DIAGRAMS IN ACTION
The project
United Utilities' Oldham wastewater treatment works (WwTW) and Royton WwTW are major wastewater treatment facilities in Oldham, northeast of Manchester. The Oldham and Royton Integrated Strategy (ORIS) project will combine the functions of both sites into a single, integrated solution, meeting both wastewater treatment and wastewater network drivers.
The project requires the decommissioning of Royton WwTW and creating a 4.2km sewer to transfer flows formerly treated at Royton to Oldham WwTW. The Oldham works will be expanded to manage the increased capacity and the standard of treatment increased to meet new discharge consents. Stormwater storage capacity at both sites will be expanded, so excess flows can be retained and released for treatment when capacity at Oldham WwTW allows. The main design/build contract was awarded to Black & Veatch in Spring 2015, with a project approved budget of £78.2 million.
The existing Oldham WwTW treats a population equivalent (PE) of 157,000, and Royton treats a PE of 28,000. Both works discharge into the tributaries of the River Irk. The ORIS project will ensure compliance with two new requirements: Oldham WwTW Freshwater Fish Directive – a higher final effluent consent of 6 mg/l BOD and and 1mg/l ammonia; and Oldham and Royton Storm Tank UIDs – both WwTWs storm discharges were deemed to be unsatisfactory intermittent discharges (UID).
Black & Veatch is delivering ORIS using a BS1192 configured Common Data Environment (CDE) – Bentley ProjectWise. Non-graphical asset data is being presented and managed through the use of the company's iP&ID software operating with Bentley OpenPlant.
Tag and data synchronisation
Black & Veatch has reconfigured the standard software functionality and is using it to allow asset tagging and asset data to be synchronised with the information on the P&ID, and held in a common database. The intelligent link between the non-graphical asset data and the P&ID means that a change in one will be updated in the other. This creates a common single source of project information, so any inconsistencies between schematic and database information are flagged as errors to be addressed – using the tag as the intelligent link. This is the first large-scale project to benefit from an intelligent link between asset information and schematic representation.
The benefit is that no asset can be added or removed from either the P&ID or schedule without flagging an inconsistency. Multiple changes are highlighted quickly and automatically and removes traditional long hand paper checking tasks. This saves time, reduces errors and prevents excessive or under procurement of items.
The company is using its iP&ID Data Exchange system to manage and manipulate the asset data into equipment schedules for procurement. The intelligent link gave confidence that the schedules accurately transposed the requirements as set out on the P&ID, and allowed schedules to be generated more quickly that using a traditional approach.
Valve and instrument schedules are generated from the database. The data needed for procurement is inputted via Excel. This ensures all supplier asset information is stored in one place and one format rather than in multiple places and multiple formats. We are also using this database information to automatically pre-populate commissioning sheets stored in our Common Data Environment, saving significant data entry time and maintaining one version of source data.
Creating this "single source of the truth" will have benefits that extend beyond the capital delivery phase of the project. The as-built 3D model and iP&ID database will form key components of the client's as-built asset information model. This will mean, for example, that United Utilities will receive a master asset management schedule as part of the handover process.
As such, the use of iP&IDs is the first step in the creation of a single source of asset information for the wastewater treatment infrastructure created by the ORIS project, which can be drawn upon and updated throughout the asset's operational life.