Digging Deeper: Property level flood protection
A whole catchment approach to flood risk should include protection at the level of the individual property, writes Alastair Moseley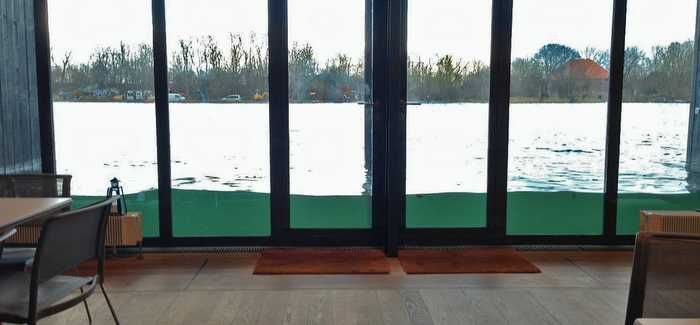 This sealed, flood-proof patio door is an example of PLP in action (Photo: Whitehouse)
The catchment-scale flood events that we have regularly seen across the UK since 2000 have highlighted the complexities of providing flood protection in towns and cities throughout the country. Responsibility for managing flood risk in England lies with many different agencies, often working to different standards of protection, and this makes managing and funding flood mitigation measures a challenging process. When flood mitigation measures are progressed, affordability often limits the scale of flood mitigation measures that can be put in place, leaving a residual flood risk in extreme events.
Flood risk is detrimental to personal health and wellbeing as well as to the local economy, and yet solutions to flooding often exceed affordable cost, leading to delay and prolonged suffering. This can only be overcome by adopting innovative approaches to flood mitigation as part of catchment-wide planning, and ultimately preventing damaging and expensive water ingress to properties. The use of Property-Level Flood Protection (PLP) measures is one such innovation and is an effective and affordable way of achieving this.
Whole catchment approaches to flood risk management
It is widely recognised that to provide complete protection against flooding is impractical and unaffordable. To achieve this, flood defences to rivers would have to be so high that they would have a detrimental visual impact for communities. Channeling flood waters beneath towns to avoid inundation of property simply by the use of larger drainage systems would be highly disruptive to construct, and the finite size of pipework would always lead to some residual flood risk being present.
So rather than simply defending at the point of flooding, the deployment of whole catchment measures at different levels is now being seen as a far more attractive, practical and affordable way of protecting communities. Increasingly powerful computer modelling shows us that holding some flow back in the outer reaches of catchments, slowing the flow down to reduce accumulation, and absorbing surface water by the use of sustainable drainage measures in urban areas, is an effective way of reducing flood volumes to more manageable proportions. A third component to deal with residual flows would then be less intrusive flood mitigation structures including demountable flood barriers alongside river channels.
Balancing capital investment to achieve positive outcomes
Even with these measures in place, properties in the lower reaches of catchments or near to rivers and water courses will still be at risk in the largest storm events, as seen in the 2015/16 floods in Cumbria and Yorkshire. It is simply not economically or physically possible to reduce flood volumes sufficiently to keep flood waters below property door thresholds in these locations during very large storm events.
So a fourth component of flood mitigation is needed, which is to deploy flood mitigation measures at the properties themselves, otherwise known as Property Level Flood Protection (PLP). This takes the form of water resistant doors and windows, water-tight air bricks, and water proofing of the fabric of the building to minimise water ingress through walls, up through floors and drainage points within the building (often termed secondary flow pathways). The deployment of PLP as the fourth stage of this catchment wide approach can therefore enable far larger numbers of properties to be confidently taken out of flood risk than was previously possible.
Passive Property Level Flood Protection
The best measures offering the greatest benefit to property owners – domestic and business alike – are those where the owner has to do nothing other than close the door of the property to keep the water out. Where flood barriers and guards have to be physically taken out of storage and installed, there is a greater risk of failure particularly if the property owner is not present at the time of the flood.
Latest developments in fully passive PLP allow water resistant windows and doors to be able to withstand relatively high external water levels, whilst still being aesthetically pleasing with as many choices of styles and finishes available as for ordinary door and window products. Sealing of the fabric of a building can be achieved quite easily and a typical flood mitigation 'make over' can take as little as two days and cost on average £5,000 per property. The result is that the property owner experiences minimal disruption, and has peace of mind when the work is completed.
Applying PLP to water company sewerage operations
Whilst the Environment Agency and Tier 1 Local Authorities have statutory duties to reduce flood risk from rivers, water courses and highways, water companies are responsible for protecting properties from flooding from their sewerage systems, the curtilages of buildings and in some cases from highway run off where the water flows from the road onto the property. However, due to the complex interactive nature of flooding mechanisms, the water company often has to put measures in place that provide protection from all causes of flooding, even where these are not their direct responsibility – simply because not to do so would leave the property owner at risk of flooding even if improvements to their sewer systems have been put in place. In the end, the customer does not recognise these complexities, and if he sees that the water company has failed to resolve the flooding a complaint will result leading to a higher SIM score.
Consequently, scheme costs can easily exceed the indexed average cost per property, leading to delay in achieving a solution and leaving the property owner at risk. The average budget cost to eliminate internal property flooding is circa £60,000 per property, compared with £5,000 applying PLP measures. PLP therefore offers an affordable solution for flood mitigation and reducing overall solution costs.
In AMP6, water company performance is measured through Outcome Delivery Incentives (ODI) and performance commitments. Most water companies have an ODI performance commitment linked to reducing internal flooding of properties. The associated flooding index provides an assessment of actual performance with respect to reducing sewer flooding whilst providing a direct measure of customer experience. The water companies are therefore incentivized to reduce property flooding whilst achieving high customer satisfaction at least cost. Typically in AMP6 a large water company will have rewards of £50M and penalties of £100M linked to flooding, so there is a real incentive to perform well.
Because PLP is targeted at specific properties, rather than on a wider scale such as installation of large sewers and manholes, fewer customers are affected by the work, and there is a real opportunity to delight the customer whilst the PLP is being implemented, as well as enhancing the appearance of the property with bespoke doors and windows that are attractive whilst providing a high level of flood mitigation. The outcome is a householder that is confident that their property will not flood, that had a good experience of the installation process, and at a cost that allows significant cost efficiencies to be made whilst delivering considerable benefit and achieving the ODI performance commitments.
In Summary
PLP offers water companies an opportunity to reduce flood mitigation solution cost through a balanced catchment management approach that includes targeted property level protection balanced with associated smaller scale hydraulic improvements to the sewer network. At the same time a higher degree of customer satisfaction is possible leading to a lower SIM score, positive ODI outcomes and significant cost savings.
This innovative approach can help transform a water company's AMP6 sewerage operations and enable a significantly higher level of customer performance than has been the case in previous AMPs.