Digging Deeper: Stormwater tanks
Recent years have seen a marked development in the way stormwater systems are designed and maintained to ensure sustainable, long-term performance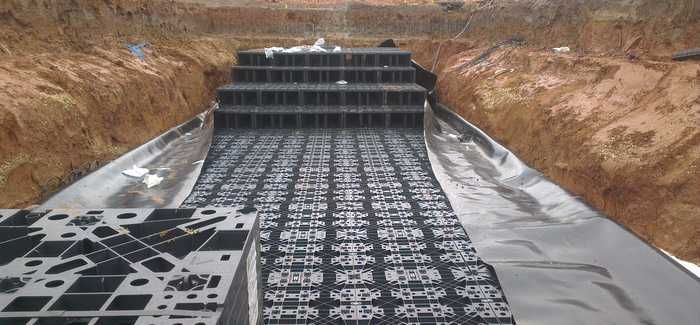 Lightweight plastic cells form the main structure of this Ecobloc tank
by Kevin Reed, National Specification Manager, Graf UK
When it comes to stormwater management tanks – or Sustainable urban Drainage Systems (SuDS) – the goal has always been to replicate natural drainage as closely as possible. In this sense, there is nothing new about SuDS. However, with demand on the rise and external factors like climate change playing a highly influential role, today's stormwater systems have had to evolve significantly to meet changing requirements. As a result, we've seen the introduction of pioneering new developments in system design and maintenance – which have made modern stormwater solutions more bespoke, reliable and efficient than ever.
Recent changes to the Flood & Water Management Act have been a particular milestone for the stormwater industry. These stipulate that a project's SuDS design has to be approved as part of the planning application before work starts. This welcome development has cemented the importance of making effective drainage part of a project's plans from the outset, rather than an afterthought. At a practical level, it means today's specifiers need to make the right decisions about the system's hydraulic and structural design in advance. However, to ensure best long-term results, they also need to plan ahead for on-site activity, including installation, and ongoing maintenance.
Designing for success
Effective hydraulic design is all about ensuring SuDS are set up to handle the right stormwater conditions – both today and throughout the lifetime of the tank. Traditionally this has meant designing them with a 30-year storm in mind (the kind of weather event that is statistically likely to happen just once in a 30-year period). However, over the last five years, as the threat of climate change has heightened, we have seen a shift in standard practice – and most systems are now designed for a 100-year storm, with a 20% contingency buffer on top of this.
This change in approach has been reflected in a tightening of outgoing flowrate regulations for both greenfield and brownfield sites, to ensure that existing stormwater sewers and water courses are not overloaded for individual applications, even in extreme conditions. For attenuation systems, the rate stored water is released to the public sewer is usually set by the water company, Environment Agency or local authority. For infiltration applications the size of the soakaway will depend on the natural infiltration rate of the soil (determined by carrying out on-site testing). With so many factors at play, this can seem like a minefield at times, and as a result there are now software programmes (for example, Graf UK's Storm Flow programme) that provide accurate sizing support for specifiers.
From a structural point of view, modular stormwater tanks have become the norm over the past 12 to 15 years – offering greater volume capacity and space efficiency than more traditional drainage solutions, such as rubble pits. Opting for below-ground systems also enables developers to free up on-site space that can be put to other uses. With the right system, it's possible to use this space as required, whether it's a play area, roadway or even a heavy-duty lorry park (with a load up to 60 tonnes). To this end, the structure and material of modular tanks is integral to performance, ensuring the system remains as lightweight as possible for ease of transport and handling, but strong enough to bear the load from above and comply with CIRIA C680 guidance.
Most modular systems are now designed to incorporate lightweight plastic cells, which form the main structure of the tank. For infiltration, this is then surrounded by a strong outer geotextile covering. For attenuation applications, the plastic structure is covered with a waterproof membrane, with the geotextile layer still used as added protection for the membrane. For optimum performance and longevity it's always advisable to opt for polypropylene plastic cells (as these do not contain chlorine and are more easily recycled) and a high strength non-woven protective geotextile fleece (minimum 200g per m2). The attenuation membrane joints should be heat welded and made from a low-density polyethylene that is at least 1mm thick.
Getting it right on site
A well designed SuDS system not only delivers operational benefits, but it can also ease some of the logistical challenges facing projects, and even help reduce their carbon footprint. The development of stackable modular tank systems has been particularly revolutionary in terms of transport and storage – cutting costs and emissions and taking up minimal space. For example, one lorry transporting conventional modular tanks can typically carry around 90m3 of actual product, with the rest of the space taken up by air. The same lorry transporting a stackable system could carry around 400m3 of product. This makes for fewer loads, takes lorries off the road and improves a project's environmental impact.
At the construction stage, installer training is paramount. With such a breadth of new system improvements and techniques coming to market, those that don't stay up to date will undoubtedly see their installations suffer. Manufacturers have an important role to play in this, and groundworkers should make the most of the installation support on offer from their stormwater supplier. Some have a specialist installation team that can take full responsibility for the process, or help provide guidance, advice and even on-site supervision.
Ongoing maintenance is another critical part of long-term system performance and efficiency – especially now there are products on the market that, if correctly maintained, will have an operational lifespan in excess of 50 years. Building in new features like integral Vario shafts helps make maintenance a more straightforward process. These shafts not only work as an inlet, filter and flow control system, they can also be placed anywhere in the tank to allow for complete system inspection. On the technological side, we are also now seeing the introduction of advanced camera solutions. Modular stormwater tanks with Vario shafts and in-built inspection channels provide easy access for camera technology, allowing for remote inspection with minimal hassle.
These cameras can be used to periodically check the system for any silt or gravel build up – ensuring optimum performance for the lifetime of the system.
Setting the standard for the future
With so many external factors and developments impacting on the efficacy of stormwater solutions, it's important that there are clear guidelines in place to help specifiers and building owners get the best out of their systems. For this reason, at Graf UK we're calling for the introduction of a national standard that sets minimum requirements for the design, installation and maintenance of SuDS. Not only would this help ensure that systems continue to perform in line with expectations, it would also provide official recognition of the crucial role SuDS will play in helping UK buildings respond to changing stormwater patterns – now and well into the future.