Digging Deeper: eight2O and the levers of efficiency
eight2O has identified ten levers that will drive efficiency throughout asset lifecycles and is using them to make a step-change in Thames Water's AMP6 programme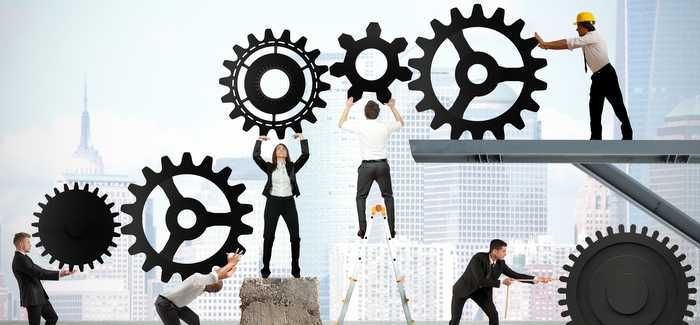 Ten efficiency levers
● Regulatory challenge
● Standard products
● Asset standards
● Data innovation
● Sustainability
● Procurement
● Programme
optimisation
● Lean processes
● Off site
● On site tech
The water industry sees itself as unique, and so it is. But so are many other industries: that does not stop them learning from each other so every industry can become more efficient and better able to deliver the best product at the best price.
Learning from the experts is just one of the ways that eight2O, the alliance tasked with delivering Thames Water's sixth Asset Management Plan (AMP6) aims to make a step change in managing and streamlining the programme.
The eight-strong alliance combines expertise and best practice from multiple sectors to think differently at every level, involving and engaging all parties to take a long term view.
The partners alongside Thames Water include two design and build joint ventures made up of Skanska, MWH, Balfour Beatty and Costain, Veolia, Atkins plus MWH as the programme manager and IBM as the partner facilitating technology and innovation.
Forming eight2O two years ahead of AMP6 is part of Thames Water's plan to ensure they can deliver better value for customers by maximising their partners' opportunities to develop innovative, sustainable solutions across the board in line with the new TOTEX approach.
The investment in transition is enabling the team to be better prepared for AMP6. A significant number of schemes are already in design and initial consultation with the supply chain aims to get them on board early to level the profile of activity across year one, preventing the traditional slow start.
eight2O wants to do things differently and it started by bringing together members of the supply chain more than a year before AMP6 was due to kick off, with the aim of building in their input to planning as well as delivery – and setting them free to use their own expertise to improve delivery. The alliance wants to build in new thinking in the water industry on issues like whole-life costing and sustainability. But it wants to go much further in taking the best from the water industry and elsewhere.
The alliance sought ideas from everywhere and that process had its own dangers. That initial discussion with the supply chain resulted in 450 responses from the companies involved. Some were simple sales pitches, but many had ideas and experience that might make a real difference to the programme. All had to be assessed – and so did many proposals arising as the members of eight2O settled into what is a deliberately open and ideas-led environment.
How could the organisation make sure it called up the most effective ideas and deploy them at scale?
Leveraging change
To effect this the team assessed the ideas against ten "levers for efficiency", carefully chosen to ensure that leverage was applied throughout the entire project lifecycle – and that of the AMP itself. To deploy those levers effectively each was given its own team. Now new ideas are allotted to a lever, and to a team, which has to assess the proposal not just for what it delivers individually, but also for how frequently it can be deployed across the programme. Those solutions are tested, qualified and become part of a standard toolkit that will be the first thing eight2O members reach for when they start a job. Andy Bull is in the eight2O core team and has been working with suppliers and he says: "They were great ideas but now we are mapping them on to the programme. Is it credible and feasible? How often can you deploy them?"
How does it work in practice? Take two levers: standardisation and off-site manufacturing.
Lever: standardisation
Ever bought in bulk? It's cheaper and you have a replacement if necessary.
Other industries show that if you have fewer components and you use them more often you get better quality at less cost. The same holds true for the processes you use. Do it more often and you get better at it.
Colin Reynell, a director at eight2O partner company Costain, says: "We have talked to companies like BP, Vodafone and M&S about how they have defined standard, repeatable products. We want to invest in very long term strategic partnerships and that means our supply partners can also invest in developing products and improving delivery efficiency."
Eliot Simons, Atkins, is the efficiency lever lead and says that although every site is different that doesn't mean it needs an entirely bespoke solution. "We are using approaches from the automotive industry. What can we put in that is modular or standardised? That brings down project costs." Simons says that approach is already popular with engineers who like the idea that they can expect familiar equipment and processes when they arrive on site.
It must be applied at an early design stage, however, and for designers it means a new challenge. Whereas in the past they may have approached each site separately, now they will have "a catalogue of standard products and approaches that can be used as building blocks," Simons says. The challenge must be to fit those to an individual site so as to get the best out of it, not just when it starts up but throughout its lifetime.
Lever: do it off-site
Forget the rain and snow: the best place to put together a piece of equipment is a factory or workshop. It should be designed and made by specialists who understand how it will be used and where, and it should be supplied to specification, to site, so that it can be installed fast.
Reynell says that means the industry can use factory thinking: "Move from complex on-site construction to using simple components and industrialising them. You can simplify the assembly process and then you can work out how to speed it up."
That's where the experience of the supply chain comes in. "Off-site working means it can be simultaneous not sequential. You find the best supplier company and share programme visibility with them. They know more about designing that product than you do: get them involved at an early stage or you have lost half your efficiency gain."
It's easy to see how working off-site can help lever out benefits throughout an asset's lifetime. That can be the start of a step-change in efficiency.