Digging Deeper: Carbon in Question
Using generic rather than actual carbon footprint figures for drainage installations can result in some wide variations, calling into question some product specs and purchasing decisions, writes Stuart Crisp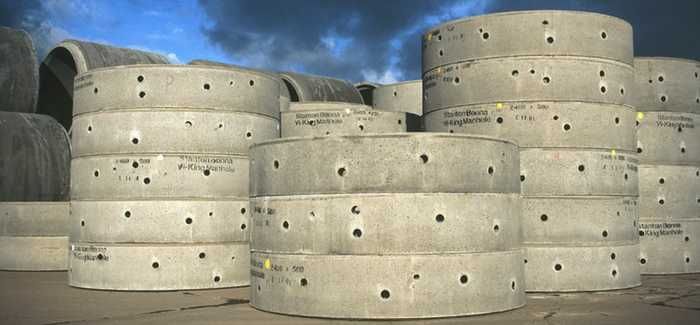 Five factors that can alter a pipeline's carbon footprint
1 The class of pipe bedding used
2 The amount of recycled material used in the pipe's construction 
3 The type of emission used in the calculation (carbon dioxide only, or all greenhouse
gases).
4 Transport distance between factory and installation
5 Power use patterns in the products' country of origin
by Stuart Crisp, Business Development Director, Concrete Pipeline Systems Association
The carbon footprint of some drainage installations could be up to 85% higher, or lower, than standardised carbon values, according to research by British Precast. The findings show that when site-specific factors are included in standardised carbon footprint figures, the deviation from these generic values can be as high as 85% for plastic pipes and up to 53% for concrete pipes for a single factor. Where more than one deviation factor is applicable the variation could be considerably more.
The findings are revealed in the Institution of Civil Engineers' Proceedings paper The Carbon Footprint of Sewer Pipes: Risks of Inconsistency. At a time when the water industry is under pressure to reduce its carbon footprint, the paper highlights the risk of using generic data, inappropriate results or calculation methods to justify specification and purchasing decisions in the sewerage sector.
For the paper, British Precast took Bath University's Inventory of Carbon and Energy and, based on 1000mm lengths of large diameter concrete and high-density polyethylene (HDPE) sewerage pipe installations for 450mm, 1200mm and 2100mm diameter pipes, set out to align various elements to specific project scenarios.
Bath's inventory is generally accepted to be the water industry's most widely acknowledged source of carbon footprint data. The baseline scenario used for the study was the two data sets published by Bath University as 'default' values for concrete and HDPE pipes. For concrete pipes, the Bath inventory data comes from a study by Carbon Clear for the Concrete Pipeline Systems Association, based on PAS2050 (2011). A 2005 study by TNO for Plastics Europe is used for the HDPE pipes.
Fifteen scenarios were modelled to help establish the importance of context on these generic values. The scenarios included: concrete and plastic pipes with different classes of bedding – Class S and Class B; concrete and plastic pipes based on carbon dioxide emissions only; concrete pipes with no cement replacement and HDPE with 5% recycled HDPE resin content; concrete pipes with cement sourced from Germany and plastic pipes with HDPE resin sourced from both UK and from Asia; both types of pipes where construction was 750km from the pipe manufacturing plant; and concrete pipes manufactured using reinforcement made from recycled steel.
The results of the bedding design modelling, for example, highlight the impact different bedding classes can have on an installation. The purpose of the bedding is to distribute the load so that the pipe remains structurally stable and within its design limits. Bedding Class B, for example, requires significantly less granular material than Class S which requires a pipe to be completely surrounded. HDPE sewer pipes generally require Class S bedding to help control a flattening (ovalisation) of the pipe. By contrast, the inherent strength of rigid concrete pipes frequently allows the use of Class B bedding for the same loading conditions, which requires significantly less granular bedding than Class S. The modelling showed that simply switching to Class B bedding can reduce an installation's embodied carbon by 8 – 17%.
These scenarios also highlight the need to understand the impact of different emissions indicators. While most carbon footprint databases are based on the carbon contribution of all main greenhouse gas emissions to produce a footprint figure, some databases are based on CO2 emissions alone. When British Precast compared the carbon footprint figures for CO2-only and CO2-equivalent carbon footprints for all greenhouse gas emissions, it found that the CO2-equivalent showed a 2% increase over the CO2-only figure for concrete pipes and a massive 20% increase for plastic pipes with resin sourced from Europe. What is more, if the resin had been sourced from further afield, such as Asia, the difference would have been even more pronounced.
Calculation methodologies and other assumptions can also impact the carbon footprint of sewer pipe installations. British Precast found that deviation from generic carbon footprint values (secondary data) to specific carbon footprint values (primary data) for sewer pipe installations can be as high as 85% for plastic pipes and 53% for concrete pipes for a single factor. Where multiple deviations apply the figure could be higher still, which implies that the carbon footprint of large diameter sewerage pipeline systems could be significantly under-or over-estimated.
The importance of the type of raw materials used in the manufacture, and location from where they were originally sourced, also becomes apparent in the modelling. Attention to the recipe of the mix is particularly important when using data sourced from European databases, because pipes are not manufactured to the same concrete mix throughout Europe.
Switching from the baseline concrete pipe, which incorporates a proportion of cement replacement, to a pipe without any cement replacement had a carbon footprint value 32% higher for 450mm diameter pipe. This shows the carbon savings achieved by the use of cement substitutes. In the case of HDPE pipes, switching from the baseline pipe, which does not incorporate recycled content, to one that incorporates 5% recycled HDPE content shows only a 3-8% reduction in the carbon footprint.
Depending on where materials are sourced, the carbon contributed by transport and the carbon intensity of the local electricity grid should be factored into an installation's carbon footprint. Electricity is a major element in the manufacture of thermoplastic resins.
As a consequence resins sourced from countries such as Saudi Arabia, India or China, all of which have electricity grids with carbon intensities higher than that of the UK, will all result in a material having a higher level of embodied carbon.
The implication of British Precast's research is that if decisions are based on unadjusted generic carbon footprint values, the water industry could be making the wrong design and procurement decisions for specific installations. The water industry's assets are currently estimated at 2.32M tonnes of embodied carbon emissions. However, if the uncorrected or incorrect carbon footprint values have been used, this figure could be significantly different.
Although the carbon footprint of materials used to construct a wastewater pipeline installation are only part of a scheme's environmental impact, this study serves to highlight to clients, designers and contractors who are making decisions based on embodied carbon, why they should examine the generic data to ensure it accurately reflects products and materials used for a particular application. This is the key reason why new guidance by BRE on product environmental profiles stresses the need to use appropriate factors for imported materials and products based on their countries of origin.
-Hear more about carbon footprinting at WWT's Water Industry Energy and Carbon Management conference, 17th September 2015 in Birmingham. Details: www.wwt-energy.net