Digesting the risk factor
Water companies must seize the initiative on co-digestion of organic wastes, argue Mark Smith, managing director, and Jane Turrell, principal consultant, at WRc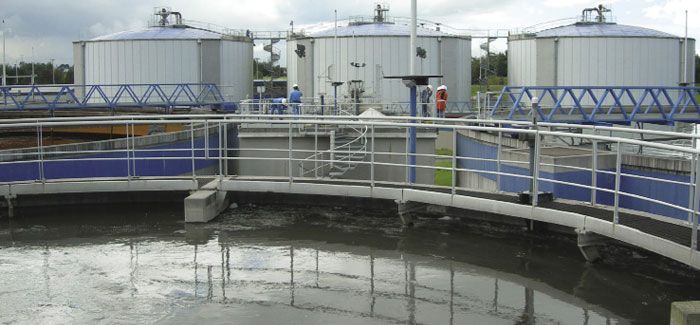 Anaerobic digestion at El Salitre wastewater treatment works in Bogota, Colombia
The UK Government is committed to growing renewable energy generation to meet its 2020 target of producing 20% of the total energy consumed in the UK from renewable sources. This will require a step change in energy production with the recovery of energy from waste.
The anaerobic digestion (AD) of source-segregated solid and liquid feedstock is set to play an important role. One thing we can be sure of is that the waste exists and it represents a huge pool of potential energy.
Government figures currently suggest that we produce over 100Mt of organic wastes that are potentially suited to AD. This is made up of farm slurries and manures, food & drink waste as well as sewage sludge.
This organic waste pool is estimated to have the potential to meet over 10% of domestic gas demand and has an energy value in the region of 2,000GWh. Waste prevention measures may reduce waste at source, but there should still be enough to go round and the big problem is the multi-million pound infrastructure required to treat this amount of waste.
Drivers
This 'green gap' and the Department of Business, Innovation & Skills (BIS) Circular Economy Action Plan are significant drivers for innovative solutions to make the most of valuable waste materials. Defra's revised AD Strategy & Action Plan (2012) sits neatly alongside various initiatives to remove regulatory and fiscal barriers to help promote the uptake of AD.
Incentives for renewable energy production include: continued increases to the landfill tax; changes to the planning system to facilitate infrastructure development; and WRAP loan funds for new anaerobic digestion (AD) plants. A National Waste Prevention Programme for England is due by the spring of 2013 and from April 2013 generators of renewable energy over 1MW will receive financial support if they achieve GHG savings of over 60% (compared with fossil equivalents).
"Incentives for renewable energy production include: continued increases to the landfill tax and changes to the planning system to facilitate infrastructure development"
In addition, the UK Government has introduced a number of incentive mechanisms such as renewable obligations certificates (ROCs), feed-in-tariffs (FITs) and the renewable heat incentive (RHI) to provide investors with extra income and/or guaranteed returns to reduce the risk of the investment.
So where does all this leave the UK water and sewerage companies (WASCs) going forward?
Co-digestion
Recent changes to the Renewable Obligation order and the reduction in the number of ROCs for biogas derived from sewage sludge relative to that of other organics wastes makes treatment integration, on the face of it, quite attractive. It would increase the effectiveness of the use of the water company assets, reduce overall costs for treatment of sewage sludge and provide added revenue from biogas production.
However, the size of the additional energy market is uncertain and the true business opportunities for utilities are not clear. The success of such integrated waste management is heavily dependent on:
Identifying materials that are suited to co-digestion in terms of digester stability and biogas production
A landbank for the disposal of residual wastes (as sludge co-digested with other waste could no longer go to land under the Sludge Use in Agriculture Regulations, 1989)
The extent to which policy, legislative and economic changes in the future could open or restrict development of these opportunities
The WASCs have a long and successful history of using AD to treat sewage sludge, but the big question to ask is whether the risks to current appointed business activities, which have been clearly articulated in the recent Office of Fair Trading (OFT) market study for organic wastes, outweigh the potential commercial benefits. Is expansion of the non-appointed business a beneficial low-risk strategy?
Complexity
The future will not be limited to just co-digestion of waste as more complex and potentially more rewarding, and hence riskier, business models will evolve. These may include partnerships with feedstock suppliers and technology providers as well as different contractual relationships such as design, build and operation (DBO) of plant, not to mention shared use of land.
The applications of business models for energy hubs used elsewhere in Europe also need to be understood and probed for applicability. WASCs have an early start with respect to the development of biogas use.
They have the advantage of:
Existing locations and assets – solids digestion facilities with associated infrastructure including gas use and grid connections
Locations that already accept a variety of tankered wastes from municipal sources
Expertise in managing equipment, handling materials, installing and maintaining new equipment; odour management and explosive atmosphere management skills
Existing disposal routes for waste products
However, WASCs also face unprecedented uncertainty in the approach to PR14 including, among others Ofwat's future regulatory framework; environmental regulatory decisions; the effects of population growth, climate change and various government responses, not to mention the wider economic conditions. This uncertainty poses practical challenges for the water industry in developing and justifying innovative approaches in business plans to sustain investment in research & development and fund new infrastructure and process.
Other potential stumbling blocks to full-scale roll-out of AD include:
Lack of data at 'full-scale' to identify synergistic waste streams to advance the co-digestion initiative, data to show long-term process sustainability and energy generation potential
Uncertainty of headroom within existing assets and how far this will bridge the energy generation gap
Poor understanding of the overall sustainability of small AD systems versus more centralised treatment hubs
Opaque legislative arena threatens current end markets for the water sector where 80% of UK sludge goes to land
The water industry is heavily reliant on the agricultural land-bank as a cost effective and sustainable route for the disposal of sewage sludge biosolids. However, a large number of AD plants are under development to treat manufacturing and processing wastes as well as food waste from the municipal arena.
Agronomics
The resulting digestates have an agronomic benefit, and an obvious reuse route would be application to agricultural land. This would inevitably have implications for the landbank available to accept these materials.
Importantly those organic materials that can be shown to offer the greatest agronomic benefit and minimal environmental impact may supplant sludge which has historically been the major source of soil improvers. The potential risks to land-bank disposal are three-fold: competition, potentially increased costs if the sludge has to go elsewhere and the fact that co-digested sludge would as current legislation stands become a controlled waste and subject to waste management legislation.
The future could see effective matching of digestate or co-digested material to provide a highly marketable product with a nutrient balance that can be tailored to suit specific applications. Permitting issues therefore need to be addressed in relation to the co-digestion of sewage bio-solids and biowaste materials.
At present any co-digested product is required to comply with either waste exemption procedures or have an environmental permit before application to agricultural land. A potential way ahead is to build the case for end-of-waste status and develop the proof that the quality of digestate is adequate for product status, but this type of approach is largely unproven and the data is sparse.
Another approach would be to develop a quality protocol that permits the blending of PAS110 digestate with wastewater-derived biosolids. Either approach needs clarification and importantly standardisation. One way of addressing a number of the uncertainties discussed in this article would be to undertake a full scale co-digestion trial or trials.
WRAP, through the Environmental Transformation Fund AD Demonstration Programme, are already gathering data (since 2010) from five operating AD plants taking in a range of wastes which include: dairy, vegetable, animal manures and municipal food waste, but this programme is not looking at co-digestion of organic wastes and sludge. Important questions still need to be answered in terms of understanding the characteristics of the digestates and impacts on quality depending on process feedstock.
A well planned trial could be used to:
Produce an evidence base that proves that co-digestion of organic wastes and sludge works in practice
Identify synergistic wastes that could be identified pertinent to local sources to minimise carbon from transportation
Gather quality data which can be used to show that any increases in biogas production are sustainable (cost-effective) and offset additional operational costs
Define operating criteria including pre-processing requirements, digester loading rates and retention times for food waste and sewage sludge to optimise performance, produce a waste characterisation fingerprint for mixed digestate and a basic understanding of the characteristics of AD outputs in addition to their value as a fertiliser and benefits in terms of soil carbon
Generate waste characterisation data on input feedstock and output digestate to provide evidence to support regulatory change and protect end-use markets
Give credence to the fact that the expertise held with the water industry can be put to good effect in the treatment of other waste streams
Whatever the future holds there is a real need to produce a strong evidence base to inform decision making and allow regulatory change based on robust science. Inertia and conservatism in the WASCs and the regulators needs to be overcome or this real commercial opportunity will be lost.