Developing ideas: Thames Water's innovative sewer plan
Thames Water is radically re-engineering an Oxfordshire market town's sewer network to help developers prepare for unprecedented growth. Project manager Mark Yates explains how they did it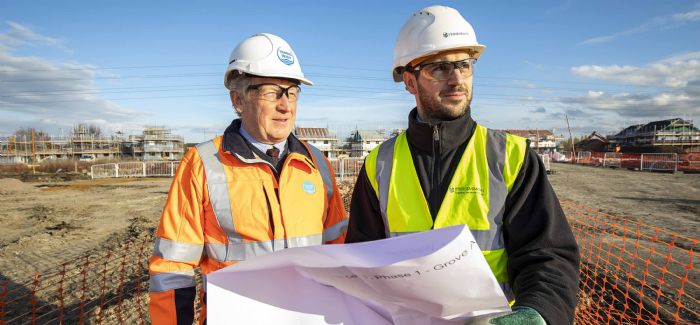 As a project manager whose region includes Oxfordshire, I'm more aware than most of the volume of new development that's going on across the county.
But it surprised me to learn from colleagues in Thames Water's developer services department that there are 17 housing developments planned in and around Wantage over the next 15 years.
Together, these would mean an additional 6,000 homes being built in the historical market town and the nearby village of Grove – a 75 per cent increase in the area's population.
A problem this posed was that the main trunk sewer running north through Wantage and Grove is already approaching capacity, due to local infill development. 
Without careful planning, these development pressures could require a whole series of sewerage projects disrupting residents and businesses to provide local reinforcement. With that in mind, Thames Water sought a way to avoid having to continually return to increase the size of their sewer.
Our strategic planning and modelling teams began by liaising with a number of large developers planning major developments locally, to understand their build programmes and when they would need to connect to our sewerage network.
This culminated in lengthy discussions with Persimmon Homes, who planned to build 2,500 properties on the former Grove Airfield site to the west of the town. Persimmon Homes required us to provide the development with waste capacity to serve their new homes. We in turn needed to avoid digging up the centre of Wantage and Grove, where residents were already frustrated by disruption caused by local developments.
We needed to rethink the traditional approach, which would either have meant a huge one-off project to upsize our trunk sewer, or repeatedly returning over the years to carry out piecemeal upgrades as new developments came on-line.
In essence, the solution we're implementing involves creating a new pumping station to handle wastewater from Persimmon Homes' development, along with diverted flows from a number of existing surrounding villages that discharge into the trunk sewers. This takes pressure off the existing sewers and ensures flows from the new houses enter it at a downstream point north of Grove, where capacity isn't a problem.
To implement this, Persimmon Homes agreed to undertake the early construction of part of the planned foul sewer through their development, and to also upsize it to accommodate the diverted flows. As a result, this 'spine sewer' through the development area is available to intercept flows from the existing pumping station at East Challow, which serves several villages to the west of Wantage.
In that way, sewage from these communities no longer needs to flow into the trunk sewer through Wantage, freeing up capacity to serve future housing in and around the town centre.
Persimmon Homes' spine sewer – which has a diameter of up to 450mm – discharges into a new pumping station we've built on the former airfield on land donated by Persimmon Homes. This transfers flows, via a 300mm diameter new rising main, back into the trunk main at a point upstream of the sewage treatment works.
The new pumping station, originally designed to cope with flows of 73 litres per second, has since been increased to deal with 105 litres per second, allowing it also to handle the diverted flows from East Challow and beyond.
The approach we agreed with Persimmon Homes has great advantages for everyone. They will benefit from a robust and timely solution to their drainage needs whilst total cost of the work is reduced; it's more efficient to do the work in this way; and local residents avoid disruptive work in Wantage and Grove. In addition, developers building new homes locally over the next 15 years will be able to connect into the trunk sewer generally without concerns over capacity.
To the north of the airfield development, we've employed a no-dig technique to lay the rising main that connects the new pumping station into the trunk main.
We'd normally have used an open-cut method, but this would have disrupted traffic on a busy road – in addition to a number of issues highlighted by our environmental screening work. This showed the presence nearby of a Roman road, along with an ancient hedgerow and an area of common land.
It therefore made practical sense to employ a no-dig pipe installation technique along the whole route of the new rising main. This in turn removed the need for pipe bedding materials to be brought to site and soil taken away, which again meant less impact on local residents and motorists.
The overall project has shown the huge benefits that can result from identifying growth hotspots, by establishing when and where developers intend to connect to our sewers.
Partly as a result of the approach we've taken at Wantage, Thames Water has now established a dedicated 'growth' team. They look to identify clusters of developments, so we can provide additional wastewater capacity in more efficient ways and, where feasible, also take the opportunity to tackle operational problems for our customers, such as sewer surcharging posing risk of flooding and pollution.
In order to achieve this, our developer services team have worked cross-functionally with colleagues in asset planning, finance and network modelling teams, among others.
Thames Water are looking for opportunities to take a similar approach elsewhere in our region. For example, in Three Mile Cross, near Reading in Berkshire, we worked with developers Taylor Wimpey to ensure there is sufficient pumping station capacity for a trebling in the village's population.
This article originally appeared in the August issue of WWT