Deragger proves benefits in wide-ranging trial
An innovative device which keeps sewage pumps free of rag has been shown in an independent trial to save energy as well as preventing disruption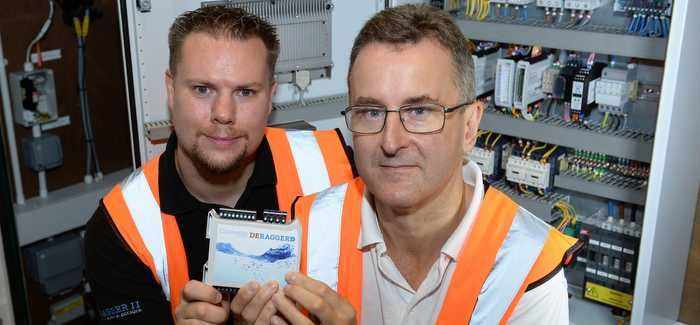 Graham McIvor and Simon Crompton of Clearwater Controls with the DERAGGER
A device which clears rag blockages in wastewater pumps by reversing the pump's impeller has proved its worth in an independent trial in partnership with two English water companies.
The DERAGGER, made by Clearwater Controls, was found to cut energy consumption by up to 80 per cent, to significantly reduce maintenance requirements and to help extend asset life. These were the findings of a study delivered by the Water Research Centre (WRc) in conjunction with United Utilities and Wessex Water, which assessed the performance of the device over the course of a 20-week trial.
Wet wipe and rag blockages present a massive headache to the water industry, costing millions to remove, replace and repair affected assets.
As well as the labour cost of manually lifting and cleaning pumps – which it is estimated costs the industry as much as £160M a year - there is a significant associated energy cost, since pumps that are impeded by rags will naturally have to run longer and consume more energy in order to maintain the required liquid flows. It is estimated that this adds £50M per year to water companies' energy bills.
While much emphasis in the industry has been placed on keeping wet wipes, rags and other unflushable detritus out of the sewers, it is inevitable that wastewater will contain some of this material and so in recent years the hunt has been on for innovative solutions that could prevent these problematic blockages from occurring.
The device
The DERAGGER is one example of such innovation. It is a small (35mm by 100mm by 115mm) rail-mounted device which retrofits into an existing control panel, and then measures in real-time the power and wave-forms to a wastewater pump.
It works by detecting tiny changes in flow rate, run time, variable frequency, drive speed and power consumption in the pump, which can indicate the presence of a rag on the impeller at a very early stage. It then reverses the pump temporarily until it dislodges the rag allowing it to re-enter the wastewater flow.
The device is sensitive enough to detect when even a single wet-wipe starts to impede the impellers. On detection, the device momentarily stops the pump and puts it into reverse motion in order to dislodge the obstruction, before returning it to forward motion in order to pass it along the network in suspended flow. The device can be set up to reverse upon detection of rags, upon an increase of torque or at set intervals, thus preventing the build-up of rags and the associated increased wear on the pump and increased use of power.
Invented in Scotland, the DERAGGER has already been installed at 270 sites, many of them Scottish Water assets. However, the trial was intended to demonstrate to the English water companies the type of sites that the device is most suitable for and the benefits and return on investment that it could achieve.
The study
The trial saw the DERAGGER installed at five sites, one of these owned by Wessex Water and the other four belonging to United Utilities. Thames Water and Jacobs were among the organisation with a watching brief on the trial. The sites were chosen to cover a range of pumping station configurations and conditions: wet and dry wells, large and small pumps, pumps that had a history of blocking and those that did not.
"We knew that the DERAGGER worked well when applied to badly blocking pumps, but what we were particularly keen to understand was what was happening when it was applied to pumps that weren't regularly tripping – which, after all, is the bulk of the network," explained Clearwater Controls Managing Director Simon Crompton. "We wanted to be able to show the energy-saving benefits of using it as a wider solution in the network."
The sites involved were monitored closely for 20 weeks after being fitted with the equipment and their performance analysed.

The results
During the trial, the DERAGGER minimised the need for manual cleaning at all testing sites. In one case, maintenance jobs decreased from nine to just one per month. At another site, no maintenance was required at all during a six-week period.
In addition, the DERAGGER reduced energy consumption by up to 80 per cent for pumps that had not been recently cleaned and 20 per cent for pumps which had been regularly lifted and cleaned.
Even in stations considered previously not to suffer from blockages, the DERAGGER achieved energy savings between 7 per cent and 20 per cent.
Overall, the pumps at the trial sites needed to run for significantly less time, which as well as allowing energy savings meant that operation of the device could deliver extensions to asset life.
Dr Leo Carswell, head of technology at WRc, said: "Our thorough analysis of the raw data from five DERAGGER trial sites clearly demonstrates the impact this innovation can have in the wastewater sector.
"We found it to demonstrably reduce pump blockages, and also significantly reduce energy consumption – even on sites considered to be at low risk of blockages."
Keith Haslett, director of wastewater network plus at United Utilities, said that despite winning awards, the device was unproven in the large-scale and complex environment of a UK public sewer system.
"With any new tech, take-up can initially be slow until engineers are comfortable that it will work the way they want it to," he said. "That's where we came in."
United Utilities' innovation team has worked with other tech start-ups for several years, helping entrepreneurs bring their ideas to market and in some cases giving them access to the company's expertise, resources and data.
"This was slightly different in that the device was already on the market, but it had never been tested in the environments where we could use it," Haslett said. "Its potential was huge. Blocked pumps account for an estimated 80-90 per cent of all unplanned work carried out on the sewer system and are known to increase pumping energy costs."
Clearwater Controls managing director Simon Crompton said: "We've known for some time that our technology can significantly reduce blocked pumps, and these independent findings confirm that our device has the functionality to tackle the problem head on, by preventing blockages from occurring in the first place.
"On pumps that don't regularly suffer blockages, while we were confident the DERAGGER would make a noticeable difference, we did not know the full extent. These findings show that even on these stations the DERAGGER can significantly decrease energy consumption and improve asset life, confirming our device truly is revolutionary."