Delivering a smart network
Tom Mills, senior director UK&I at Sensus, examines what a smart water network really means - and how to get there.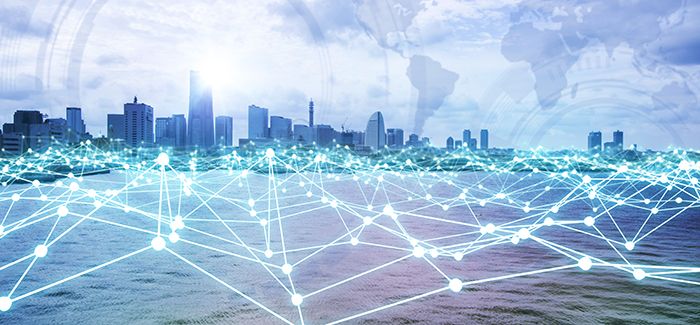 The robust requirements established by the UK regulator Ofwat for Asset Management Plan 7 (AMP7) are set to introduce significant and positive changes for the water industry. Water companies are often tasked with updating Victorian era infrastructure, to make networks resilient enough for both climate change and population growth. They also need to deliver a level of customer service that lives up to the best of other sectors. All this needs to be achieved while, keeping water an affordable resource for customers around the country.
Ofwat acknowledges the scale of the challenge and is calling on water companies to draw on new technologies over the next five years: ultimately, asking each company to continue on its road to create a smart network.
Digital technology offers great potential for the water industry. But just as in other networks, it's really important to understand exactly what "smart" means in the water industry – to avoid it becoming a catch-all buzzword. This article explores what actually makes a water network smart and how water companies can get there, within the requirements of AMP7. 
What makes a network "smarter"
For the water industry a smart network comes down to matching the physical network with digital technology. More data means a company can then better monitor, manage and maintain its network. A smart network, then, starts with deploying sensors or smart components across the infrastructure. That will then increase the volume and timeliness of data, including water pressure, demand on the network and the status of components.
However, it's important to avoid simply focusing on gathering as much information as possible; many companies already struggle with an inundation of "false positives," which can lead to missing leaks as a result. Instead, to be effective the task is to identify the signals that matter and determine the actions that should be taken as a result. Cross-referencing datasets and even applying machine learning can help here.
The most critical point about creating a smart network is that it isn't an objective to accomplish, but an ongoing process of improvement. Making the network smarter generally involves introducing smart components and IT systems, often gradually, into a huge organisation with incumbent systems, processes and workflows. This has implications for how organisations both approach individual technology investments and prioritise areas for improvement.
Smart networks in action
To focus efforts to create a smarter network, it's important to understand how improvements can impact different elements of the water company – and the implications for meeting Outcome Delivery Incentives (ODIs) under AMP7. Perhaps the most immediate benefits of a smarter network are operational. Teams can identify incidents like contamination or burst pipes, to enable maintenance and repairs to take place more quickly – and consequently reduce leakage.
In the longer term, water companies can gather enough data to understand the signals that precede incidents like leaks; for example, the system might say "the level of pressure in this pipe will lead to damage, therefore rebalance the network flow." Prescriptive analytics, as this is called, can help the organisation to optimise its processes, extend asset life and even inform infrastructure planning – all key competencies for strengthening resilience in the round.
A smart network can also improve water companies' customer relationships, creating more positive dynamics and keeping bills fair. With smart meters, it's possible to empower customers with accurate information about their water usage, to support accurate billing and to make them a partner in reducing their consumption and helping to preserve water resources.
At the top level, accurate data will help companies to demonstrate their achievement of AMP7 deliverables. And finally, in the long term, there's the potential for water companies to use data to create new revenue streams, such as partnering with insurance companies to offer smart leakage detection discounts or broader smart home management.
The next stage in the smart journey
The benefits of a smarter network may seem clear, but it's not so straightforward for water companies to work out the most beneficial next steps on the journey. A plethora of digital projects may have been undertaken over many years, with mixed success rates, creating a complex IT landscape. In addition, water utilities have to deal with extensive physical, complex infrastructure, sometimes built over hundreds of years and covering thousands of miles.
With this in mind, it's best to take a balanced approach to smart projects. To ensure that investments aren't wasted, all initiatives must reflect the overall business strategy, and particularly the key ODIs for AMP7. At the same time, it's important to acknowledge that no one size fits all and it isn't always possible to know how initiatives will work in practice. Taking an iterative approach, where projects are prototyped, piloted and reviewed, enables organisations to identify and then scale the most impactful initiatives.
A smarter technology strategy
Of course, the actual technologies chosen will be critical to ensuring the success of each new smart initiative. Given that creating a smarter network is a gradual process of development, it's important that each project involves hardware and software that's both robust in the long-term and adaptable for the new initiatives that follow.
Choosing smart components designed specifically for the water industry, rather than generic Internet of Things devices, can assure their long-term robustness in the water environment – and that they improve, rather than compromise, the network's resilience. Equally, selecting components with a longer life will create greater return on investment over time, delivering value for customers and shareholders.
It's also important that smart components offer highly accurate water monitoring capabilities. For example, in the case of smart meters, devices that offer accurate, consistent data even at low consumption levels will enable water companies to identify and respond quickly to unusual usage or burst pipes.
Finally, the communication standards used by smart components are important. Components that offer multiple wireless standards – and even wired options – can more easily be integrated into the existing network and remain operational as the smart network evolves further in the future. It's also important that data transmissions are secure and encrypted, to ensure that the network remains resilient to vandalism or malicious cyber-attacks in the years to come.
A truly smart network
Every water company's journey to a smarter network will be different. By taking an iterative approach to smart projects, and choosing components that are robust and adaptable, water companies can begin to realise the benefits of a smarter network – one that meets the needs of AMP7 and beyond.