Davyhulme makes advances with thermal hydrolysis
Anaerobic digestion has been around for 100 years and it seems fitting that Davyhulme, having just celebrated its centenary, has taken the process to the next stage.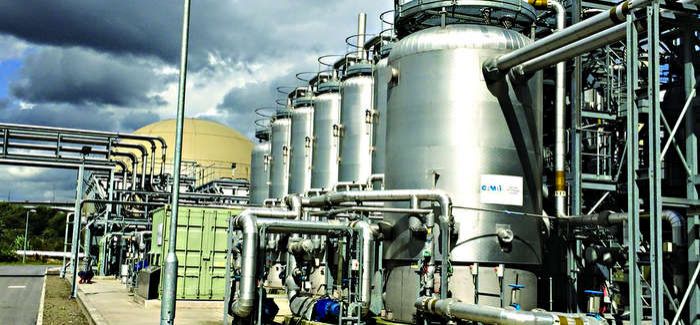 The thermal hydrolysis plant reaction vessels
United Utilities (UU) produces "lots of sludge" – around 200,000 tonnes dry solids (tds) a year, in fact. "If that's taken in wet tonnes that is enough to fill Old Trafford ten times over," says Richard Lancaster, UU's regional sludge manager.
To help deal with this amount of sludge, UU has invested £100M at its Davyhulme, Manchester site to create a thermal hydrolysis and digestion plant. The Sludge Recycling Centre (SRC) project, undertaken by Black & Veatch, has created the largest thermal hydrolysis plant on the planet "at this moment in time", says Lancaster.
It enables Davyhulme to provide farmers with a high quality soil conditioner as well as generate renewable electricity from the biogas produced during the process.
Agricultural land
The company has a balance strategy of recycling and disposal. To deal with this amount of sludge, 21,000 hectares a year would be needed to recycle the sludge that it takes to agriculture. "That's a huge amount of agricultural land," says Lancaster.
In addition to Davyhulme, UU has a further 18 digestion plants and in the past year, the company produced 122 gigawatt hours from sewage sludge across the region. "That's a lot of energy, and we're determined to outperform that figure significantly in this financial year," says Lancaster. "We're on track to do that."
Generating renewable energy has also had a beneficial impact on customer bills to the tune of £11M a year.
In comparison to the rest of the UK, UU has got less land for recycling to agriculture and the predominance of that smaller amount of land is grass. With grassland you have to surface spread, says Lancaster, and so a suitable product is needed to facilitate that. Also, there are more stringent regulations; nitrate vulnerable zones; timing restrictions where sludge can be stored on agricultural land but it cannot be applied, for instance.
Elsewhere in its region, instead of using digestion UU had increased the PH of the sludge using lime. However, that process added more volume, which meant there was more to dispose of. This process also did not make use of the energy that is inherently within sludge. "That was a waste," says Lancaster.
United Utilities also recognised that energy prices were rising, and that it uses a lot of power. Plus with more stringent regulations coming on the wastewater side, the company was going to need even more power. That needed to be offset.
Then adding to the mix was UU's carbon reduction commitments. By digesting the sludge, UU could significantly reduce the amount of energy it takes.
UU required an innovative solution that would deliver its strategy and mitigate its risk. The solution, says Lancaster, also had to enhance quality and significantly increase the renewable energy generated. The existing asset base had to be maximised and the amount of investment minimised.
The answer came in the shape of SBAP – Sludge Balanced Asset Programme – involving the the construction of an advanced digestion facility at Davyhulme.
The aim of the plant was to reduce quantities for disposal and produce an enhanced quality, pathogen free product.
Before settling on thermal hydrolysis, UU and Black & Veatch did consider raw incineration, which was looked at back in 2010. UU already had an incineration facility 29 miles away from Davyhulme at Shell Green, Widnes.
The incineration option would have cost more than £170M.
Lancaster says: "What we chose to do is maximise the use of our existing incineration facility at Shell Green by building advanced digestion here [at Davyhulme].
"That sounds crazy but by building advance digestion here we could double the throughput of this facility."
A transfer main enables the Davyhulme facility to feed the incineration plant. As a result Davyhulme can take sludge in, digest it and take it to agriculture as an enhanced treated product or send it down the pipeline where it is incinerated.
Lancaster continues: "It's given us some flexibility. It's the absolute balance in our strategy, and it's also stopped us from having to build a huge raw incineration facility to hit that strategy in the centre of our region.
"It's allowed us to generate loads more energy and it's allowed us to use the existing assets here."
Issues
The contract for the project was awarded in 2009 to Black & Veatch, with construction starting in 2010. The project was completed in 2013. During work on the scheme there were "half a million hours" where there were no reports of accidents. Lancaster says: "That's a huge amount of time without any issues. I think it was ultimately broken by someone twisting their ankle."
The completed project has resulted in the largest thermal hydrolysis plant in the world so far. A larger facility is currently being built in Blue Sands, Washington in the US but until that is commissioned, Davyhulme lays claim to being the largest.
Explaining the process, John Tattersall, Black & Veatch's global director of water technology, says: "Thermal hydrolysis sounds really complicated, but it's not. We're basically breaking the sludge apart with the heat to make it soluble. Basically, we're pressure cooking it."
Digesters
Davyhulme already had eight enormous digesters. By putting the thermal hydrolysis plant there as well, UU has been able to use the eight digesters with double the throughput.
Biosolids at Davyhulme are dealt with through two routes. Liquid biosolids are dewatered to about 25% dry solids (DS) using four decanter centrifuges and fed to a storage silo feeding the thermal hydrolysis plant.
For imported cake that is brought to the site from other sites, two sludge storage silos feed the sludge to the thermal hydrolysis plant.
Tattersall says four thermal hydrolysis streams feed the eight digesters. Each thermal hydrolysis plant stream can be fed with dewatered biosolids from Davyhulme, imported biosolids or a combination of the two. From the digesters, the biosolids flow by gravity to into a degassing tank and from there the sludge transfers to digested biosolids storage tanks.
Once the process is complete the digested biosolids can either be dewatered at Davyhulme and exported for disposal as an agricultural fertiliser or pumped through the transfer main to the incineration facility at Shell Green.
The biogas from the digesters is kept in two 9,000m3 double membrane gas holders. The bulk of the biogas is put into the CHP engines to generate the power.
Tattersall says: "The configuration is pre-dewatering to get it up to 16% DS, cook it, put it in the digesters then squeeze the water out at the end. The stuff being taken to land gets dewatered here the rest gets put as a liquid in the pipeline to Shell Green."
He says the process makes it easier to squeeze the water out of the material. "Instead of getting 20% from conventional digestion you get about 25-28%. We're doing about 28% here. That's a good material. That's about a third less water and who wants to pay to take water onto fields."
Tattersall says: "We're getting more than a 6log reduction in pathogens in the sludge, that's its enhanced treated quality. For every million that come in there's less than one going out, that's what 6log means."
He is full of praise for the Cambi technology: "This is a great piece of engineering. So much of the work was done on site in the workshop. It's safer, it's quicker, it's got a whole pile of advantages."
The project has resulted in maximum capacity increasing from 39,000 tonnes to 121,000, although Davyhulme is currently averaging 90,000. The solution has saved UU a lot of capital investment, and massively reduced its carbon footprint, says Lancaster.
All of Manchester's sludge goes through the facility, plus a huge part of UU's central region.
Average flows
Lancaster says UU also has flexibility in that if it has to shut down one of the streams it can still put its average flows through without turning it off. "The other water companies do not have that capability. They have to have shut-down plans and manage their sludge via alternative routes during those shut-down periods," says Lancaster.
The plant also means that up to 32,000tds goes to agriculture from Davyhulme. "It's the first time we have ever taken enhanced treated sludge to agriculture from Manchester. The farmers have been very pleased to take it."