DAF and municipal wastewater: a versatile option
There is growing awareness of how Dissolved Air Flotation (DAF) can be successfully used throughout the process stream at sewage treatment works, from primary settlement through to tertiary treatment. Chris Bullen, Technical Manager at Siltbuster Process Solutions, talks about DAF processes in more detail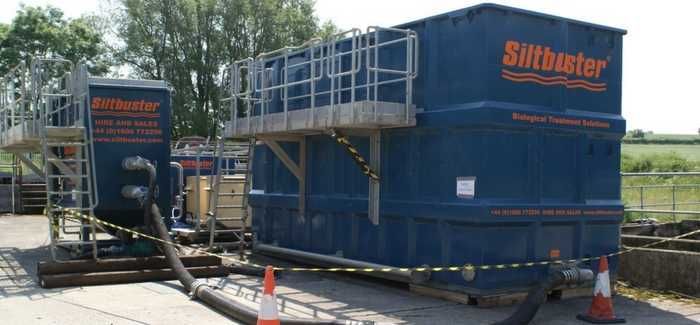 DAFs have been extensively deployed within industrial wastewater treatment and by the municipal sector on clean water applications. Traditionally they have been used with chemicals, to achieve a given objective such as solids separation or COD removal, although chemicals are not always necessary for a DAF to be effective.
However, DAF processes have not been widely used in municipal wastewater applications at sewage treatment works. Given their successes elsewhere, this doesn't make sense, especially as they can provide a very versatile piece of process equipment, particularly in temporary hire situations, but also in many permanent applications too.
Siltbuster Process Solutions (SPS) presented at the Environmental Waste Water Management Conference in 2015, where it educated the industry on the use of DAFs as a viable alternative to other treatment processes. The response SPS received in the wake of this presentation was overwhelming. Over 15 schemes have already been completed using Siltbuster DAFs as temporary equipment during refurbishment works, with some of these being purchased once the end results were revealed.
A key benefit of the SPS unit is that it can be used almost anywhere within the process stream. In primary applications, working alongside Kier Services, for South West Water at two rural sewage treatment works, SPS showed that as long as inlet flows were well screened, solids removal rates were 84% without the use of chemical addition and 94% with a very low coagulant dose (2 or 3 mg/l as Aluminium or Ferric). The DAFs were used in this instance to provide temporary primary solids separation, while the existing processes were taken off-line for refurbishment.
DAF units can be located between existing primary tanks and biological treatment processes to provide enhanced primary solids separation and to remove the high levels of BOD associated with the solids. This has the effect of reducing the BOD load onto the existing biological processes and provides the overloaded process with a chance to operate within its original design parameters. The advantage here is that there is no 'seeding time' required, as with biological systems, so if the cause of a potential consent failure is high BOD loads, an immediate solution can be put in place, without the time required for a rented SAF unit (Submerged Aerated Filters) or MBBR (Moving Bed Biofilm Reactor) to seed.
DAF processes can be used downstream of aerated biological treatment units, such as SAFs or MBBRs to provide secondary solids separation prior to discharge. The flocs generated by aerated biological processes are often very fine and can be poorly settling. This makes DAF units ideal for this type of application, as the process relies on flotation.
SPS recently supplied Thames Water with a whole mobile treatment process (See picture) consisting of primary solids removal, via lamella clarifier, and secondary treatment, comprising of a Siltbuster MBBR unit for biological treatment and a Siltbuster DAF for secondary solids separation.
This system was used during planned maintenance work on the site's activated sludge plant. During this refurbishment work, there was a need to ensure that the client's discharge consents were maintained. The results showed a 75% removal of solids without the use of chemical addition, to comply with the required 30 mg/l consent standard.
SPS is currently undertaking an extensive programme of work providing DAFs for tertiary solids separation. Hire equipment has been provided to various Southern Water sites, where a number of reed beds are being refurbished. These existing reed beds provide tertiary treatment downstream of Humus settlement tanks and are being taken out of service during the refurbishment work. DAF processes are ideal for this type of application, as the effluent from Humus tanks is often difficult to settle, and the small, near colloidal particles, often make physical processes such as drum filters ineffective. This is particularly the case in some 'P' removal schemes where chemicals are dosed. This is because the chemicals blind the screen cloth and increase the backwash flows through the plant. This can further overload existing humus tanks.
The addition of the lamella plates within the DAF process increases the effective separation area of the unit, making the required footprint typically 10 percent of a conventional DAF. This significantly increases the hydraulic capabilities of the unit, particularly on low strength wastes below 1000 mg/l. For example, a 40 litre per second tertiary solids separation would require just one DAF unit, with a 15 m2 footprint. So, wherever the problems are on a sewage treatment works, a DAF process will mitigate these risks effectively and with a smaller footprint than traditional solutions.
-This article appears in the July 2018 issue of WET News magazine.