Contractors complain about AMP project delays
The latest AMP cycle has got off to a slow start, with some contractors blaming the regulator's call for greater customer focus, totex and new costing models for delays. Sally Nash reports.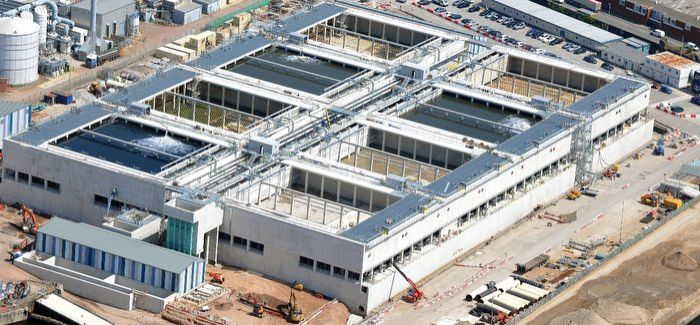 UU says it has quite a lot going on at the moment with many projects already underway
Frustrated water and wastewater contractors have accused water companies of stalling over investment in AMP6, with many complaining that projects have yet to start even though the 2015-2020 programme kicked off in April.
Contractors Barhale and Galliford Try Water have both told WET News that there has been a slow start to AMP6. 
Barhale managing director Andy Flowerday believes that regulator Ofwat's call for the water companies to focus on customers, introduce a totex approach to capital investment projects along with the introduction of Outcome Delivery Incentives (ODIs) have caused the problems and led to delays. "(Just) one of these was enough to wrong foot any business," he says.
George Sloss, operations director at Galliford Try, whose AMP6 clients in England are Southern Water and Yorkshire Water, echoes Flowerday's cry. "The start of AMP6 has not been as quick as we'd have liked but that's always the way to an extent," says Sloss.
"This time round client restructuring and strategic moves towards greater customer focus, totex and new costing models are all taking time and have undoubtedly been major factors affecting the workflow for contractors."
Sluggish approach
It appears that this sluggish approach to investment is not just a problem in England and Wales. The contractors' comments come as the Water Industry Commission for Scotland (WICS) highlighted "ongoing slippage" in Scottish Water's investment programme for 2010-2015.
A recent report said: "While the number of projects involved is relatively small, this has resulted in delays to the delivery of customer and environmental benefits."
Paul Mullord, UK director of British Water, reckons that future competition reforms coming in 2017, which will split the wholesale and retail functions and open the market for business customers have also played their part in terms of delays, along with the three factors that Barhale highlighted. "I think you'll find that a lot of water companies are having to restructure or are about to restructure."
Mullord argues that these major reorganisations have caused work to stall somewhat because in some cases there just are not enough staff in place to work on the projects. "However, it's a very mixed bag," argues Mullord. "I've heard that some contracts have appeared earlier than expected so it's difficult to generalise, it depends on which company contractors are working with."
Water companies have rejected the contractors' assertions about holding back on projects. A spokesperson for United Utilities says that the water company does not recognise the accusation of delays. "With our Early Start programme we have quite a lot going on at the moment with many projects already underway," stresses the spokesperson.
Outcomes
Meanwhile a spokesperson for Northumbrian Water, which once again came out top in British Water's survey of water companies for 2015 covering the AMP5/6 transition, says that the company has an "even approach" to capital expenditure in AMP6 and is on target to deliver in line with that. "We are not holding back, we need the investment to maintain or improve our services and meet our customer-derived outcomes," says the spokesperson.
At the same time some water companies have told WET News that some projects are slow to get off the ground because it "takes a while" to appoint contractors.
Many water companies introduced early contractor involvement (ECI) programmes to try to eliminate the 'boom and bust' tradition that has arisen from the five-yearly regulatory cycles. The Cyclicality Working Group, chaired by Richard Coackley, was set up to try and resolve this tradition in the run-up to AMP6.
A spokesperson for Ofwat says: "We took steps to make sure companies could carry out their investment programmes in a timely manner. This included allowing £350M of investment to be brought forward to 2014/15, and giving companies early visibility on our views on their business plans through the risk -based review in April 2014.
"Totex and outcomes have been part of giving companies greater ownership and flexibility to deliver what customers want, over the long term. That approach has been welcomed across the sector, but now companies need to step up and deliver."
Questionnaire
Coackley warns that "the proof of the pudding is in the eating" and it is unknown just much money will have been spent during the AMP6 transition period. "What we're doing within the Cyclicality Group is sending a questionnaire out in two or three weeks' time, to get a better understanding about that process." Coackley is keen to establish whether small contractors have benefited from the money flow through the supply chain.
"Some water companies have been really well organised and some have been less so. I can't say that everything has been fantastic for everybody – I know it hasn't. Some things have got to be ironed out such as how contractors flow that money through to small sub-contractors. That's where I want to try to understand what the situation is."
Alasdair Reisner, chief executive of the Civil Engineering Contractors Association (CEDCA), points out that, according to recent figures, "water still seems to be growing and we're certainly not seeing a fall-off in water activity according to our survey that goes out to 300 companies, many of whom will be working in the water sector as contractors."
There were great hopes that the transition to AMP6 would be a lot smoother than for previous AMPs. It would seem a lot more work is needed to ensure this happens for AMP7.
*This article first appeared in the November issue of WET News.