Comment: Capital Maintenance comes to the fore
The tight cost of capital set by Ofwat for PR19 will mean water companies will need to place the emphasis on maintenance and maximising value from assets, writes Scott Aitken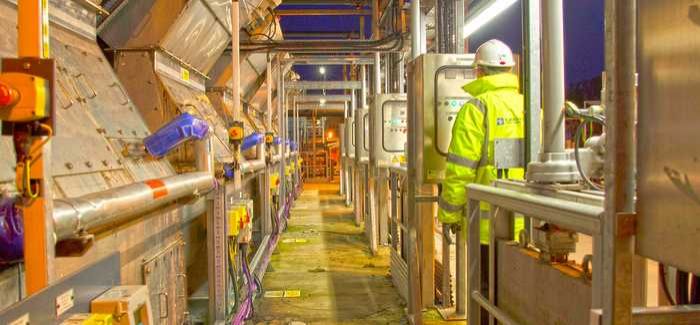 by Scott Aitken, Managing Director, Black & Veatch
Change is afoot for the water utilities in England and Wales. For the last 30 years these private companies have favoured capital investment for the creation of new assets, as the best way to achieve their service, environmental and quality targets. Looking to the future, however, new assets are likely to be the solution of last, rather than first, resort.
Among the most significant reasons for this change is the decision by the water sector's economic regulator, Ofwat, that the weighted average cost of capital (WACC) in the next price review will be at the lowest level since the privatisation of water services in England and Wales, in 1989.
Because the water companies created by the privatisation process are natural monopolies, the government of the day sought to protect customers' interests by creating the economic regulator – Ofwat – to control water bills and set service levels. This was achieved through a system of 'comparative competition', central to which is the five-yearly price review cycle.
WACC – the assumption that Ofwat makes on the cost water companies will incur in raising debt or equity to fund investment in assets - is one of the biggest building blocks in the price review. The next review will be completed in 2019 (PR19), and cover prices from 2020 to 2025.
Ofwat is predicting a WACC - in Retail Price Index (RPI) terms – of 2.4 percent for PR19. This is a reduction of 1.3 percent from the 2014 price review's WACC, and a record low for regulated utilities. Ofwat's WACC forecast for PR19 is driven by lower expectations of the market cost of debt and equity. The effect on customer bills could result in an average saving per customer of £15-£25 per year from 2020 onwards.
Since privatisation demand for water and sewerage services has proliferated as population has grown, and water quality and environmental standards have become increasingly stringent. In more recent years the need for resilience in the face of such things as climate change has added to the requirements placed upon the water companies in England and Wales.
Investing in new assets, or extending existing assets has been the companies' favoured response with £130 billion invested since 1989. However, concerns about the regulatory framework creating the potential for a capital expenditure (CAPEX) bias was among the reasons for Ofwat's shift to a total expenditure (TOTEX) price review, rather than using separate CAPEX and OPEX, for the current price review.
With a regulatory determination that is likely to see customer bills reduce - and a low WACC - CAPEX investment will need to be very carefully considered and targeted. Water companies will be required to fund resilient systems and ensure business processes and structures are lean and efficient. At the same time there will be no decrease in the quality and service level demands placed upon them; while public, customer, political and regulatory scrutiny is growing. This means the water companies will need to focus on the performance of their existing assets – to an unparalleled degree – to ensure regulatory compliance, while also meeting the expectations of owners and shareholders. However, there is good news for water companies that want to do things differently and embrace change. Significant efficiency opportunities exist for the water companies that can capitalise on both data and technology. Advances in both these areas are significant, affordable, and offer substantial benefits.
Advances in data capture and analysis and the insights that are revealed, combined with an ability to utilise and integrate technologies, will enable asset optimisation and hence leverage cost efficiencies whilst giving greater assurance on compliance and service. Similarly water companies that can move towards more proactive maintenance approaches and operate performance and condition-based maintenance programmes will transition from paying a cost of asset failure to a lower cost based on optimum asset intervention. Behavioural change will also be required, and should not be underestimated or overlooked, as water companies and their partners embark on these operational and delivery realignments.
In terms of asset management and operation the sector is not short of data. The deployment of analytics tools can transform asset data into actionable information for smart decision making; for example the application of tools that allow asset performance data to be combined with external data, such as weather and rainfall information. Such tools enable the identification of operating condition trends that facilitate the development of new system operating procedures and interventions to mitigate pollution risk.
More sophisticated analysis of asset performance data will enable water companies to get a better understanding of which are their most critical assets, and when intervention is required to keep those assets delivering optimum performance.
An early example of how these capital maintenance programmes might look is Yorkshire Water's Workstream 69 (WS9). In collaboration with Yorkshire Water (YW) Black & Veatch has developed a Lean Reliability Centred Maintenance (LRCM) programme covering the water company's process safety critical assets.
Central to WS69 is Failure Modes Effects and Criticality Analysis (FMECA), which is being used to produce a condition-based maintenance programme. In collaboration with YW's Operations and Maintenance (O&M) teams failure mode responses have been developed for each asset category.
Mobile technology is used to capture live asset survey findings and Piping & Instrumentation Diagram updates, and upload these to a dynamic asset database, improving data accuracy for the FMECA study. Mobile devices also allow O&M teams to access the condition-based maintenance programme in the field, providing information needed to complete their tasks and instant feedback of asset/process performance. This system ensures asset condition and performance is under constant review and allows maintenance teams to assess probability of failure and take informed, proactive action.
The systems and processes are facilitating evidence-based decision making for operational improvements and risk-based investment planning, and helping to remove unnecessary planned maintenance from O&M programmes, reducing spares holdings and reducing reactive maintenance by 30 percent.
Water companies are not a homogenous group and, as we head towards PR19, they are at different points along the journey to make asset management and capital maintenance viable tools for delivering successful outcomes during the 2020 – 2025 price review period. Some have already begun to embed the necessary practices and data analytics tools; others are less quick to adapt to what is likely to become the new normal.
Another change to make water companies assess large capital projects differently in the future is Ofwat's introduction of Direct Procurement for Customers (DPC).
Under DPC water companies are expected to competitively tender services for discrete, large-scale projects with an anticipated whole-life TOTEX of more than £100 million. This differs from current procurement norms in that the tenders cover more aspects of service, for instance operations and - in a significant departure – project finance. The change is intended to deliver reduced total costs for larger capital projects, including the cost of operations and financing, over a potential 15-25 year timeframe which will span numerous price review periods. Ofwat is also expecting this approach to foster innovation and reduce customer bills by pushing down CAPEX and OPEX.
The number of projects likely to meet the DPC cost and guidance requirements is uncertain; but numerous large CAPEX projects should be less likely. Under the current price review period, projects such as Thames Tideway with an estimated capital cost of £4.2billion; or Severn Trent's £300 million Birmingham water supply resilience scheme are cited as examples that would have met the new criteria but these are rare projects.
Looking to future programmes Thames Water's £1billion Abingdon Reservoir project may potentially meet the DPC criteria. It remains to be seen, however, whether third parties are able to raise the finance and deliver such a project more cheaply than Thames Water could. Assets delivered by DPC would not contribute to a water company's Regulatory Capital Value (RCV) - a measure of the company's capital base and major component the regulatory price limit formula. This creates a potential disincentive for water companies, as a larger RCV typically results in the ability to charge customers more.
Water companies' re-evaluation of CAPEX investment began with the 2015 price review's shift from separate CAPEX and OPEX reporting to a TOTEX assessment. The move away from CAPEX will be given significantly more impetus in PR19 with the reduced WACC and introduction of DPC. As capital programmes continue to change and be re-shaped the future will be characterised by increasingly sophisticated asset management strategies and capital maintenance regimes; with smart data analytics as a key enabler.