Collaboration is King for AMP6
AMP6 is the ideal time for water companies to draw on the widest pool of technical knowledge, skills and experience, and unlock the innovation that sits within supply chains, says Rich Matthews, General Manager of Siltbuster Process Solutions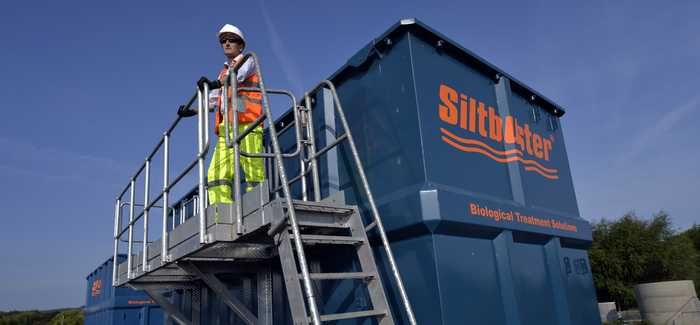 Rich Matthews pictured with Siltbuster's new MBBR unit
Rich Matthews, General Manager of Siltbuster Process Solutions, maintains that now is the ideal moment for water companies to draw on the widest pool of technical knowledge, skills and experience -  and unlock the innovation that sits within supply chains.
With AMP6 having now arrived, maintenance and outcomes are order of the day. It's no longer all about lowest possible capital costs, but maximising an asset's life cycle.
Water companies have their Tier 1 contractors in place but know that if they're to deliver on this promise and have maintenance projects that save costs, they need to think (and do things) differently. Much of that 'different thinking' will come from smaller, specialist Tier 2 suppliers, who are nimble and have technologies and approaches which the municipal sector as a whole has not had the opportunity or impetus to tap into before.
Some companies are taking major steps to reach out to these SMEs. For instance, Anglian Water has its 'shop window' using an online portal with the intention to promote the supply chain engagement into Anglian's investment plans. Anglian no doubt recognises that these SMEs present a huge opportunity to unlock real innovation in their supply chain and to tap into talent and skills which are otherwise in short supply. But what else do players in the municipal sector need to do to reach and, more importantly, get the most out of such specialist suppliers?
Firstly water companies need to expand their horizons. They need to be prepared to look at smaller, creative suppliers working in other industries - and proven technologies which may not have their roots in the municipal sector but which could be applied to it. 
This inevitably means making their senior decision makers and partners accessible and visible to a greater number of suppliers – which in turn requires a commitment and a more collaborative approach. 
Those that are prepared to do this will be able to tap into the strengths, and the wider range of solutions and products such nimble SMES offer.  For instance, the off-site construction approach for products, not only delivers improved project controls for programme efficiency but also addresses catchment management issues as opposed to end of pipe solutions.
Furthermore by genuinely collaborating with the smaller players in their supply chains, water companies will not simply gain access to more products, they will also be equipping those creative SMEs with the insights THEY need to define and deliver truly tailor-made solutions.
To illustrate how powerful such insight-sharing can be you only need to consider how my company, Siltbuster Process Solutions, is now working with some companies in the municipal sector.  We are a leading provider of packaged treatment solutions, and know the water and industrial markets well, but there's no doubt that the product range we've available for hire has developed in direct response to our work with water companies and their contractors.  The most recent example of this is our new biological MBBR unit. This offers a greater treatment capacity than conventional (SAF) temporary biological treatment units – however the real possibilities for it were only properly developed or realised through working collaboratively with Imtech and DCWW.
Similarly, we've been working with a number of water companies using mobile lamella DAF system for a variety of applications including tertiary solids removal, humus solids removal or thickening. If I'm honest, we felt we knew what the technology could do, and that the benefits it offered - such as off-site construction - which would make it attractive for both short term maintenance works or to provide resilience to existing processes. However the real mix of applications only fully emerged during close liaison with the water companies. 
In short…it's not simply a matter of sourcing smaller suppliers or embracing the wider resources within the supply chain but it's about truly collaborating with the SMEs - making use of their knowledge from other industries and equipping them with insights to innovate on your behalf. That's how conventional practices and mindsets will be challenged and real innovation unleashed.