Close-Up: Who will be the big fish in the new water retail market?
With a £2.5BN new market for non-domestic water retail to open in England in April, joint ventures, incumbents and new entrants alike will be competing for business. WWT takes a closer look at the players in the new arena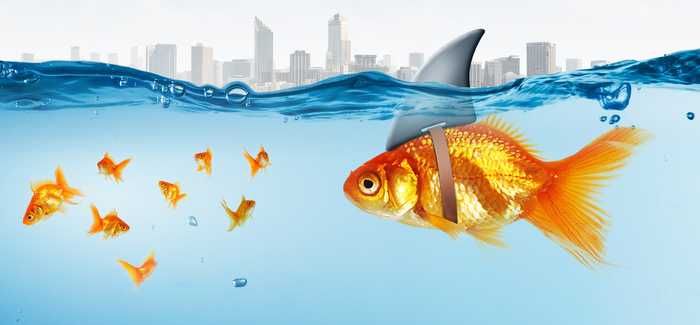 Business Customers on the Move
The firms that will initially serve the business customer base of English
water companies
Southern Water: Business Stream
Yorkshire Water: Three Sixty
Severn Trent/United Utilities: Water Plus
Northumbrian Water/Essex & Suffolk Water: Wave
South West Water/South Staffs Water/
Cambridge Water: Pennon Water Services
Thames Water/Portsmouth Water: Castle Water
Wessex Water/Bristol Water: Water 2 Business
Anglian Water: Anglian Water Business
Sutton and East Surrey Water: SES Business Water
Affinity Water: Affinity for Business
South East Water: South East Water Choice
by James Brockett
From April, 1.2 million business and public bodies in England will be able to choose their water supplier for the first time, creating a new market worth around £2.5BN. Established water companies have positioned themselves under new brands to defend their non-domestic customer base while ambitious new entrants will be aiming to grab market share. So who are the players in the new market, how many customers do they currently have, and which of them are best positioned to capture more? Here we present WWT's guide to the biggest of the runners and riders who will be competing for attention in the water retail arena.
1. Water Plus
Formed in March 2016 as a joint venture between United Utilities and Severn Trent, Water Plus will start with the benefit of size in the new market, serving approximately 400,000 business customers inherited from the two water companies. It also already has 5,000 Scottish customers and can point to a track record of working with large, multi-site organisations such as Tesco, Sainsbury's Radisson Hotels and the Co-op Group. Former United Utilities Business Retail Director Sue Amies-King leads Water Plus while Stuart Howell, formerly head of finance for Severn Trent's business services division, is chief financial officer. With its headquarters in Stoke-on-Trent, Water Plus has taken on a mixture of staff who have relocated from Severn Trent and UU offices in Coventry and Warrington respectively. Approximate number of customers: 400,000
2. Castle Water
The Scottish retailer caused a sensation in July when it was announced that it was acquiring the business customers of Thames Water, which is exiting the non-household retail market; the move meant the company increased its customer base ninefold in one stroke. Interestingly, Castle Water's headquarters are in a real castle: Craighall Castle in Blairgowrie, Perthshire, which is owned by its ex-investment banker chief executive, John Reynolds. The firm made an initial step into the English market in January when it struck a deal to acquire the business customers of Portsmouth Water, another supplier which has chosen to exit the new market. Castle is the largest player in the new market that is independent of any wholesaler, and as such, the industry will be watching closely to see how the 'new kid on the block' manages its rapid expansion. Customers: 330,000
3. Business Stream
The Scottish Water subsidiary is perhaps the most established player in the UK-wide water retail arena, having operated since Scotland's non-domestic retail market opened in April 2008. Led by chief executive Johanna Dow and headquartered in Edinburgh, it enjoyed a market share of more than 80 per cent north of the border, before suffering a setback with the loss of a £350M public sector contract with the Scottish Government to Anglian in October 2015, which pegged this back to around 50 per cent. However, in the summer of 2016 it made its ambitions in England clear by buying the 105,000-strong business customer base of Southern Water, and has opened a new office in Worthing (staffed by former Southern Water employees) to help serve this new customer set in Kent, Sussex, Hampshire and the Isle of Wight. It has also gained significant experience of serving large multi-site businesses across England and Scotland, with House of Fraser being among its high-profile customers. In December Business Stream announced a deal with energy consultancy Utilitywise to offer businesses attractive multi-utility deals across electricity, gas and water from April. In the light of the Southern Water deal, Business Stream is set to be the third biggest operator in the combined Anglo-Scottish market. It has around 250 employees. Customers: 200,000
4. Pennon Water Services
The owner of South West Water, Pennon Group, has already extended its interests in the water market recently with the acquisition of Bournemouth Water in April, and its subsequent merger with SWW. Its further ambitions were made by clear by a deal in November to create a joint venture with South Staffs Plc Group (SSG) for business retail. Pennon Water Services is 80% owned by Pennon and 20% by SSG and has an estimated turnover of £170M. It is based in Bournemouth but will continue to operate under local trading names, (i.e. South West Water Business Services, Bournemouth Water Business Services, South Staffs Water Business and Cambridge Water Business), with Source for Business being the out-of-area national brand name. It will utilise the Rapid Billing System currently used by SSG. Customers: 180,000
5. Anglian Water Business
Anglian's business water retail arm stole a march on some of its rivals by winning a £350M contract with the Scottish Government to supply public sector organisations north of the border in October 2015. It has said it is likely to rebrand before April in order to help its efforts in winning new business across the country. Customers: 140,000
6. Three Sixty
Three Sixty is a subsidiary of Kelda Group, the parent company of Yorkshire Water, and has been providing retail services under contract to Yorkshire Water's 130,000 non-household customers since April 2016. In April this year all these customers will transfer to the new company, as well as those out-of-area large businesses which have previously been supplied by Kelda Group's non-regulated business Kelda Water Services. The company has already secured contracts with big name customers such as BT Group and Royal Mail in Scotland. However not all has gone smoothly for the company so far: its managing director at launch, Robert Marrill, lasted only four months before stepping down for undisclosed reasons and being replaced by Nick Topham. Based in Barnsley, one advantage Three Sixty has is the Electronic Interchange Billing (EDI) system inherited from Yorkshire Water; YW was the first water company in England to offer this capability, which is a convenient option for businesses and one which other water retailers will be keen to replicate. Customers: 130,000
7. Wave
The business retail arm of Northumbrian Water Group (NWG), Wave was given its new brand identity in March 2016, and is led by Lucy Darch, managing director of Business Retail at the utility. Its initial customer base will be drawn from businesses in the North East of England and in Essex & Suffolk who were previously supplied by Northumbrian Water or Essex & Suffolk Water respectively. Customers: 110,000
8. Water2Business
Wessex Water and Bristol Water have run a joint venture since 2000 for billing and retail services, so it was no surprise to see this co-operation extend to the new non-household market: water2business was formed in April 2015 and merged the business services divisions of the two companies into one entity. It has promised 'to make the water element of any business as simple and cost effective as possible' and to offer an efficient but personalised service. Customers: 90,000
Smaller players and new entrants
Several of the country's water-only companies have decided to stay in the market and have rebranded their business divisions accordingly. These include SES Business Water (Sutton and East Surrey Water), South East Water Choice (South East Water) and Affinity for Business (Affinity for Water). The opening of the English market also provides an opportunity for Scottish retail companies who have been operating in the Scottish market since 2008 to find new customers south of the border. Two which have already received licences are Cobalt Water and Clear Business Water, while a third, Everflow, is expected to follow suit soon.
Finally, entirely new entrants include The Water Retail Company, which is owned by Lord Redesdale and led by former Waterwise chief executive Jacob Tompkins; Blue Business Water, which says it intends to target SMEs; Peel Water, which conversely will target larger firms; water management firm Waterscan; and commercial gas supplier subsidiary Regent Water.