Close-Up: From Sludge to Bioresources
As a separate price control for sludge takes shape for PR19, who will be the winners from the new market for bioresources?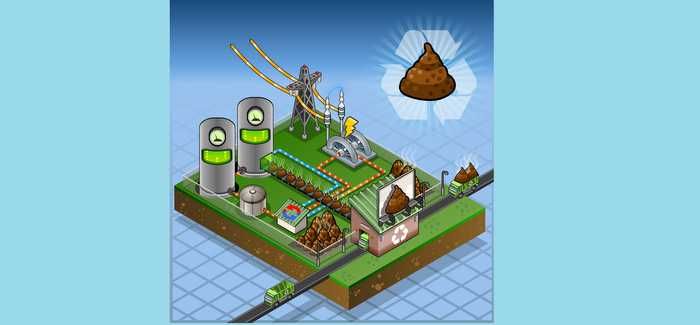 by James Brockett
Among the various strands of the Water 2020 regulatory reforms being introduced to the sector, the opening up of the market for sewage sludge – or bioresources, to use the preferred terminology of Ofwat – arguably has the greatest potential in terms of the value it could unlock from the wholesale water industry. With early research from the regulator estimating the value of the market at £780M, few can doubt that there are significant gains to be made by the more efficient processing of, and energy generation from, a material that has historically been seen as a waste product left over from the sewage treatment process.
Water and sewerage companies have traditionally been responsible for their own sludge, an approach which was sensible enough when the emphasis was simply on making it safe and then disposing of it as cheaply as possible. However, with treatment options for sludge now including anaerobic digestion (AD) and advanced anaerobic digestion (AAD), both capable of generating significant amounts of energy, the logic of the reforms is that breaking open this 'siloed' approach will allow the utilities to find cheaper – or in some cases, more profitable – destinations for their sludge, involving deals with other water companies or third parties.
But where are the best opportunities likely to come from – and how easily realised will they be?
Water companies' sludge activities can be broadly broken down into four areas – its transport, treatment, recycling and disposal – with all four being opened up to market involvement by the proposed changes. Wastewater utilities are set to receive a separate price control for their sludge activities as part of the PR19 price review process. In advance of this, companies are currently working to delineate the costs of their sludge treatment operations, to give them a clear picture of how much this part of their operations costs them and earns them.
Where and how the sludge is treated, and how far it needs to be transported, are the key factors that determine the cost efficiency of the whole process, explains Alison Fergusson, Principal Engineer at Ofwat, who is one of the architects of the reforms.
"This is one bit of the water industry that is not infrastructure driven, in that instead of being connected up by pipes, a lot of sludge gets transported in a tanker," says Fergusson. "At the moment, the tanker gets to the gate of the sewage works, turns left and goes to the incumbent company's sludge treatment centre. Well, what's to stop it turning right and going to the neighbouring company's sludge treatment centre that is actually closer? Or to the organic waste facility down the road where they can do the job cheaper, or get more energy out of it? That's the thinking that we are trying to bring to this."
The 'quick wins' from the new market are likely to come from water companies transferring untreated sludge across borders to neighbouring water companies which have facilities that are closer or boast more advanced technology. Ofwat's research has indicated that 13% of the sludge in England and Wales could be profitably transferred in this way; this has used the assumption that it would be profitable to transport sludge within a 50km radius, but no further.
Water companies are understood to be very keen on this sort of transaction, and the regulator has a consultation currently underway on requiring the companies to share information to facilitate such trades.
"We're consulting right now on changes to company licences that will require companies to publish and share information, but our thinking at the outset is that the information companies provide will be something quite straightforward that they can publish on their own website, giving the location, the quantity of sludge and an indication of its quality," says Fergusson. "That information in the public domain will be enough to start a conversation, although obviously if you are going to contract with somebody then the information you are going to write into that contract will be much more detailed than what you would be publishing."
One of the key metrics from the sludge quality point of view is its thickness, measured by percentage dry solids (DS). Sludge which has been through a dewatering process might have a DS three or four times that of raw sludge slurry, making it cheaper to transport and easier to digest, and therefore a more attractive proposition for a trade.
What will assist such deals is that many recently-built sludge treatment centres will have some spare capacity, so as long as the sludge is similar in quality then using this capacity is likely to make economic sense for the receiving utility.
However, where things could get really interesting is when new treatment capacity is required. After the reforms, there is no reason why a new sludge treatment centre should have to be built by a single water company; it could be built by a joint venture between companies, or by a third party with an entirely different funding model.
"I see it really as a market in two phases," says Neil Corrigall, Head of Strategy at Severn Trent. "The first phase of the market is using the existing capacity that's out there more efficiently. What can everyone do with the existing capacity through trade with neighbours and to sweat the assets a bit more? That first phase is all about the existing incumbents and using their assets better. The second phase is when you start to need new capacity across the system, and how that is delivered for customers. That's one where we can definitely see the potential for new business models emerging, whether it's new specialist players, new entrants, or joint ventures between companies."
What is challenging about this second phase of the market, adds Corrigall, is defining the role of the incumbent wastewater company in securing the new capacity that is needed. Although new plants need not be created by the utility themselves, it equally cannot be left entirely to the free market as the utility will need to demonstrate that it has a long-term plan in place to deal with the sludge from its region.
Potential new entrants to the market could include large waste companies which already use anaerobic digestion and related technologies to deal with waste streams such as food waste. One complication is that where different waste streams are processed on the same site - co-digestion – then the subsequent product is subject to two different sets of environmental regulation, limiting the ability of the treating firm to recycle the material to agriculture, for example. However, this is not an insurmountable problem, as demonstrated by some water company-owned sludge treatment sites which have gone in the other direction and begun to take in food waste.
One such site is Wessex Water's Avonmouth Wastewater Treatment Works near Bristol, where the sludge treatment, AD, food waste and energy generation operations have been hived off into a separate company – GenECO – which has its own management and finances.
Whether other water companies adopt a similar model of separation remains to be seen, but unlike in reforms in the retail market, it is by no means a necessary outcome.
"Each company can follow their own route," says Severn Trent's Corrigall. "The reality of these operations is they are very integrated into the day-to-day running of sewage treatment works - some of the companies that have been formed are almost virtual companies, to create the right sort of management focus, rather than being physical operations. I think the question of separation is really less of an issue than it is in retail, where there's a really clear difference between wholesalers and retailers. In this part of the value chain, you actually can have the operations very integrated."
At the end of the value chain, sludge recycling and disposal are functions that are less likely to be fundamentally affected by the reforms. The ultimate customers for the recycling of treated sludge are farmers who use it as fertiliser on their fields; their main concern on the issue is to ensure that the consistency and standard of what they receive does not suffer as a result of the reforms. Progress has already been made on this in the form of the Biosolids Assurance Scheme, a set of standards established three years ago through co-operation between government, agricultural interest groups, the food industry and Water UK. Companies that receive sludge under any new arrangements, including potential new entrants to the market, will almost certainly be required in their contract to sign up to the scheme and meet its standards.
It is eventually possible, albeit unlikely in the short term, that a water and sewerage company may be in a position to exit the market and outsource its sludge operations entirely. However, one drawback to this is that the weight of sludge, and the cost of transporting it, would appear to favour the development of a multiple local markets, with pockets of trading and small deals.
Whatever the course taken to achieve greater efficiency, the customer and the environment should benefit from the reforms in the end, emphasises Fergusson.
"What we're trying to do is get a real shift in thinking about what sludge is, which is why we're calling it bioresources," she says. "It's trying to get a paradigm shift, to say that this isn't just an annoying waste product of sewage treatment but a resource, and there are things that can be obtained by using it wisely. This shift in thinking should make sure that what happens with this resource is actually the best for the environment, the best for customers and for the companies, and there is also the opportunity for innovation to come in."
Hear more from Alison Fergusson on the developing sludge market at WWT's Wastewater 2017 conference in Birmingham on 31st January: events.wwtonline.co.uk/wastewater